This adorable handmade poncho was actually brought back from Peru by my amazing sister-in-law a few years ago (thanks Ali!), and I was literally counting down the days until Clara was big enough to wear it. She has gotten a ton of use out of it over the last few years and it even made it onto the cover of a local mag (it was perfect for the holiday colors they were going for). But alas, Clara's a growing bean, so it's a little on the small size these days. Which would ordinarily make me want to cry, but I've been planning Phase 2 (aka: Operation Keep This Poncho Forever) for a while. $herdog had plans, yo.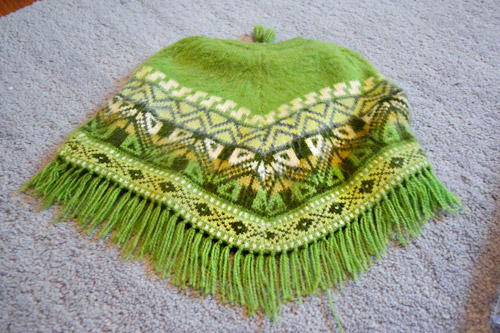 We inherited this acrylic photo frame from John's mom back when she and John's dad were cleaning out their closets about a year and a half ago. Yup, this frame with some old art from John's grade school days has just been hanging out in our crazy messy playroom for over 450 days (she says hanging her head in guilt). But from the moment John's mom handed it over (and John proclaimed "never do I ever want to see that painting on the wall" I knew it would be a perfect place to memorialize Clara's special Peruvian Poncho from her Aunt Ali.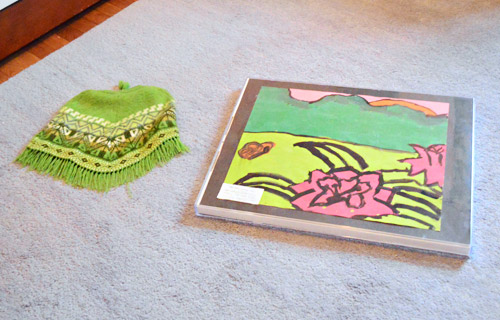 So John and I took one last moment to ooh and ahh over his grade school art, and laugh at the details on the tag (John thinks the assignment was to paint something in nature – hence his 4th grade masterpiece entitled "The Sunrise Flower").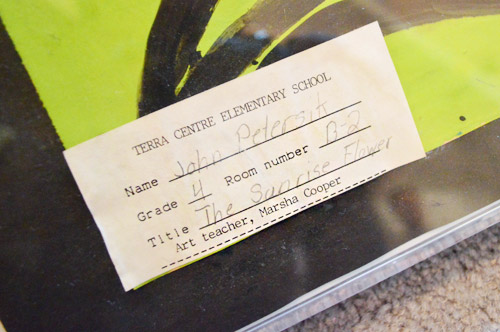 Then I slipped off the acrylic top of the frame (I think places like Michael's and Hobby Lobby still sell frames like this btw) and flipped the art over. The faded old charcoal colored construction paper actually looked really nice with the ponch – plus it tied into the navy curtains since it was another dark neutral layered in over the lighter and brighter tones going on in the rug and the bed. So I settled on that as the background (I'd planned to grab a large piece of decorative paper or even a yard of fabric to use as the background if the back of the art was a dud, but I ended up loving the understated effect of the paper because it doesn't compete with the poncho at all).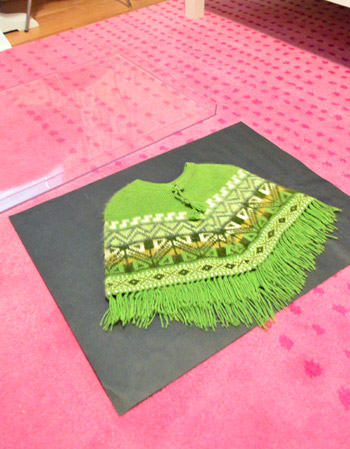 The back of the frame isn't in the picture above, but it's in the picture below (and also the one below this one) which might further explain how the frame fits together. It's basically just a white cardboard box that slides into the acrylic box front and there are small holes on the back of the cardboard box that allow you to hang it on the wall. It's nice and light which is a huge bonus. But the sides of this frame had seen better days (they were scuffed and scratched), so I grabbed some white duct tape and folded them around each side of the frame for a nice clean and finished look that wasn't all banged up and smudged after decades of use and storage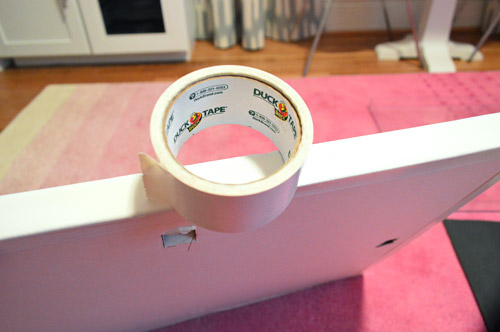 Then I laid the paper on top of the newly taped box and placed the ponch down right in the center.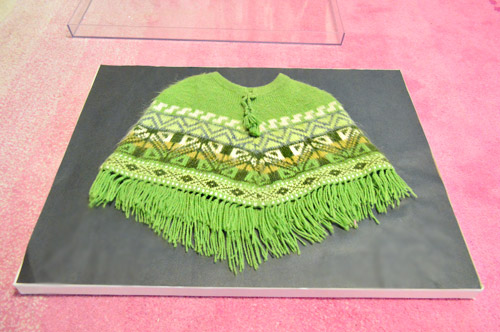 The last step was slowly sliding the acrylic front back on (it's snug enough to hold on its own, so there was no need to tape down the poncho or tape the acrylic front into place). The reason that slowly is a key adjective in that last sentence is that I learned that quickly pushing the top down on the poncho made the fringe blow out and get all crazy looking so it didn't lay normally (it looked like it was frozen in the middle of a cyclone, so I removed the front, brushed the fringe back down with my fingers, and went back and did it muuuch slower).
Success.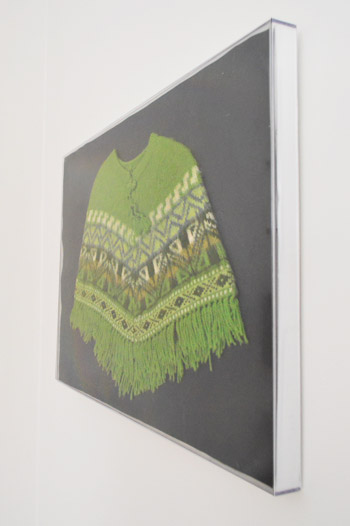 For now it's hanging above her play kitchen to the right of the wall with the postcard shelves but we're not sure it'll stay up there alone (sometimes it looks a little too small all by itself, and sometimes we like that it's a simple singular piece of art to enjoy on that small wall). So we'll keep you posted. Update: we added a little something else, which looks even more fun in cahoots with the poncho, so we'll share the pics as soon as we can!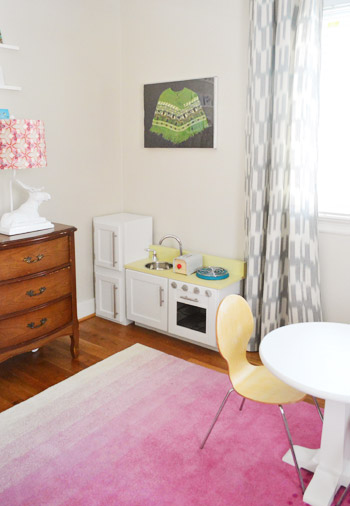 Sorry for the lackluster pic, the reflections in the acrylic were killing me, so all the closer ones except for the super angled one above were el stinko. It's a lot more vibrant in person (where you also don't see the reflections like you do in a photo). If you scroll up to the first pic, the poncho still reads as that color in real life – and it plays off some of the green tones in the flash cards on the shelves nearby and even in the frame collage art and our new Katie Daisy print on the opposite side of the room.
So now that we've gotten to the bottom of the poncho part of this post's title, what about playing hooky? Well… see those hooks hanging to the right of the closet door?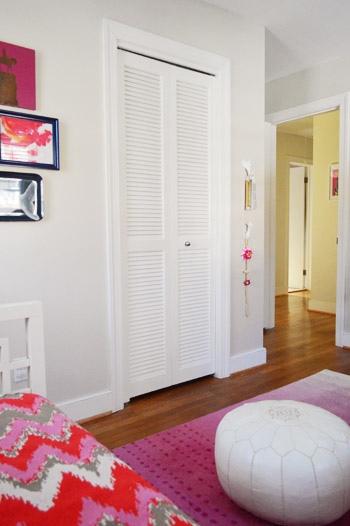 Let's get a little closer.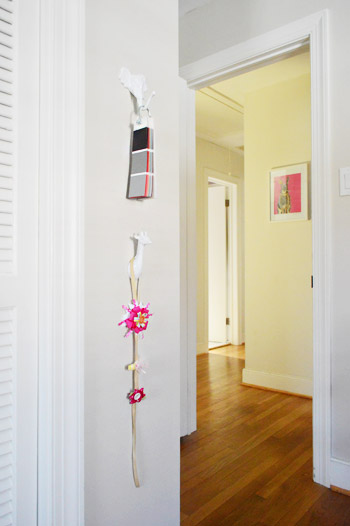 They're Anthropologie hooks that were actually passed along to us during the book tour by Jesse and her sweet hubby Rick in Cincinnati (we house crashed them so we were old friends by the time we got to the signing where they were so generously thrusting them into our hands saying "we thought Clara would love them so much"). It was so thoughtful of them, and from the moment I saw the elephant and the giraffe I knew they were right. Clara would love them and they'd be awesome for her big girl room. And the moment she saw them? Let's just say that the girl might surpass me in ceramic animal love. She's obsessed with them. She even named them. Meet "Manna."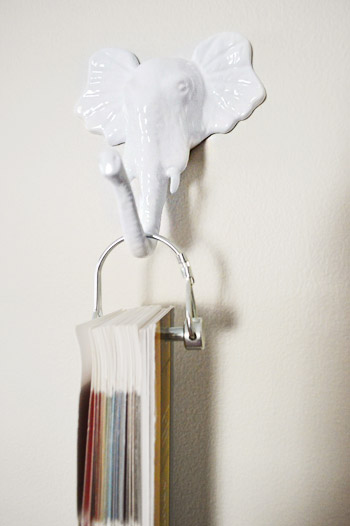 And "Bamma." Yes, those are their names. Manna is awesome about holding almost anything (stretchy necklaces, belts, and even a paint deck that Clara loves sharing with me). And Bamma is currently keeping Clara's hair bows clipped on leftover ribbon from my gift-wrapping stash.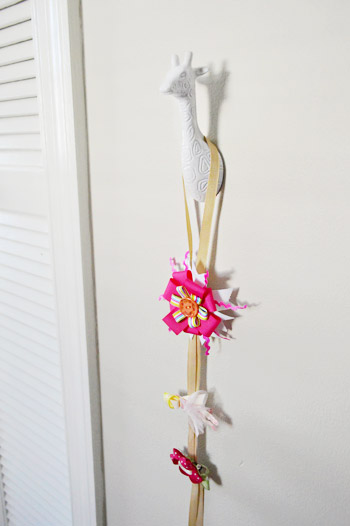 We hung the bottom one within her reach, so she can play with things on the hooks as well as clean them up/put them back when she's done – but kept the top one slightly out of her current grasp (although I'm sure she'll be able to reach it soon enough) in case we want to put something up there that we'd rather get down for her or keep her from tossing all over the room every day, like a bevvy of necklaces and bracelets. I'm sure what they're holding will change a ton of times, but for now it's a fun little mix of function and straight up fun (yes, I'm all chest-swelly and proud that my bean loves paint chips and ceramic animals just as much as I do). And see the space on top of the hooks on that sliver of wall? I still have plans for a little piece of homemade art to hang right there (so it balances more with the frame collage on the left of the closet door)…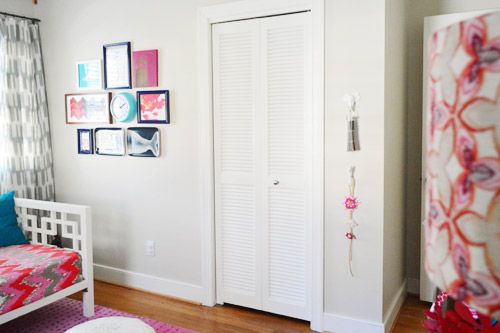 We still have some other items on the to-do list of course (getting new sheets for the bed, adding some crown molding, painting or refinishing the dresser, possibly painting the ceiling once the crown goes up, etc). We'll get there someday I'm sure! And you know we'll keep you posted. In the meantime are you hanging any hooks or ponchos or using acrylic display boxes that are almost as old as you? Stranger things have happened…
&nbsp
&nbsp&nbsp&nbsp

&nbsp

&nbsp
If you enjoyed this post, please leave a comment or subscribe to the feed and get future articles delivered to your feed reader.
222 Comments
This comment section is currently closed.