Archive for September, 2012
***This giveaway has reached our cap of 10,000 entries and is now closed. See who won below!***
It took you guys just a little under 6 hours to push this blogiversary giveaway to its 10,000 entry cap, so we're here with an earlier-than-usual update on our randomly selected winner. That lucky person is… Britta (who's currently living in baby/preschooler world so she hopes in five years she won't "have to deal with someone else's poop on a daily basis and to be able to sleep through the night!"). Congrats Britta!
For every blogiversary we try to do something special for that week's giveaway. And this year we ran with the five theme and snagged five different $500 prizes for one lucky winner from a few of our favorite places: FLOR, HomeGoods, Joss & Main, Shades of Light and Z Gallerie. Which means someone's gonna get a grant total of $2,500 to spend in celebration of our big five year blogiversary.
The five generous folks who are each giving away $500 aren't just places we love, but also places that hold a special place in the our blog's history (and future). In addition to being one of our first and most longstanding sponsors, Z Gallerie has dished out prizes for a blogiversary before – and was our first ever giveaway to break the 1,000 entry mark.
Richmond-based Shades of Light (also a long-time sponsor) has found their way into our home on several occasions (their local outlet makes us crazy). Plus we've got an exciting announcement about them that we'll be sharing soon (secrets, secrets, are no fun).
Joss & Main is a newer favorite of ours, and they've invited us twice to curate sale collections on their site…. so we'll always be grateful to them for making us feel like real designers – even if only for a brief time. Haha.
While HomeGoods seems to find their way onto our blog pretty often (like a $500 giveaway for you guys last week), one of our favorite instances was when they helped us makeover a local family's living areas for them a while back.
And last but not least is FLOR, whose catalogs is one of our favorites to get in the mail. But more importantly, they're gonna play an important role in our upcoming book tour. More details on that next week!
PRIZE: $500 gift cards to FLOR, HomeGoods, Joss & Main, Shades of Light and Z Gallerie (totaling $2,500!)
TO ENTER: Comment on this post with the words "FIFTH ME" and tell us…
BONUS QUESTION: … where you see yourself in five years. We always say we have no clue where we'll be down the road but it's always fun to imagine, right? How might your family be different or have grown? Will you be in a new home or a new city? Will you have the same job?
GIVEAWAY CLOSES: Wednesday, Sept 26th at 8pm EST or at 10,000 entries (whichever comes first)
NUMBER OF WINNERS: One
PRIZE SHIPS: The United States (although we do try to wrangle as many international giveaways as possible)
USUAL STUFF: One entry per e-mail address is permitted. The winner will be selected using random.org and announced on Thursday as an update to this post. That's right, come right back here on Thursday for the announcement of our winner. Good luck…
Note: We aren't paid or perked for hosting these giveaways, we just do 'em to thank you awesome folks for stopping in. See our Giveaway FAQ page for more info. Pics courtesy of FLOR, HomeGoods, Joss & Main, Shades of Light and Z Gallerie.

Holy cow, have we really been blogging for half a decade?! Crazytown.
It feels like just yesterday that we were creating a basic page with a big blue-background so friends and family members could drop in on our first home's kitchen makeover.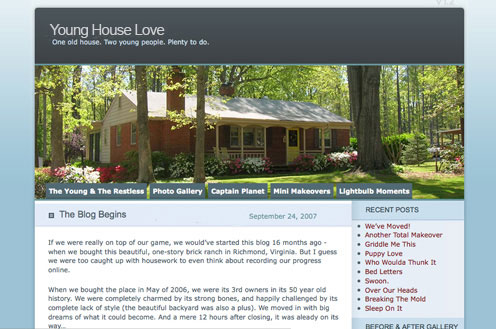 For our fifth blogiversary we wanted to host a parade complete with homeowners marching by waving hammers and paint rollers, but since we couldn't get that together – and it honestly sounded like someone could lose an eye that way – we decided to go for the next best thing: a week of blogiversary madness and behind the scenes hullabaloo (just like we've done for the past few years here, here, and here). And the festivities start right now. So feel free to toss out some chest bumps and fist pumps. It's about to get blog-a-delic up in here (anybody have a black light?). Here are a few of the things that we have on the agenda for this week:
a timeline of how we met, fell in love, started blogging, and ended up here (which is actually right in this post – we didn't waste any time, haha)
a pretty crazy giveaway with a ton of awesome $500 prizes in honor of The Big 5
a day in the life post with a bunch of pictures and details about an average day for us
a math-tastic rundown of our blog stats, growth, and other numerical goodness along with seven bloggy facts that might just blow your mind (no guarantees, but ours are officially blown)
a no-holds-barred Q&A video full of answers to personal questions that hundreds of you guys submitted via Facebook
all of our goals for the coming year (and a rundown of how we did on last year's)
a big ol' list of our favorite/least favorite/hardest/most memorable/weirdest/etc posts over the last five years (there have definitely been some doozies)
a warm and fuzzy getting-to-know-you post about you guys (who you are, where you live, what you love – we can't wait to hear from you!)
And speaking of the last bullet on the list, we'd love if you guys could tell us who the heck you are (we've had issues with poll software crashing our site before, so if the poll that we embedded below isn't loading, just click this link to take a super speedy quiz with a little dorky humor a la us). Then on Friday we can make a graph-a-riffic post full of stats about you guys for fun. That's right, pie charts = our jam. It's always exciting to hear who you are. In other words, you know so much about us that we really look forward to that one day a year when we get to learn about you.
But now on with the blogiversary extravangza. Without further ado, here's a big ol' timeline that we made in photoshop that dates all the way back to 2004. Holy buckets, was that really almost ten years ago? A lot of the things on this timeline were defining moments for us, either in our personal lives or the life of YHL. And a bunch of them actually make us all misty eyed. Seriously, no one is more surprised than we are to be where we are today, and we couldn't have done it without all of you amazing folks who take the time to drop in on us and see what we're up to. You've made this entire blog-tastic journey possible for our family, and sometimes I get that embarrassing lower-lip-quiver when I think about it too long. You guys put the love in YHL.
Time flies when you're having fun (and meeting, moving, marrying, starting a blog, having a baby, writing a book, and otherwise holding on the for ride). Are you guys somewhere you'd never imagine you'd end up five years ago? We're so thankful that we started this random little blog, and so very humbled that you guys have become a part of our lives and created this completely unexpected way of life for our family. We love you. Truly. Now somebody get me a tissue.
Psst- Itching to learn more about blogging as a business? So are we. Just kidding. Well, I'm half serious since we're definitely still learning as we go. But here's a giant collection of posts about how our blog baby grew, how we make money, how we spend our time, how we get sponsors, and a lot of other behind the scenes blogging stuff (like paying quarterly taxes, becoming an LLC, getting our own health insurance, etc).
We made four little updates around here, so I thought I'd smash them all into a quick recap post for ya. First, we have been meaning to convert our master bathroom toilet to a dual flush version for a while (we already did it to the one in the hallway and the one in our first house) but when we gave it the ol' college try, it turns out our new toilet isn't compatible (apparently the angle/shape of the bottom of the tank kept it from attaching correctly).
So we padded down the hall to the guest room and installed it there instead. Oddly enough, that tiny toilet that is most likely original to our 60′s house worked just fine with it.
Now at least we can save water when our guests come to stay (and a dual flush button helps that small outdated bathroom feel a smidge more modern – haha).
Another little easy upgrade that we did was that we finally (only 20 months after moving in, har-har) found a place for our shredder, which had been cluttering up our closet forever. The solution? Our built-in desk cabinets. Except we had to figure out how to make it fit in there (we really wanted to keep that storage drawer on the bottom).
So our first order of business was to remove the pull out shelf, which just came down to removing the tracks and the drawer itself with a screwdriver (they were held in with simple screws along the track).
Then we drilled a hole right into the back of the cabinet, so the cord for the shredder could be fed through the back of the cabinet without having to come out the side or the front or anything wonky.
Bada bing, bada plug.
Then we shoved her in there on her side.
Oh and at first we worried that it wouldn't work well on it's side, but before we went through all this drawer-removal and plug-drilling trouble, we laid it on it's side and used it like that for about three weeks before committing to "building it in" to the desk that way, and it worked like a charm. One tip would be to empty it pretty frequently just so the shredded stuff doesn't build up around the front since there's not as much gravity to pull things down as there is when it's standing up. But other than that it seems to work great so far. And the best part is that with the door closed it all looks nice and organized. Hooray for hidden contraptions and fewer messy-looking wires.
Another little update that we finally got around to was rehanging our kitchen mirror on two super strong hooks (they each have 100lb capabilities) since a few kind folks with professional framing backgrounds commented on this post about hanging it on a wire (they said that over time a wire – even a heavy duty one like we used – can slip or lose strength, so two hooks used individually with something strong (like a heavy duty screw & anchor ensemble) would be best. Pardon the weird duct tape (more on that here).
So we just added a heavy duty anchor system on each side of the wall to line up with the new hooks that we added to the back of the mirror…
… and hung things back up. Now it should be nice and strong for the long haul. Oh and you might notice that I got some bird friends from HomeGoods for the mantel. Yes, more animals. Our house is a veritable ark these days.
And our last little thing was that John brought home some pretty yellow tulips when he went grocery shopping. Isn't he sweet?
I put them at the table in the living room since I see them every time I walk through that room (and also get to enjoy them whenever I'm sitting on the couch and Real Housewives of NY makes me roll my eyes, which is surprisingly often).
Close up. Bam.
There you have it. Four things. What little updates are you guys up to around the house? Any toilet-pimping, shredder-hiding, mirror-re-hanging, or flower-enjoying going on in your neck of the woods?
Psst- We've gotten a bunch of questions from people about how Clara's liking preschool, so there's a post over on Young House Life all about it – complete with the way we'll be documenting her first day of school each year. Aw shucks, they grow up so fast.