Archive for December, 2011
***This giveaway is no longer accepting entries – see who won below!***
Thanks to random.org, we've got a Merry (belated) Christmas prize going out to… Kristin Aune (who made t-shirts for both of her kids, ornaments, buckeyes and has been trying to perfect her fudge pie recipe). Congrats!
Wahoo. Hope you guys all had an awesome holiday weekend (you can see a sliver of ours here). As we mentioned on Friday, we'll be stopping in with one quick post each day this week (amongst family hosting, feverish book-deadline writing, and priming & painting all of our kitchen cabinets). But we couldn't wait to share today's giveaway that we wrangled after seeing so much amazing stuff at our local Handmade Holiday craft fair. So this week's lucky winner will get: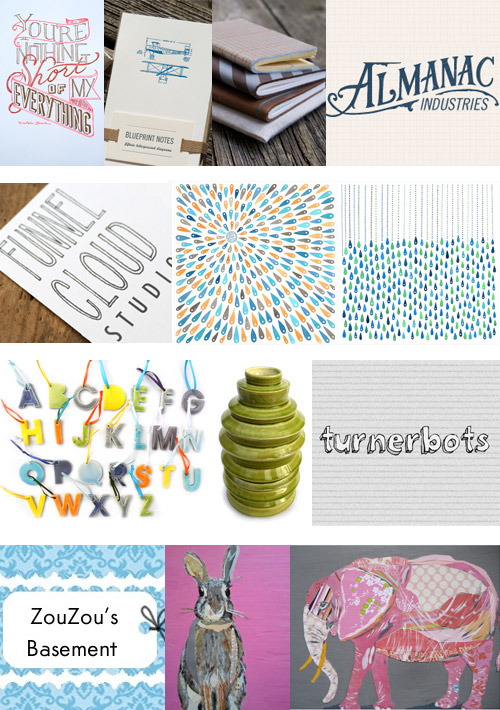 PRIZE: Everything mentioned above
TO ENTER: Comment on this post with the words "HAND IT TO ME" and tell us…
BONUS QUESTION: … what you've made with your own hands recently. Did you bake something for the holidays? Did you give a handmade gift this weekend? Or have you tackled a DIY or homemade art project recently?
GIVEAWAY CLOSES: Wednesday, December 28th at 8pm EST or at 10,000 entries (whichever comes first)
NUMBER OF WINNERS: One
PRIZE SHIPS: The 50 United States (although we do try to wrangle as many international giveaways as possible)
DISCOUNT: 10% off any item in Turnerbots' Etsy shop until January 15th, 2012 with the coupon code YOUNGHOUSE.
USUAL STUFF: One entry per e-mail address is permitted. The winner will be selected using random.org and announced on Thursday as an update to this post. That's right, come right back here on Thursday for the announcement of our winner. Good luck…
Note: We aren't paid or perked for hosting these giveaways, we just do 'em to thank you awesome folks for stopping in. See our Giveaway FAQ page for more info. Pics courtesy of Funnel Cloud Studio, Turnerbots, Almanac Industries and Zou Zou's Basement.
&nbsp&nbsp&nbsp
With family arriving tonight for our first ever Christmas in Richmond, we wanted to be sure we shared our holiday card with you guys first (you know we love ya like family). We couldn't do this little blog-thang (look at me getting all twangy) without you. And we sincerely appreciate you for dropping in on us.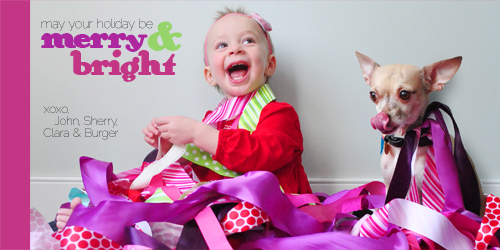 We shot this earlier in the month with the help of a bunch of ribbon snagged on clearance from Michael's last Christmas (some of which later ended up on our tree). It's actually two pictures photoshopped together, since getting Clara and Burger to sit still that close to one another without doing something weird (like synchronized diaper sniffing/tail grabbing) is beyond unrealistic. You can actually see a bunch of outtakes over on Young House Life today. Like this one we like to call "The Peeper."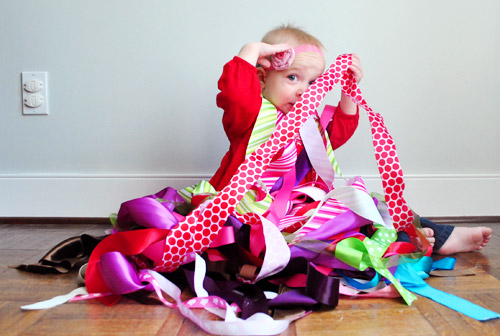 We hope everyone has a fun/joy/family/food/relaxation-filled holiday weekend! And although we figure many of you will be busy with miscellaneous chaos over the upcoming week between Christmas and New Year's, we'll still be dropping in with a quick post every day from Monday through Friday for ya (and yes – we hope to have some cabinet priming/painting peeks for you guys with a big reveal sometime around the first week of January if all goes well).
We just found out that we have a big book deadline of January 4th too (the entire final manuscript is due- yikes!!!) so at any point if you're wondering what we're up to, you can probably count on us to be holding a paint brush, a laptop, a toddler, a chihuahua, or a cookie covered in sprinkles. And maybe a few of those things at once (let's find out if I can eat a cookie while priming, shall we?). Happy holidays to every last one of ya!
Psst- We announced this weeks giveaway winner, so click here to see if it's you.
&nbsp&nbsp&nbsp