Let's talk about vanity, shall we? Specifically the sink vanity that we last left off as primed in this post.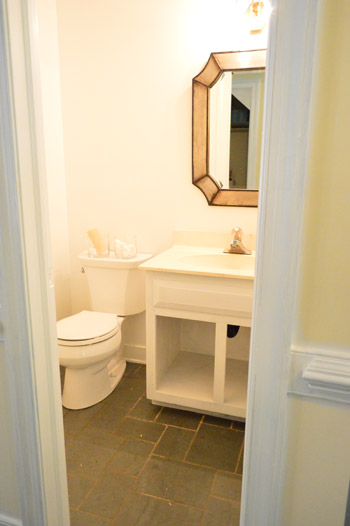 This is one of those real-life stories where we painstakingly stared at about fifty swatches before carefully choosing a pretty kelly green tone that we thought would be awesome. A fun pop of color in a white room (sort of like this). So off to the store we went and grabbed a quart of Baby Fern by Benjamin Moore in their semi-gloss Natura paint. And after one coat – even though we gave it two in the hope that the second one would work a miracle – we knew…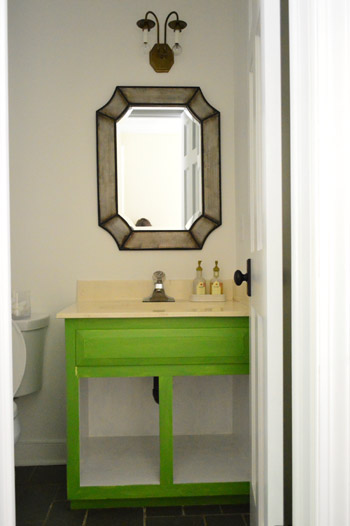 Baaaaaaad call.
Seriously, at one point Clara said it was the same color as Kermit The Frog. How did this happen?
So we did what any self respecting DIYer would do and we whined a little and then we laughed for a while and then we went out to the garage and stared at all of the paint cans that we have sitting around and finally found the one we were looking for: Silhouette. It's an awesome moody brown/gray tone with the slightest plum undertones. Really, photos of it hardly do it justice but we first used it for a bunch of book projects and fell in love, so it's no surprise it was our "rebound guy." We didn't want our hearts broken again, and we thought it would be really sophisticated with the slate too. And happily, it was: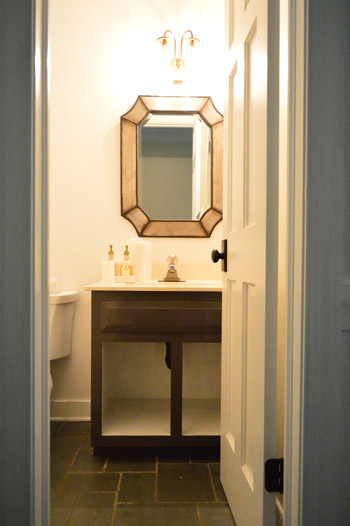 Now instead of the white bathroom with the colorful vanity, it's shaping up to be the chic little black and white bathroom (ok, it's not really black, but it's close enough to give it that vibe). We especially love how it looks with the dark doorknob and hinges.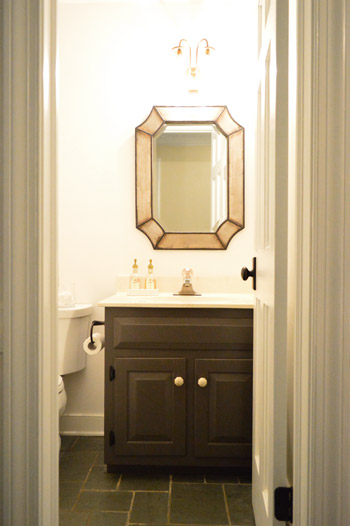 And although we did have some need-to-repaint bad luck, when it came to the knobs the universe threw us a bone. We went to Anthropologie just to look around (sometimes we fall in love with $14 a knob items, which are a little too steep for us) and these cool faceted knobs were marked down to $2.95!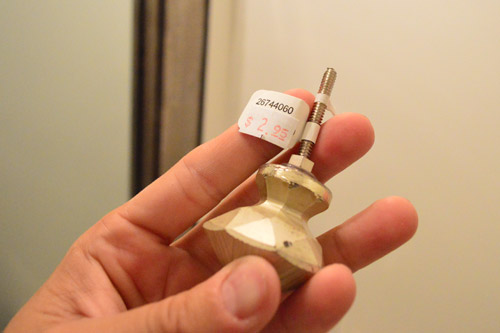 One of my favorite things about their octagonal shape is that they mimic the angles of the mirror, which also has the same tone in it.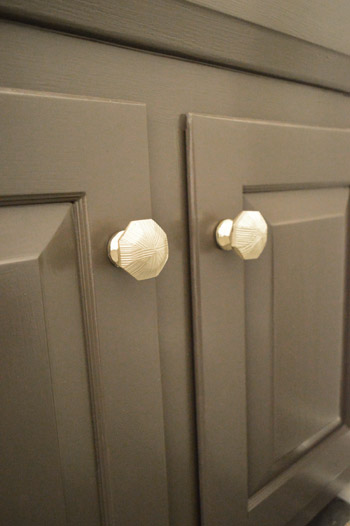 How lucky is that?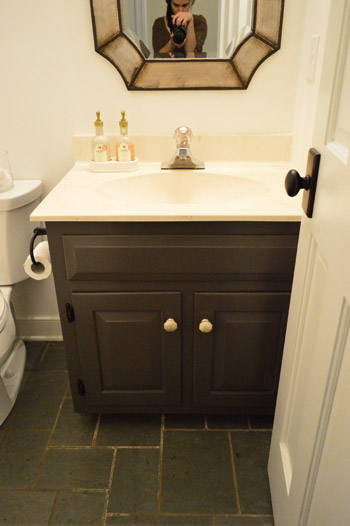 And we also grabbed this toilet paper holder from Lowe's on clearance to replace the old wood one we had there before.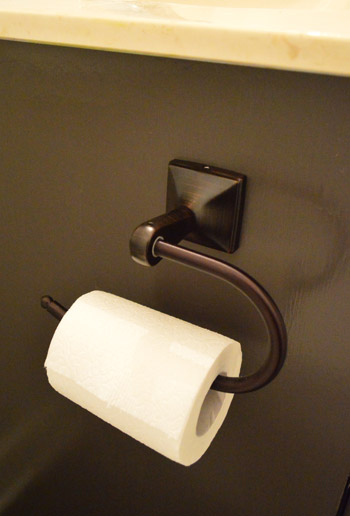 Remember this guy?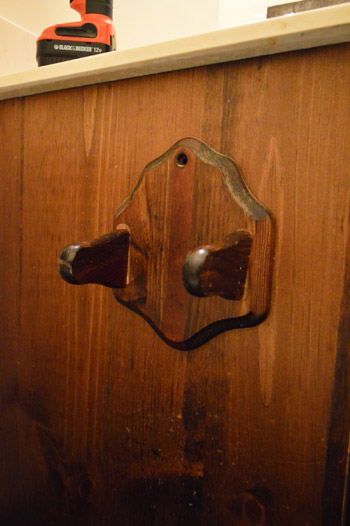 Definitely an upgrade.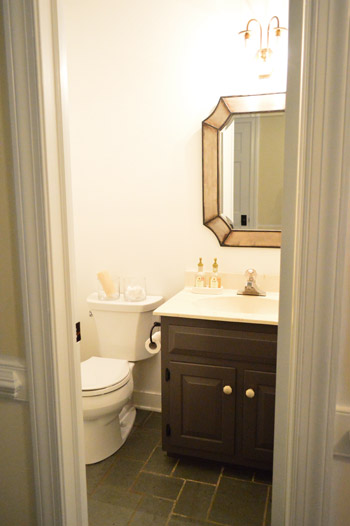 You've come a long way, half bathroom.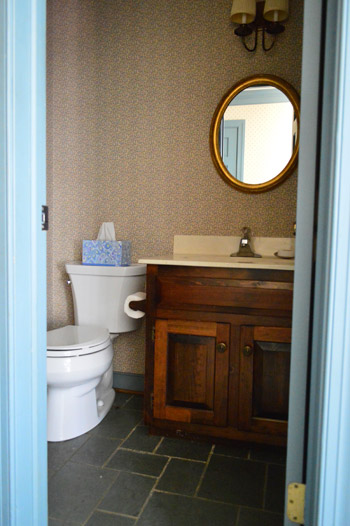 So that's the story of gaining a little vanity va-va-voom, with one of those surprise DIY speedbumps along the way. I think the lesson is that you win some and you lose some, but as long as you keep on trucking – and course correcting as you go – things usually work out OK.
Next up I have to scrub or replace the grout, and switch out this leaky faucet.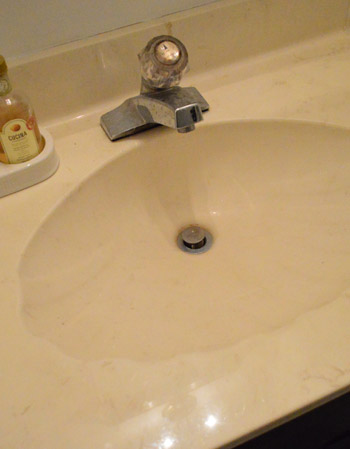 And we can't forget our upside down light (remember I turned it around here to allow for a bigger mirror?). Doesn't it look like two beady little eyes and the mirror is the mouth? Like the bathroom's making the same face I'm making in this super flattering picture?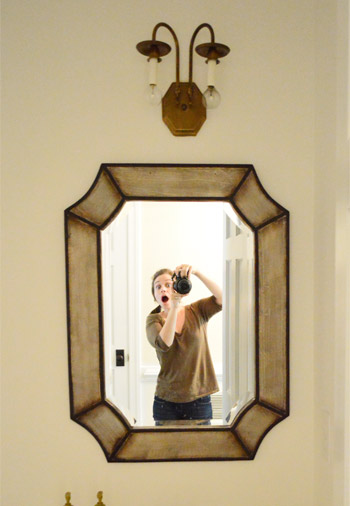 The light is a smidge off-centered from the mirror. The issue is that the faucet and the light don't line up, so if we centered the mirror on the light it would be really off compared to the faucet, so we sort of split the difference so it's less noticeable for now.
So yeah, there are a few more things that we'd love to do in here for this Phase 1 update – mainly some grout fixing, light updating, and a new faucet. I'm weirdly excited about light shopping (and completely avoiding the grout project – so we'll see how long I can go). Even though we have plans for a more major bathroom upgrade down the line (grasscloth wallpaper? tiled accent wall? pedestal sink?), it definitely feels nice to make some cheap tweaks to make it more welcoming in the meantime. Anyone else working on a half bathroom update? How goes it?