We finally got back over to Ikea to see all the new stuff this year (and to pick up a catalog in person since we waited and waited for one to come to our door with no avail). Let's just say it didn't disappoint! So we snapped a few photos of some of the things that inspired us most. Here's an office that we really liked. Although having all that space in our current house to devote to an office is a pipe dream, maybe our next house will allow for it. And even if not it's still fun to look at.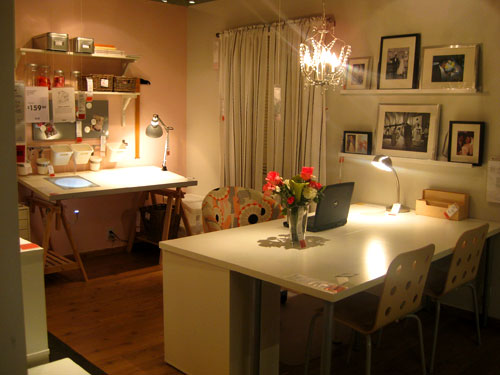 Speaking of dreams for our future house, we've always adored the idea of an island (even though we widened both doorways surrounding our kitchen, an island never made sense with our current house's floor plan). So of course we stopped to drool over this sleek yet charming butcher block beauty.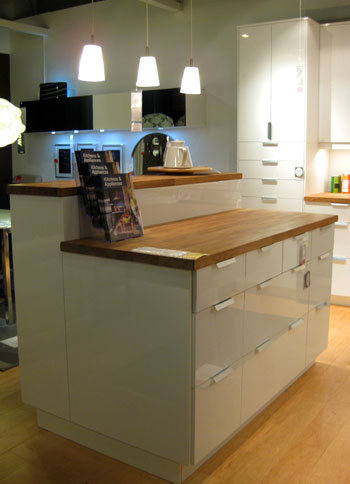 And we had to snap a photo of this not-finished-yet kitchen because we were so amused by our reaction to it. We actually both stood there and reminisced about how exciting our own kitchen reno was back in the day. I guess most people would hate looking at this "mess" but we paused for a moment and soaked it up.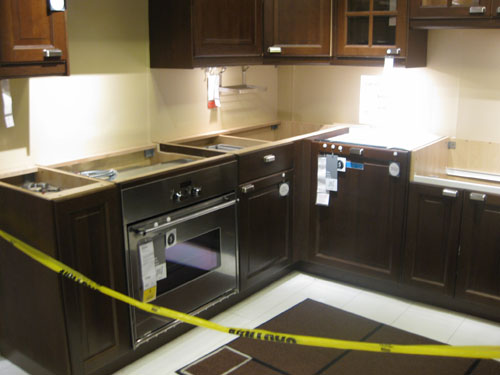 We also loved this warm and cozy arrangement of photos on the wall so we grabbed a shot for anyone out there who might be looking for a semi-balanced but not totally symmetrical plan to implement in their own home. Tip: use paper or even brown paper bags (cut into rectangles) to represent your frames. Then move them around on the wall until you like the arrangement and tape them in place with blue painter's tape. You can even nail right through the paper to hang the frames in that formation.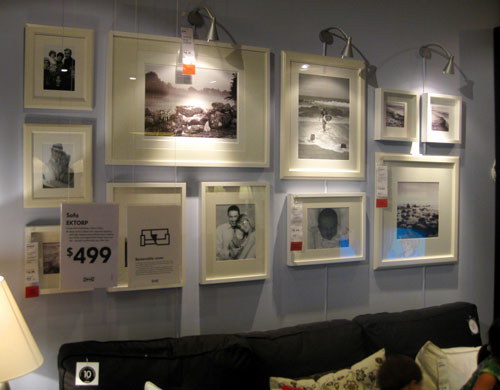 We were also charmed by this bathroom since it's just one wall but it's packed with tons of storage and function. The bowl sinks keep things feeling less boxy thanks to the soft curves (since this set-up could look a bit too angular and grid-like without them) and the seeded glass on the middle cabinet was actually really pretty in person.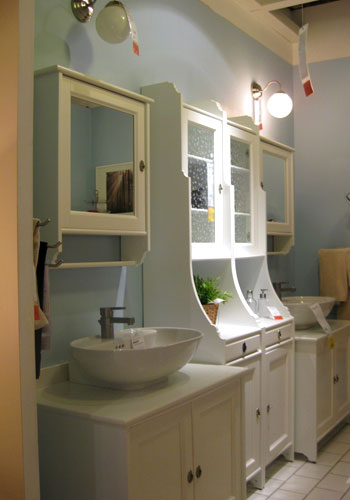 We couldn't pass this mirror without grabbing a photo for you guys. Not only because it's huge and modern (and sure to add polish and bounce around tons of light) but also because it was reflecting that fun white geometric chandelier. We like how the curves in each item play off of each other.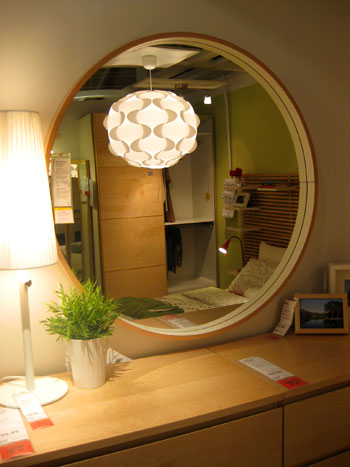 And I nearly took to the streets hooting and hollering when I came across one of Ikea's new-this-year additions to their furnishings and accessories. Faux sheepskin rugs! So for anyone who doesn't want to DIY them, now you don't have to! And they're just $12.99. Oh happy day. Needless to say we returned home with a few (just for good measure). I love tossing them on the backs of chairs, over the bench in our dining area, and even under the Christmas tree in lieu of a traditional tree skirt. Note: Clara's not still that teeny, I borrowed this old pic from this post of yore.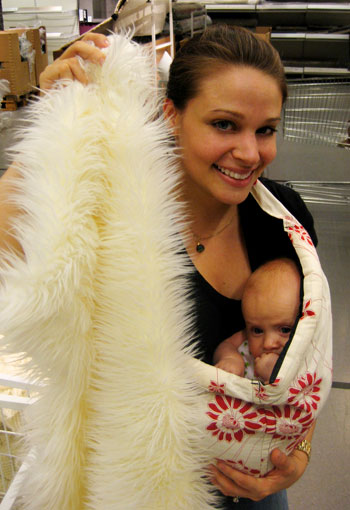 This stately gray glass fronted cabinet was also spot on for us. The fact that it was up on elegant legs (which make it feel a lot less heavy) and that it had such nice top molding and chic hardware wooed us to no end.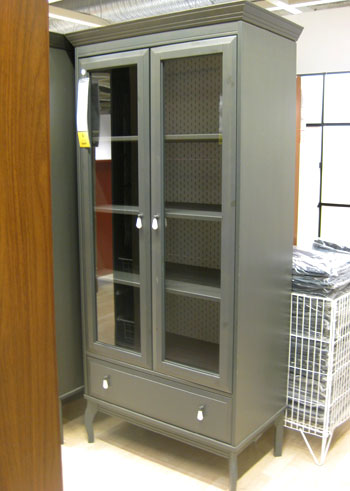 This New York City map print was also cool and graphic thanks to the high contrast and detailed design.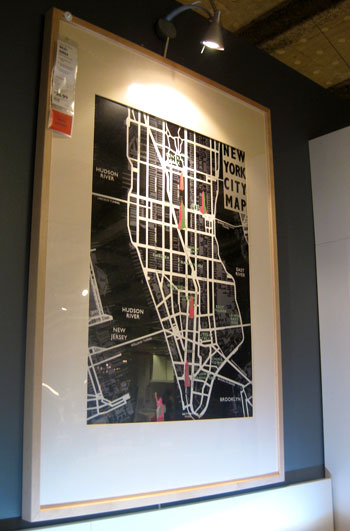 Oh and this rug made us laugh because we both thought it said Petersik for a split second. And let's face it, an Ikea product coincidentally bearing our last name would probably make me break out my dorky Elaine from Seinfeld dance.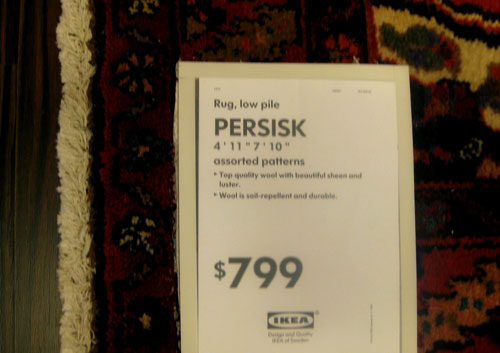 We also noticed these plaques in a few of the showrooms, and really appreciated that they not only listed the size of the room, they also shared the color of the wall paint for anyone walking by who happened to like what they saw. Convenient, right?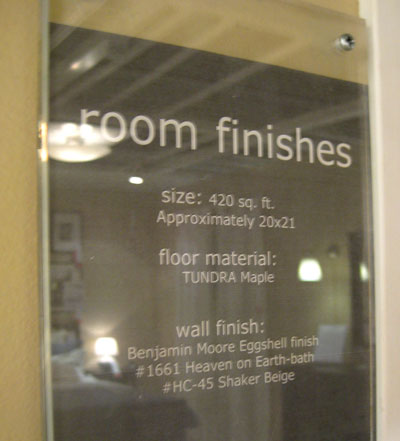 And this larger than life chandelier was just that. Large and in charge. It would look unbelievably amazing in a lofted dining room or den (we definitely think it can be dressed up or down).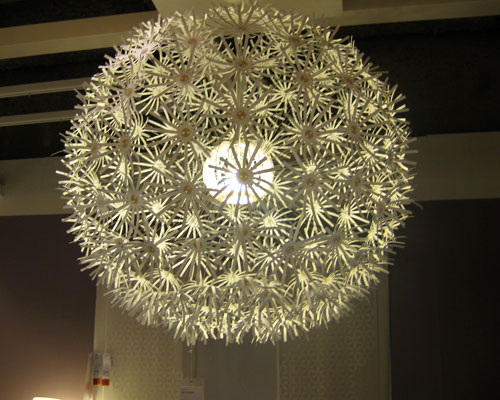 And just as I stopped to cuddle the faux sheepskin rugs, John made himself right at home in one of the amazing walk-in closets complete with a pair of shoes that had been cable tied to the shelf. Someday we'll have a closet system like this… someday…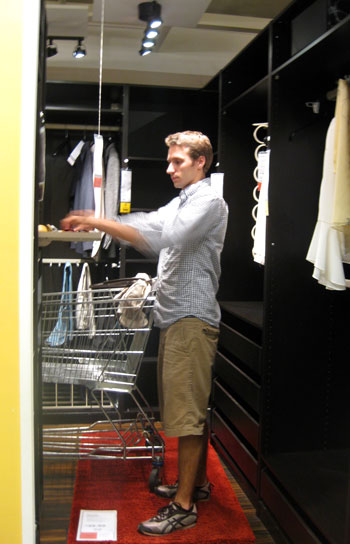 And last but not least are these gorgeous smoky acrylic chairs (which also come in clear). Paired with a chunky rustic wood table we think they would make for an amazing mixed & matched result full of texture and interest. Plus they're impervious to jelly covered fingers and spit up (which is definitely something that I take note of these days).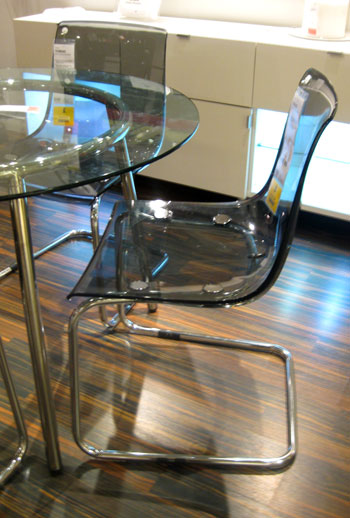 So there you have our little virtual tour through Ikea. Have you guys been yet? Have your catalogs actually arrived? Are you loving anything in particular this year (and obsessing over old favorites that they brought back)? Let's talk Ikea. No umlauts necessary.
Psst- Try as we might, we couldn't locate links, prices, or names for all of the items that we photographed above, so feel free to consult ikea.com or breeze through the store in person for more info since we're hardly experts when it comes to those details! And we weren't paid or perk'd for this post, we just love us some Ikea and we wanted to take you window shopping with us. See more window shopping adventures here.