I'm currently hanging and shooting the canopy that I made for over Clara's bed (ahh! it just might be cute!) so I'll be back with those photos and the whole rundown for you tomorrow. I was actually thinking about writing about September 11th today. I lived in NYC at the time, and it was one of the most life-changing days that I've ever experienced, but for some reason, even 12 years later, I just can't put words together about it. So I'm sending out lots of NYC pride and love to everyone affected by such a horrible day and trying to drum up the courage to talk about it (I'm reminding myself how healing it was to share Clara's birth story). Maybe this afternoon.
So I have a window shopping adventure to share with you guys this morning instead. It's been way too long since our last virtual shopping spree. As most of you know, these aren't paid or perked or anything – we just walk through a store with a camera and take pics of whatever inspires us for you guys. And I especially love discovering small, tucked away, one-of-a-kind places like this. Ladies and gentlemen, I give you: The Art of Simple.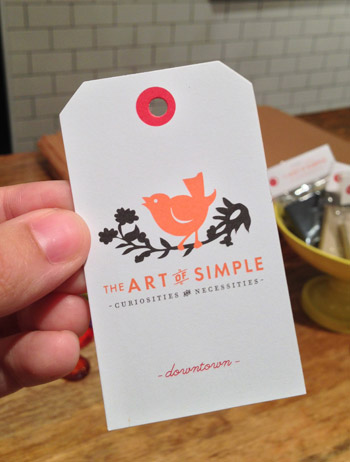 I stumbled across this sweet little store while we were on vacation in Destin (it's in downtown Seaside for any interested locals) and I had to break out the camera the second we walked in. The shopkeeper was so nice, and everything in there was so inventive and inspiring. So if you're a local – dude, get in there! But even if you're nowhere near Florida, I'd imagine you can give them a call if you fall in love with something in the hopes that they'll ship it – or just draw inspiration from the eye candy for your next DIY project.
For example, some of their white bookcases were backed with beadboard and I thought it gave them a really nice crisp look. Some added interest, if you will, instead of that flimsy back panel that most bookcases come with. I also loved the color palette of the store. Lots of white with hits of red, gray, and aqua – among other splashes of color in the fun things that they sold of course.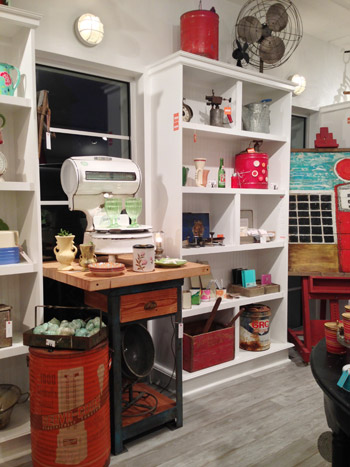 There was this cool accent wall along the back of the store too (white subway tile with gray grout) and I loved it with the old barn-board-looking floors in their gray-washed tone. They actually weren't even wood, they were stick down laminate! Couldn't you see a wall of subway tile with these floors in a laundry room or a bathroom? Yes please.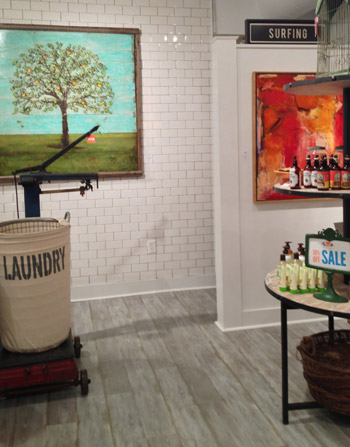 As sort of an exclamation point in the back of the shop there was this INSANE (in such a good way) red beaded chandelier. I wanted to run off to Paris with it. I didn't catch the price and I'm sure it's not cheap, but if it's not in your budget perhaps you can draw inspiration from it and spray paint a beaded chandelier with candy apple red spray paint? Urban Outfitters and PB Teen usually sell small beaded chandeliers that might look like this gal's little sister with a new paint job.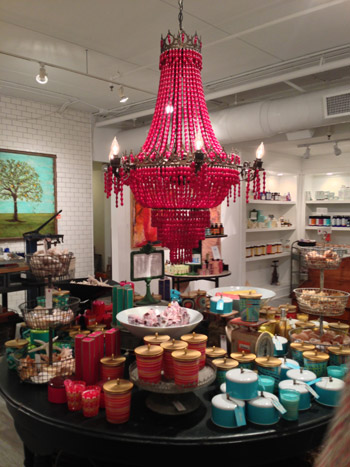 They also had these awesome signs. I loved that they were black with ivory lettering (feels like a modern and understated-cool take on some of the more colorful/bright signs that people sell these days). I also really liked what they said. How much fun is The Laundry for a laundry room or The Shanty for your entryway among a gallery of frames? Every house deserves a cute nickname.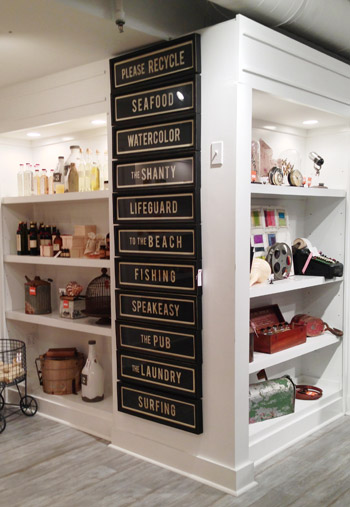 This chick had me at hello. I wanted to bring it home but John nipped that in the bird bud. I've seen some pretty amazing Pinterest DIYs for making lighted signs though (never seen a chick yet, but I bet it could be adapted!).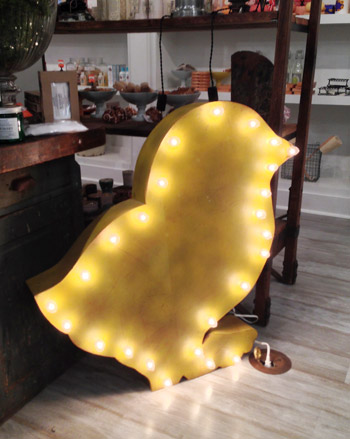 There were also some really cool globe ideas, both for folks who want to walk in and snatch them up or for someone who might already have an old globe but wants to tweak it with a little at-home project. This one appeared to be painted with blue paint and rubbed with some distressing glaze and then the countries looked to be painted on with black paint (or drawn on with a big black marker that was outlined in a gold sharpie).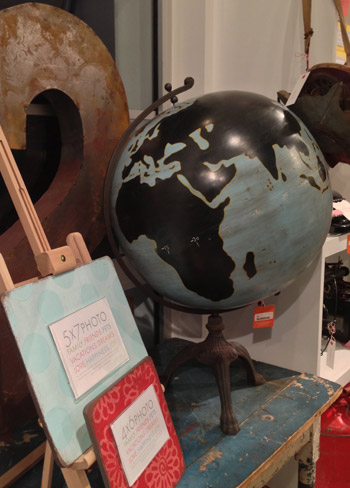 And this one was covered entirely in chalkboard paint and then what appeared to be a turquoise paint pen was used to sketch the countries as well as the measurements along the equator.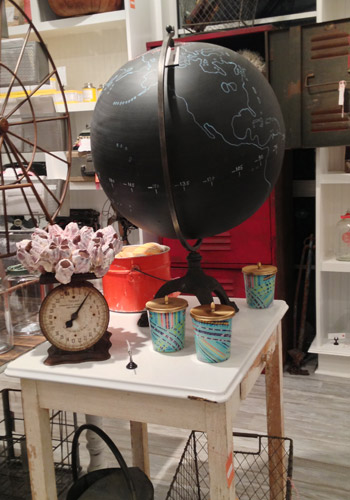 These old metal letters had the perfect amount of patina. And I LOVE the idea of using an old metal caddy like this in the laundry room for sorting clothes.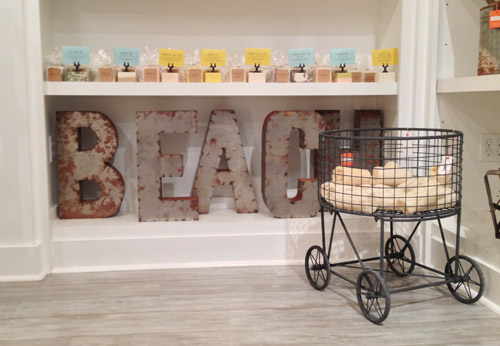 These lights were really interesting to me too! I even ended up chatting with the shopkeeper about them, who told me that the colors of the flowers on each pendant are customizable!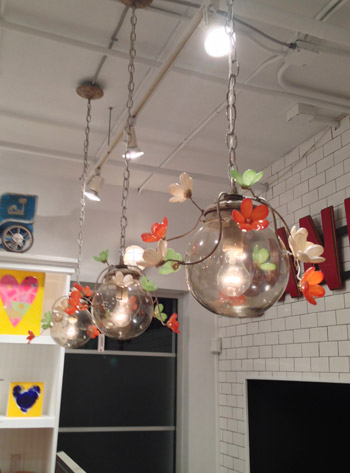 She whipped out these rings o' crystals and I was in awe. So if you're redoing your kitchen and just want a pendant for over the sink with three of your accent colors (say they're emerald green, teal, and navy) you can make it happen by ordering one of these babies. They weren't cheap (I think around $350?) but in a spot where you just need one, it might be a fun splurge, especially if you can justify it with savings in other areas (like if you save $500 by buying all of your appliances in bulk).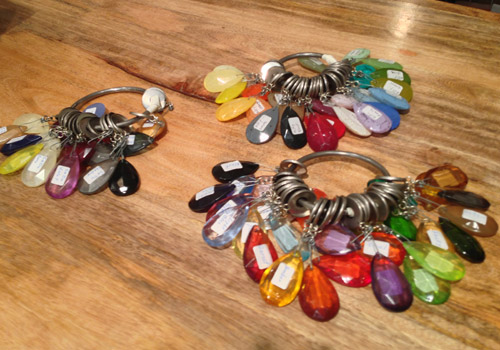 These simple little mussel shells were $9 and I loved that they were sold with other soap holders so the idea for a unique way to use them was sort of planted in your brain. They had a really pretty pink color going on with some bronze. I bet they'd look awesome in an old school bathroom full of black and white tile on the floor and a white pedestal sink.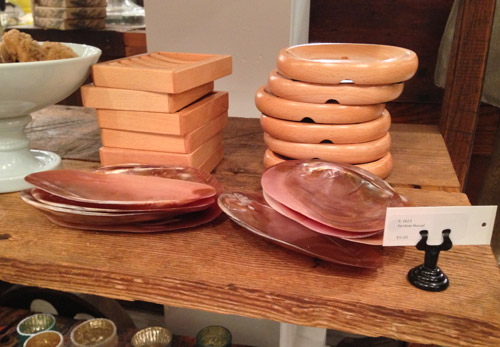 These were legit marquee letters from the 1940s, and they were heavy and metal and completely cool looking. Predictably, John was drawn to them like a moth to a flame.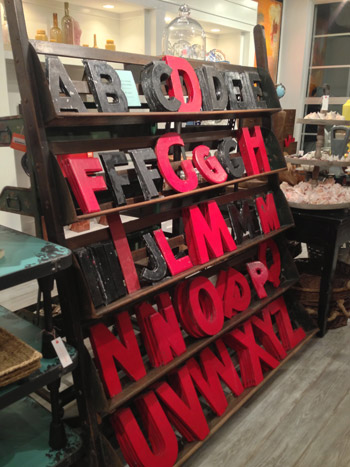 This charming painting of an old gas pump was one of my favorite things in the whole store. I loved the rustic wood frame around it and the pretty red and teal colors. Even the red easel that it sat on was crazy inspiring to me.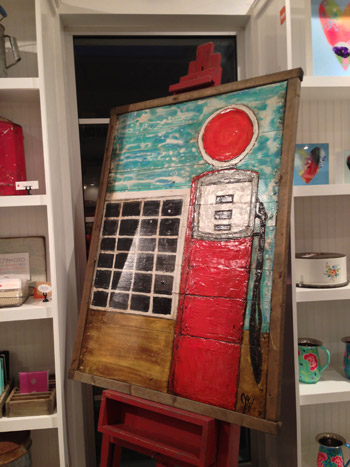 So there it is. A little shuffle though a sleepy beach town store that I'm still thinking about a few weeks later. Hope you guys enjoyed the virtual shopping spree! Is anyone else discovering new boutiques to ogle? If there are any here in VA, tell me all about them!