We've been doing a lot of thinking about what our lives will look like in a few weeks, a few months, and even a few years with the impending arrival of the littlest Petersik. And a big part of that process included wondering about how we'd keep up with this blog once there was a tiny (yet huuuuge) responsibility around here to be cared for and coddled. So we put our heads together and concocted a few new strategies for making time for everything: each other, our baby, this blog, and of course our main man Burger.
We're still as dedicated as ever to keeping this home improvement adventure going since we've had the fortune of taking this hobby/passion of ours and turning into a full-time job for Sherry. And at the risk of not saying this before I forget: THANK YOU for encouraging, supporting and humoring us on a daily basis so that could happen (read how Sherry went from hobbyist to full time blogger here).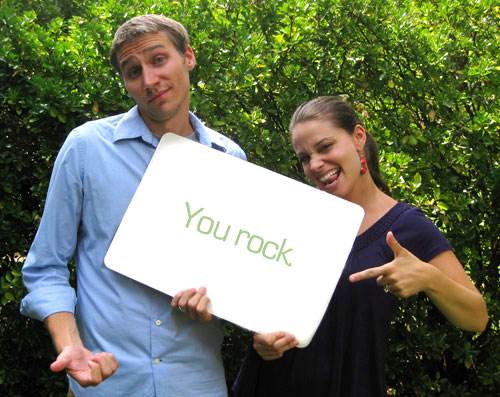 But with a newborn on the way, we're not delusional. We know how much time and effort that will take. Caring for Baby P alone could be a full time job for Sherry so we knew that maintaining our two-post-a-day habit and coordinating weekly giveaways, all while taking on consistent DIY projects would be a stretch. So we came to a major decision (not without a ton of careful consideration and number crunching of course). The verdict? We're charging forward with Young House Love full force- and in order to keep things going we'll be bringing on a second full-time employee (to help with both baby and blog duties). Any guesses as to who it could be?
I know, some of you are probably crossing your fingers that it's Burger – he is quite a hard worker…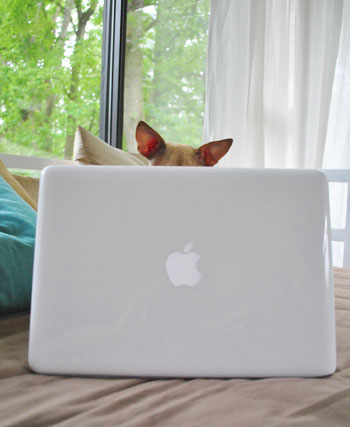 But it's actually… me! That's right, once Baby P comes along I'll be saying a sad goodbye to my time as an 8-to-6 advertising geek and hello to full time fatherhood & bloggerdom. And for that, I feel incredibly blessed. So again: THANK YOU. It's not like I don't already work about 20+ hours a week on top of my full time job when it comes to keeping this blog going, but with all the time that we'll gain with me being at home during the day we're certain that we can better juggle the blog, the baby, and the rest of our lives. In fact we have big plans for YHL when I come on full time, so stay tuned for even more action around here in the coming months…
And what does my new role as a full time father/blogger really mean? Of course the obvious: I'll be around to tag team both the care for our beanette and the blog with Sherry, seven days a week. So we can nurture each of them as one big (hopefully very happy) family. But it also means that we've got another major room makeover on our to-do list. That's right, Casa Petersik is getting a bona fide two-person home office!
For now, all of my night and weekend work on our blog has been done at the dining room table, while Sherry remains parked at her nook in the den. But if I'm going to be around all day, we know we'll need a more permanent space so we can reclaim the dining table and keep the room-to-room shouting to a minimum. Plus there really is something to be said for a designated work space to help delineate work and play zones, which we know will be very important when it comes to maintaining that fragile and oh-so-important work/life balance.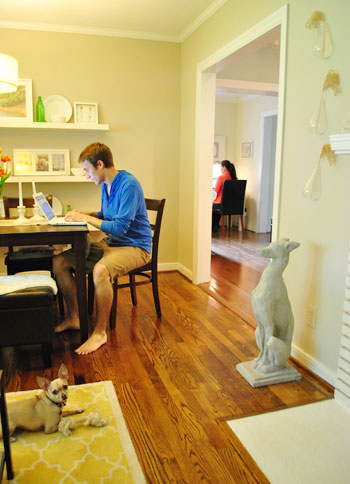 So if you haven't already figured it out by process of elimination, the new office will be taking over our current guest bedroom. And with the nursery having given our other guest bedroom the boot already, we have to keep this office 100% guest friendly as well (yup, that means it must sleep at least two people as it always has). But it also has to accommodate two working bloggers, their wee one, and their playful nine pound pooch. Not to mention store all sorts of paperwork without looking too corporate for our guests when they come to stay. Oh yes, we'll be walking quite a delicate line in there (all while trying to squeeze every last ounce of function out of the tiny 10′ x 10.5′ space).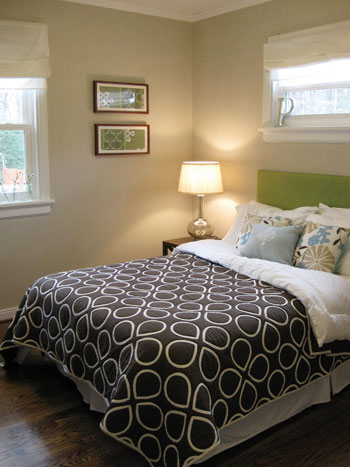 Oh and did we mention that we'd also like to see it multitask as a playroom of sorts for Baby P since she'll obviously be hanging out in there as we do our blogging thang? We didn't? Well add that to the list. So stay tuned for the play by play as we attempt to fully reconfigure this soon-to-be triple duty room into a space for work, play, and overnight guests. It's sure to be a doozie, but we wouldn't have it any other way.
And we'd love to hear any tips that you guys have when it comes to designing a home office, working from home without losing your mind, or just generally creating a room that has two or three separate functions. Share and share alike.