Oh I am madly in love with the newest addition to our master bedroom. It's this yummy little linen looking ottoman with nailhead trim:
Sure it looks like a super spendy little pouf, but it's actually a TJ Maxx steal, snagged for $119. The funny thing is that $119 is actually the most we've ever spent on an ottoman (the two leather ottomans in the den were $69 Target steals and the woven ottoman in the third bedroom was under $40). But it was ottoman love at first sight, and although I initially resisted the purchase when I saw it with a friend, I couldn't get it out of my mind so I brought John back to TJ Maxx that evening to weigh in on my beloved nailheaded pouf.
One of our rules is that we need to have a spot in mind for the item that we're considering, and I actually had two (slipped under the console table in the living room or next to the armchair in the master bedroom) and I pointed out that we could always return it if neither of my predetermined ottoman places worked. Lo and behold John actually liked it, and before I knew it we were carrying her over the threshold into Casa Petersik.
Here's what the bedroom used to look like with our DIY pedestal table (we actually popped a tabletop from Lowe's on a smaller wooden pedestal table from Target and painted the whole thing glossy white). It was definitely an improvement from the old set up, but the exposed fan wire always felt a little messy and the pedestal table always seemed a bit too tall for the low slung leather armchair beside it.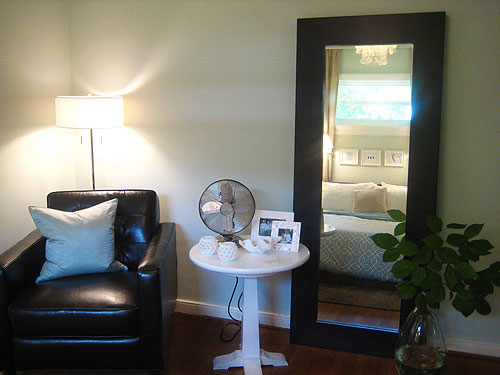 So we moved the pedestal table into the den (stay tuned for those pictures, gotta love two mini makeovers for the price of one ottoman!) and replaced it with our plush new pouf.
The ottoman is the perfect height for the chair (it no longer competes with the height of the arm) and the fan is now aimed directly at us as we sleep instead of 12 inches above our heads. Summer can't come soon enough! But best of all, that unsightly black fan wire is now nowhere to be seen. And thanks to the ottoman's lower profile and smaller surface area, the whole room feels a wee bit larger and less crowded. Which is key in our tiny bedroom.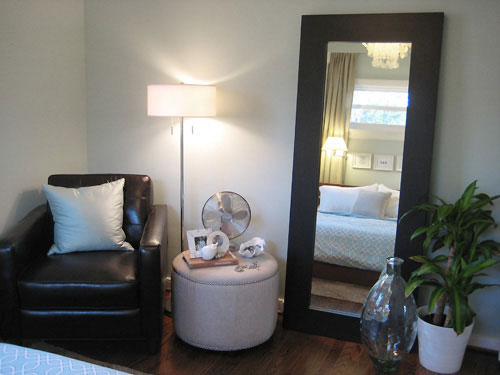 And have I mentioned those nailheads really do it for me? Swoon.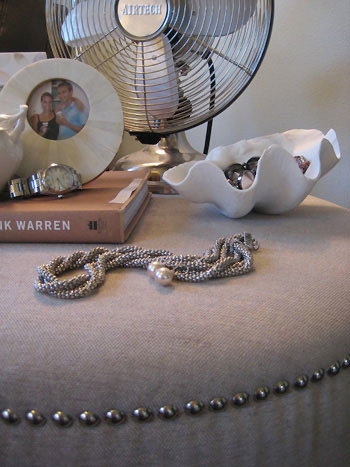 What about you guys? Do you have a major crush on certain decorative details like nailhead trim or curtain grommets? How about x-backed chairs or beveled glass edges? Dish the decorative detail dirt.