We've easily seen over a dozen terrarium tutorials everywhere from Real Simple to Better Homes & Gardens. So naturally, we wanted to get in on the glass act. But a true terrarium calls for a bunch of steps and a handful of materials, so we threw together a cheapo quickie terrarium that has been going strong for over a month now. The reason we waited a while before sharing our step-by-step process is of course that we wanted to make sure that our plant wouldn't end up dead! But we're happy to report that our small feathery fern is alive and kicking- looking very content in his little glass house in the guest bedroom.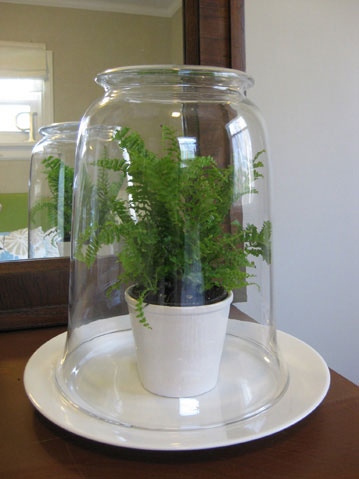 While the majority of the terrariums that we've encountered call for moss, soil and pebbles to create a nice little ecosystem (some even require distilled water and activated charcoal), we rigged up a pretty indoor greenhouse for one lucky little fern with just two things: a large dinner plate and an $11 glass hurricane from Ikea.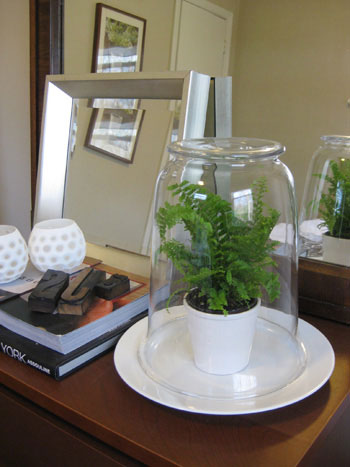 We simply took a small potted "Fluffy Ruffle Fern" from Home Depot (it's good to select a plant that likes a moist environment like a fern, an orchid, or even a venus flytrap) and placed it on the dinner plate and flipped the hurricane upside down and dropped it over the plant to create an airtight little enclave for our fern to live. Oh and you'll want to select a plant that's small enough to easily fit under your glass top (you don't want their leaves pressed against the glass, they should have a bit of air around them so they're not too cramped).
Thanks to the moist, misty environment that is created due to the glass cover, we rarely have to water the guy, although we do remove the glass top from time to time if it's getting a bit too foggy or damp, just to give him a break. Since ferns (and many of the other plants that like terrariums) can also live without a terrarium, it doesn't hurt to lift the top for a minute or so each week, since moist and misty is nice but we wouldn't want him to get straight-up soggy.
Here he is from above. That's one happy little fern.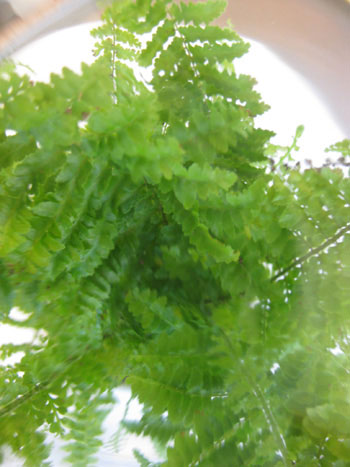 We've also seen other glass vessels used to create a little plant-house (we especially love them in an apothecary jar or even in one of these oversized jugs where we keep our cereal). Do any of you have a terrarium at home? Anyone else itching to make one? Whether you're going the full monty (activated charcoal and all!) or just happy to use a dinner plate and a hurricane, we'd love to know what terrarium-type tickles your fancy.
Want more terrarium info? Check out this great how-to video from eHow.