John and I have realized that our Florida road trip has somehow given us a little house perspective. As much as we've been loving the new house (nearly two months after our move I still find myself going up the stairs and whispering "duuuuude, we have a second floor") and as much as we've been feeling more settled with every wall that we de-wallpaper and paint, leaving our second house was definitely bittersweet.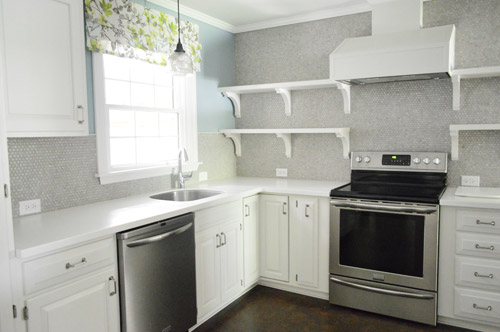 It's kind of hard to explain, but somehow while traveling it's more obvious to us that we still remember every nook and cranny of that place, and our new house still feels sort of unfamiliar and mysterious. We don't quite remember every light switch location or which way each door swings yet. So on one hand our old house is sort of glorified in our mind as "the one we know so well" yet we have that early dating excitement for the new house. We're smitten, even though there's tons of work to do and we're just getting to know each other.
I find myself sitting on the beach wondering what's going on at our new house. Is it raining there? Are there deer playing poker in the sunroom? And then my thoughts jump to how a new family lives in our old house now, which also feels kind of strange yet sweet. I'm glad it's not lonely. (I know that makes me sound crazy, but I'm ok with it)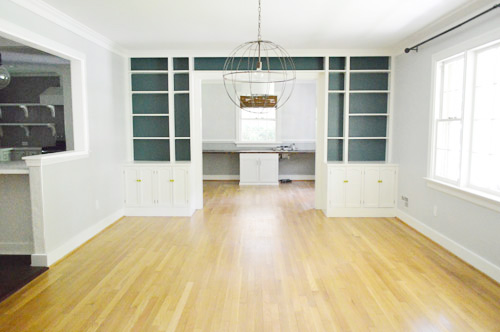 That's why I'm so glad that one of the last things that we did before we started packing up was to make a video for Clara to remember the house by – just like we did when we left our first house. And this time instead of being a little lump in our arms like she was for the first one, she could actually chat and run around and do three year old things. She loved the idea of making a video of the house so she could re-watch it whenever she wanted, but she started out a little shy… so it was especially cute to see her get really into it as we went (she started telling us what rooms to go to, what to look at in each space, and saying funny things like "we're in New Jersey" when I asked her what room we were in).
Since I know not everyone can watch videos, here's a bit of what's covered: John and Clara play "airplane" in the office, there's some dolly-doctoring in the sunroom, I get bossed around in the hallway ("we have to show this one!"), I get bossed around in Clara's nursery (apparently it was the baby's nap time), a bit of frog-dress-up goes on, there's some jumping on the guest bed, and some Clara-throwing in our bed. Oh yeah, and we stand in the bathtub together. Totally normal stuff. There's also some Gangnam Style dancing at one point. And it's possibly the only video in the history of videos to features the sentence "that's not your cousin, it's a llama."
So much happened in our second house, and it was an especially huge part of Clara's life since she was just seven months old when we moved in.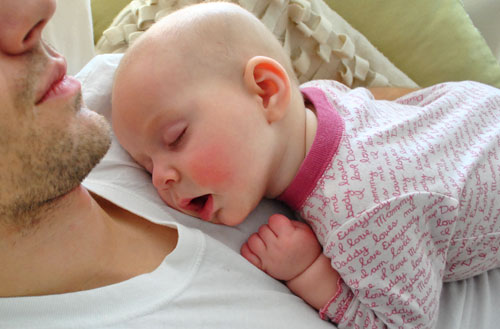 It's where she learned to crawl, walk, and talk. And it's where she has celebrated all three of her birthdays as well as three Christmases…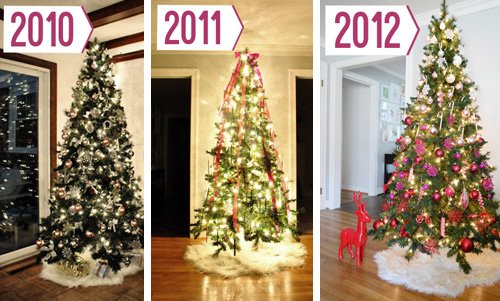 We're so glad to have a bunch of photos (along with a fair amount of video documentation) thanks to this little house diary of ours. My absolute favorite memory of that entire place was this odd little nook that we had in our living room where Clara loved to hide: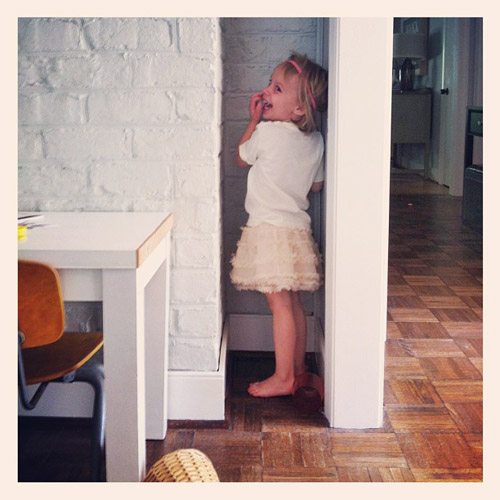 Thankfully, she has since declared that her new closet is her "favoritest hiding spot in the big wide world."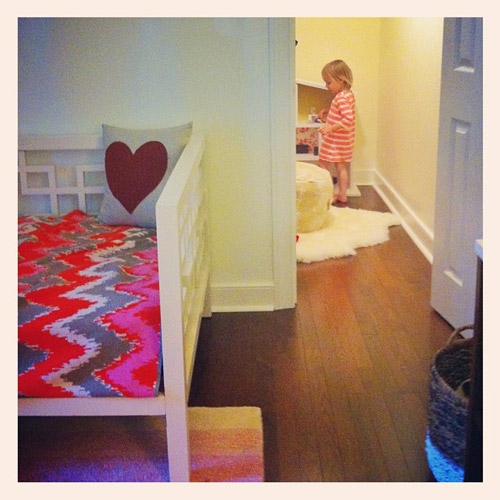 Love that bean. Love that house. Love you guys for sharing in the sappy stuff. Now somebody get me a tissue so I don't ugly-cry my sunscreen off.
*We would have posted this sooner, but John's computer had a freak out while editing it a few weeks after we moved, and nearly wiped out all of our photos/videos. So here's the obligatory "remember to back up your computer so you don't find yourself screaming into a pillow for twenty hours!" warning (which is the only thing that saved this and countless other photos/vids from disappearing into the computer crash abyss forever). For those wondering, we use a combination of amazon.cloud and external hard drives to back up our would-cry-if-we-lost-them photos and videos.