We made some easy Valentine's Day goody bags for our daughter's classmates. The first thing we did was troll the aisles of Target (we hit up The Dollar Spot, and Valentine's Candy section, and the kid's party aisle, just to check out everything that was left). In The Dollar Spot in the front of the store, we found these cute little clear bags in a set of 20 for $1. Sold!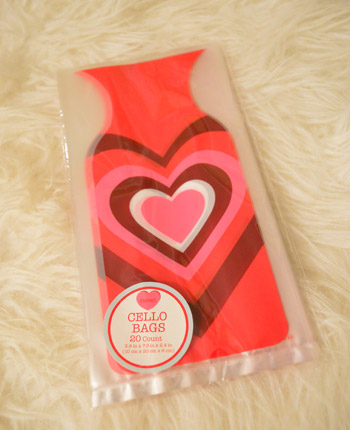 Then we walked over to the party aisle, where they sell lots of kid-items in bulk, like stickers and markers and even glow sticks. After mulling over all of our options, we settled on some little boxes of washable markers, which were $2 for 4 (so we could get 16 for $8) but Clara seemed "meh" on them, so we didn't commit to them fully. Then in the V-day section among all of the candy hearts and lolly pops and chocolates we saw it: a cute little red and white striped box full of crayon sets – and the entire box of 24 crayon sets was marked down to just $3.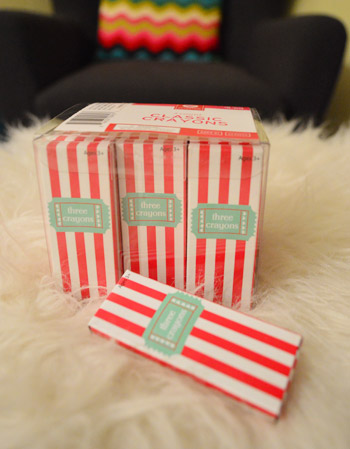 So since that box of crayons plus our little baggies were only $4 in total, we decided to poke around a little more just to see if there was something else we could toss into the bag along with the crayons. Boom, these little spiral notebooks were being sold in sets of 8 for $1.50 each.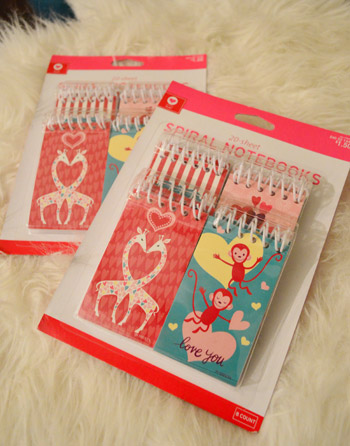 So for $3 more, each little bag could contain a striped box of crayons and a spiral notebook for kid doodles (I actually keep a small notebook with crayons in my purse to keep Clara busy while we're in a restaurant or waiting at the doctor's office). We asked Clara what she thought of the notebook and crayon idea, and her "I want to draw in the notebook with the crayons now" answer made us feel like it was a good choice. So $7 later we returned home with our bounty and opened it all up: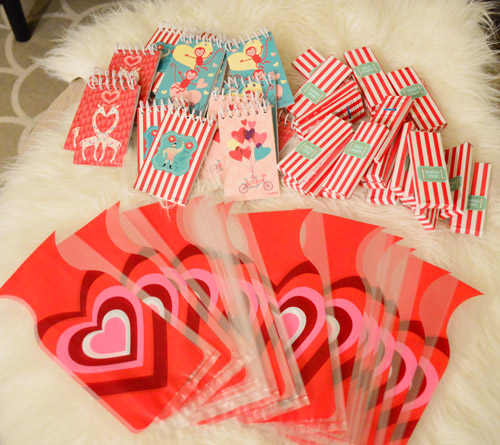 Then we just stuck one pack of crayons and a little notebook into each bag, like so. Clara was such an awesome and fast helper, all the photos were blurry. Ha! But she was very good about only putting one box of crayons and one notebook in each one.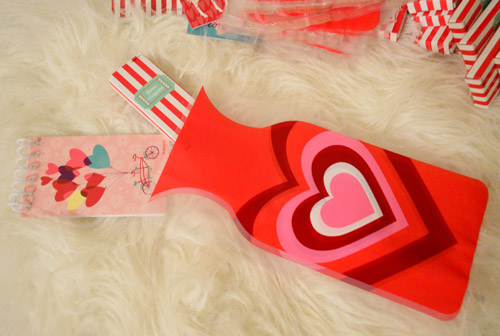 We already had square labels (which we decided to use to seal the bag and indicate who the bags were from) so we got those out and had fun whipping up a quick little design that we could print directly onto the labels. At this point it was around 9:30 (and Clara was in bed) so we racked our brains to come up with something Valentine-ish that has to do with crayons and notebooks for the labels. After a bunch of duds like: "Hope your Valentine's Day is cray" or "You draw me to you. Happy V-day!" (terrible!) we finally came up with "Crayons are red and yellow and blue, preschool is fun because of you!"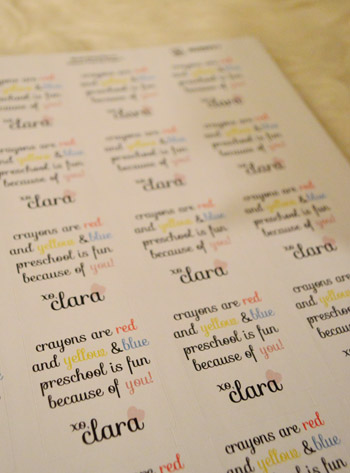 It only took one sheet of the square labels that we already had to knock them out, and then we just peeled them off and stuck each one on the back of a bag to hold it closed.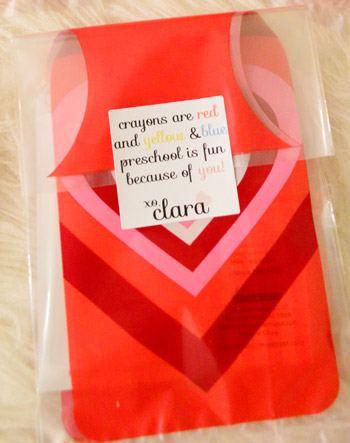 So for anyone who'd like to adapt that little label of ours for some last minute V-day making (which can be customized with your child's name, etc) you'll just need to grab this font from Font Squirrel (it's free) and then download our label here and use Photoshop to edit it. Ours is sized to fit Avery 288 labels, and you can download a printing template for them right here from the Avery website. Of course you can also just hand-write stickers or print your own designs if you don't have Photoshop or the same labels that we used.
Oh and here's how they looked all assembled. Cute, huh? Clara can't wait to hand deliver them to all of her friends. And she made sure there was one that she got to keep too. Haha. What can I say, the girl likes crayons…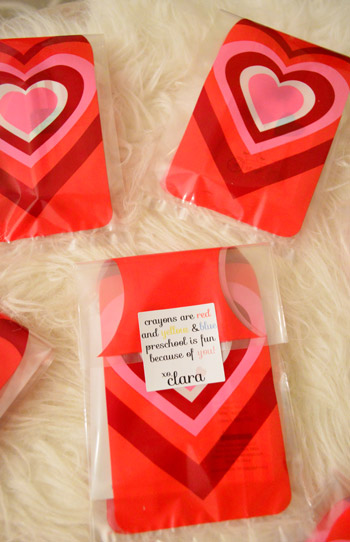 If you're looking for some more kid-friendly Valentine's projects, here's a free Valentine's Bingo Printable you could toss into your goody bag. Or this Love Bug Craft is super cute too!