It's official. Hunger Games fever has hit Casa Petersik.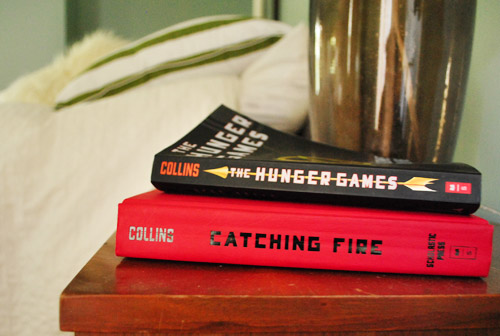 I actually got it first. I thought I'd take a stab at reading the book before potentially seeing the movie. I had heard it was a quick read, and boy was that right – I knocked it out in 24 hours. Sherry resisted following in my footsteps, thinking she had too much on her plate to squeeze it in. But I convinced her to try one chapter and before she knew it she was closing that book and cracking open Catching Fire (which she finished a few days later, and I'm currently in the middle of). We're supposed to get our copy of Mockingjay next week. No spoilers!
The reason for devouring Hunger Games? We had planned a movie date night as a belated birthday celebration for Sherry (after our first attempt at a date night was ruined by not getting into our favorite restaurant since it was all reservationed out). So we booked babysitters (my parents) and made our first visit ever to CinéBistro, one of those swanky eat-dinner-while-you-watch-a-movie places. Here's Sherry making her swankiest face.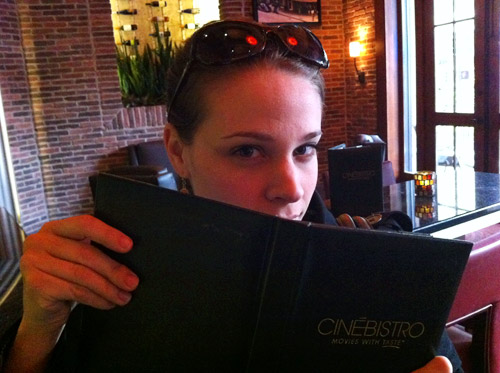 We've only been to three movies since Clara was born almost two years ago (I wish I was kidding) so we were excited to make an event of this one. Unlike a normal movie theater, this one's 21 and up only, has seating assignments, and has full in-theater food service (i.e. servers take your order and bring you food right in your big, comfy seats. Here's me trying to figure out what I'll order before we get seated.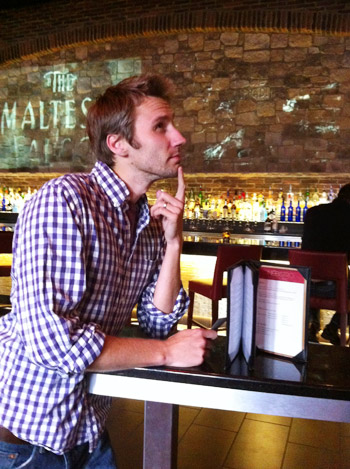 We decided to get an appetizer – the "Popcorn" calamari. Yes, it's actually calamari mixed with popcorn. Yum.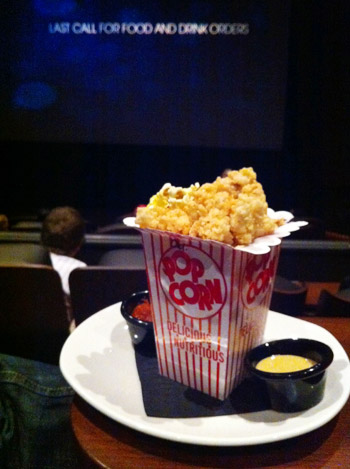 We wanted to save room for dessert, but after ordering gut-busters like my chicken & biscuits and Sherry's meatloaf with mashed potatoes and collard greens (the theme was sort of upscale comfort food) – we were stuffed before the previews were even over. By the way, Abraham Lincoln: Vampire Hunter looks pretty good. Maybe for our next movie night? Guess I should read the book first…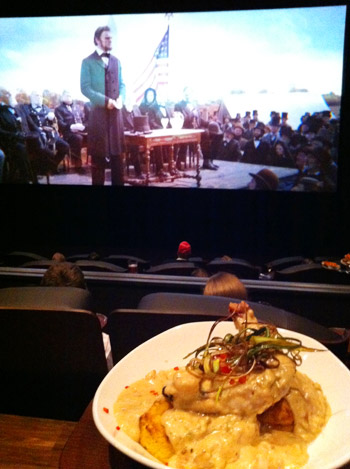 Oh, and as for the movie (I refrained from being the weirdo who took pictures of the movie) – we liked it! Was it the best book-to-movie adaptation ever? No. But we enjoyed it. Heck, we were just happy to be out of the house!
Anyone else Hunger Games-ing it up? Either books and/or movie-wise? Thoughts? Can you turn your last name into a Hunger Games reference like I did with this pun-tastic title or are we just extra lucky?
PS: In the comments, Kim recommended this site called Hunger Names that give you a name and method of death. Sherry was Oregano Amberpoe and had the honor of being a District 8 tribute in the 22nd Hunger Games. She was killed by asphyxiation. I was Huggle Santolina (awesome?) and was a District 7 tribute in the 20th Hunger Games. I was killed by trusting a 12-year-old boy. Never again!