At this point you all probably know three things about me: I love a good transformation, I adore a good bargain, and I'm obsessed with my dog Hamburger (that last fact is unimportant to this story, but is too obvious to ignore when stating defining facts about myself). Anyway, I recently found a big round mirror at Home Goods so hideously ugly that the deeply discounted $19 price tag didn't surprise me. But most round mirrors of this size are around 90 to 150 bucks, so of course I had to buy it.
Since I forgot to take a "before" pic, please allow me to describe my grotesque purchase in detail. The frame around the mirror was made of that fake fiberglass stuff that plastic outdoor urns are made of, and it was faux-finished with swirly brown and bronze splotches. TERRIBLE. So bad that I almost told the cashier that I was planning to do some major surgery on the mirror before hanging it for fear that she was judging my taste. So here's where I'm asking you to envision that tacky splotchy plastic abomination of a mirror.
And here's what it looks like with a fresh coat of glossy white paint: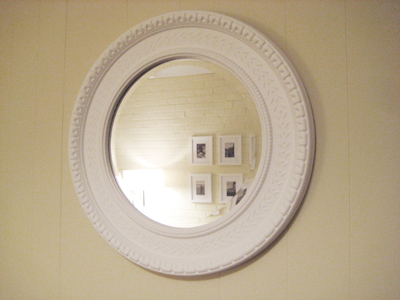 Not bad huh? It looks just like one I saw a while back in a Pottery Barn catalog for 250 beans (plus shipping). Who spends that much money on a basic round mirror anyway? The cool thing is that now you'd swear our mirror was painted wood, even when you touch it. Is there nothing that white paint can't cure?
It looks great in the den above the tv where that big clock from Target used to hang (which has since been relocated to the sunroom where it should have lived all along).
Here's a wider shot for the full effect: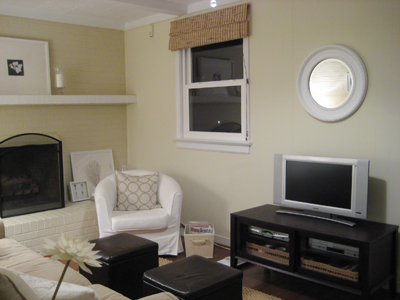 I just love a good frog-turned-prince home improvement fairytale, don't you? Now send us your best home makeovers. Apparently we just can't get enough of them.