We're super excited to share this mini-makeover inspired by a mood board that we made for Kelly a while back. Here's Stephenie's letter:
I wanted to share the family room makeover that I achieved on a serious budget thanks to a mood board you guys whipped up for Kelly a few weeks back. Just as you suggested for Kelly, I painted the walls Snowbell by Glidden and I bought the Blad curtains that you found at Ikea. I also got an end table from Goodwill for $5.99 and replaced the dated door handles on the table with some new ones from Target for $2.99. I even purchased an Ikea Poang chair off Craigslist for $79 with the footstool (it was in excellent condition!). Then I just rearranged the couch and brought in some lamps and a $16 mirror from TJ Maxx. The room looks so fresh and appears so much brighter! Thanks so much for the great suggestions- I was able to make all these changes for under $250!
Here's the humorous before picture (don't mind her daughter who just happens to be imitating Miley Cyrus):
And the truly inspiring after: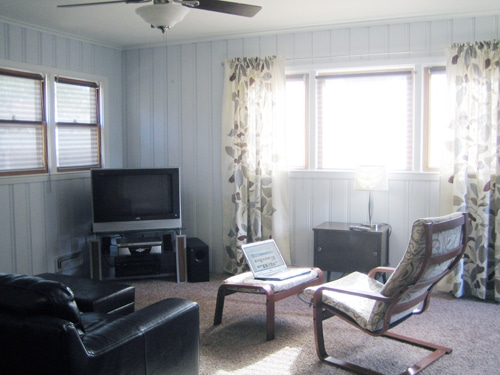 Thanks so much for sharing Stephenie! You scored some serious deals and your room looks fab. Miley Cyrus would be jealous.
And if any of you are sittin pretty in a room that you've transformed (with or without our help) we'd love to see your before and after pics- so send 'em on over!