Anyone wondering what a whole-house alarm will run you? Or looking to see what a new patio will set you back? Behold, Fixr.com's "Remodeling Cost Guides." They've created a handy little average budget breakdown of a slew of house-related projects to help homeowners wrap their minds around the amount of money that these undertakings might possibly set them back.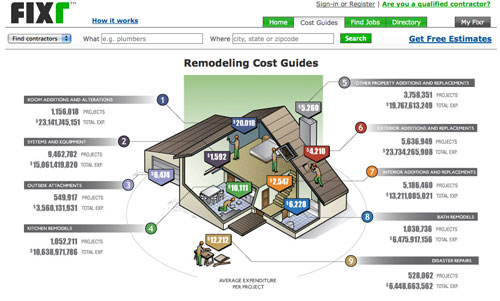 Just head over to this link and scroll down below the image shown above to see a ton of links that lead you to some pretty heavily researched guestimations for everything from building a swimming pool or sauna to installing a tin roof or renovating a kitchen or bath. Of course things like location and the changing economy can alter these estimations (so they could be a bit high or low depending on your circumstances) but it's nice to peruse some ballpark figures just for reference.
What do you guys think? Any projects that feel especially appealing now that you've learned that they're less than you expected them to be? Any projects that seem shockingly expensive now that you've poked around on their site? Do tell.
Psst- We weren't paid or perk'd by Fixr.com (or anyone else) to write this post- we just thought it was an interesting site and wanted to share it.
Update: Ooops, it appears that we've momentarily crashed their site. Here's hoping that it's back up and running soon. In the meantime, here's an old post all about how we get lots of estimates and negotiate for the best deals that we can find. Were all about saving those benjamins!