Q: I really love Clara's room! Great color choices. Do you have a formula for mixing prints? I love how they are all so different – even the colors and yet they all compliment each other and totally make the room! For my boys room, I am mixing prints but find it gets very busy looking or I tend to go with the same color making it kind of boring looking. – Cappy
A: It's funny that this comment came in about a day after I ran around Clara's room photographing a bunch of the patterns going on in there in the hopes of making a little grid to show how we mixed & matched all of these Clara-inspired textures and colors: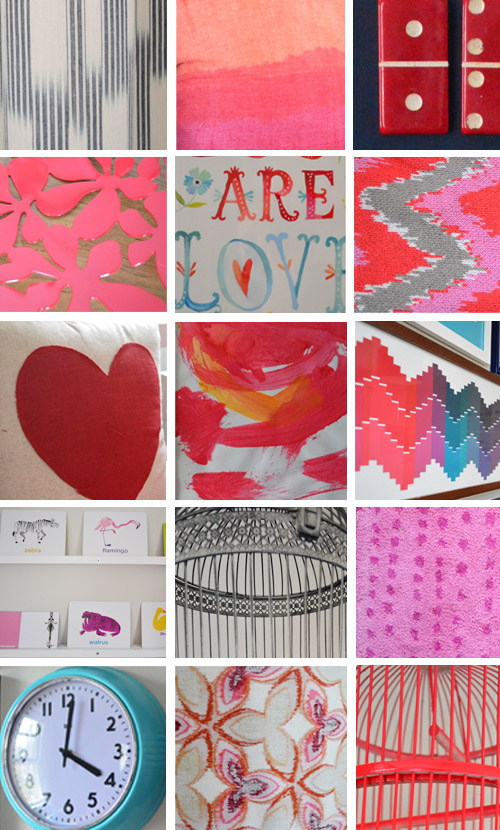 Not that there's a foolproof formula for layering prints and patterns, but there must be some reason why we ended up with this mix of things after following the always elegant method of "just trying things and seeing how it all shakes out." Especially since it's not a big room by any means (it's just 13 x 10′) and many of the choices in here were actually inspired by (and even chosen by) Clara herself, like:
the color palette (she loves red & pink)
some of her favorite patterns (the kid goes crazy for zig zags, hearts, and polka dots)
the curtains that she selected with her face
some of her favorite animals (we worked in whales, rhinos, birds, alligators, & elephants)
some art that she made (which we hung in a little frame grouping next to the daybed)
her favorite flash cards on the shelves (she picked the ones she liked the best)
So here's what I came up with when I looked nice and closely at everything in the grid above…
Realization#1:
On one hand everything in that little grid looks really diverse with tons of patterns and shapes and textures – but on the other hand, when you look closer at the colors, many of them reoccur a lot, which helps tie everything together so things relate to one another without making the room feel like a circus. For example, there are four colors that keep showing up (pink, red, navy, and teal). Heck, even some of the patterns subconsciously mimic each other – the chevron paint chip art mimics the zig-zag blanket on the bed, and even the lamp shade fabric (bottom middle of the grid) looks a lot like the red Ikea bowl that sits nearby on the dresser (second row, left side of the grid).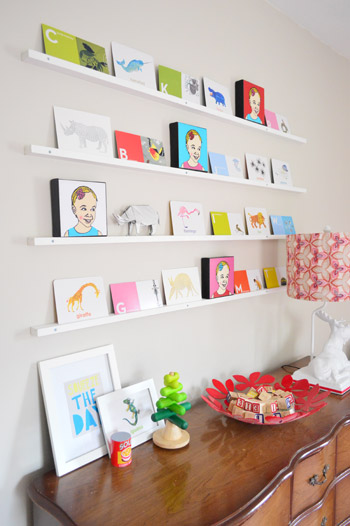 I never consciously said "this pattern on the lamp looks similar to the shape of the red bowl" but what actually happened was I thought "this red bowl might be functional and cute in there" so I plopped it down (good ol' trial and error) and then my eyes said "sold!" – but if I stop to really analyze why, it's probably because the lamp shade and the bowl are in the same color family and their pattern is similar, even if it's not the first thing you notice. They're like Adam Levine and Blake Shelton. They just look good together. And your eyes say "yup, I like that."
Realization #2.
We also have a lot of neutral tones going on in the room to temper all those bolder patterns and colors (like the milky-tea-like wall color, the wood tone of the kids chairs, the woven baskets) and an abundance of white tones (in the daybed, the kids table, the floating shelves, the molding & trim, the pouf, etc).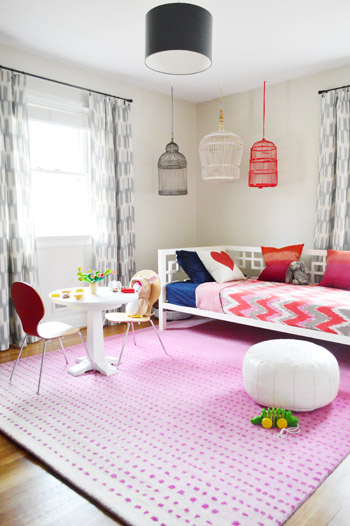 That mixed with the aforementioned solid navy tones (in the ceiling pendant, the sheet set on the daybed, the frames for much of the art, etc) definitely balances out all those bold reds/pinks/teals along with muting down the crazy zig-zags and polka dots on a few other surfaces. So although the room feels colorful, when you look closer at the furnishings and the wall color those aren't exactly exploding with color – in fact many of them are white or wood-toned so they fall back while the brighter pops of color can shine without competing too much.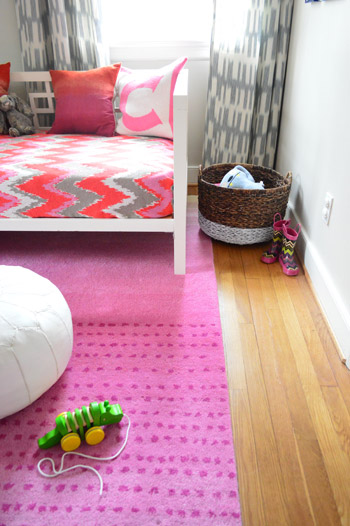 Realization #3.
We're total fans of the "just do what looks good to you" method (also known as trial and error) – so we're not really ones to study formal decorating rules (we probably break those on the regular) – but I think we do end up following some of them accidentally. For example, some "traditional decorating advice" when mixing patterns and prints is to pay attention to scale: ideally you'll mix one large scale pattern with a smaller scale/less bold one so they're not all chaotic & compete-y. And when you look closely in here it's definitely clear that the multicolored chevron daybed blanket plays the role of the alpha in this space (it's large in scale and full of many colors, so things like the smaller scale two-toned ikat curtains and the polka dotted tone-on-tone rug fall in line behind it).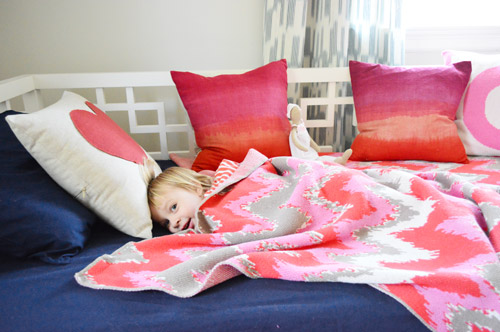 Had the rug or curtains been full of tons of colors and a larger scale pattern – like wide stripes of red, pink, navy, and teal for example – they would have competed with the bedding, so it's funny how we subconsciously arrived at a nice mix of "best supporting patterns" while the blanket is the star (with the largest scale pattern and the wide range of colors).
We definitely didn't go out and curtain-shop or rug-shop while thinking "I need a best supporting print or pattern that falls behind the blanket and is smaller in scale/boldness" but we seemed to gravitate towards those things when we pictured what might work in the room (well, Clara picked the curtains, so she gets all the credit there). In other words, something about the bold rug choices that we considered made our brains think "that might look crazy" – so we seemed subconsciously drawn to still-playful patterns and colors but less in-yo-face options than the largest pattern-y-est patterns.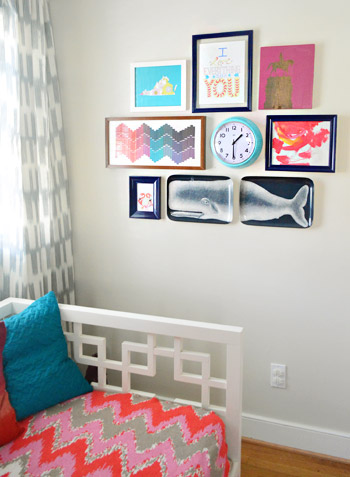 What I'm trying to say is that sometimes your instincts make sense even if you don't fully know why (or stop to analyze everything to death). You might just think "well the walls are bright so a neutral couch and some softly-textured-but-not-too-bold curtains make sense" and that's essentially the same concept. And of course if you end up going with something you think will be awesome but then you get home, see it in the room, and hate it with a passion – there's always returns & craigslist. You can read more about how we deal with buyer's remorse here.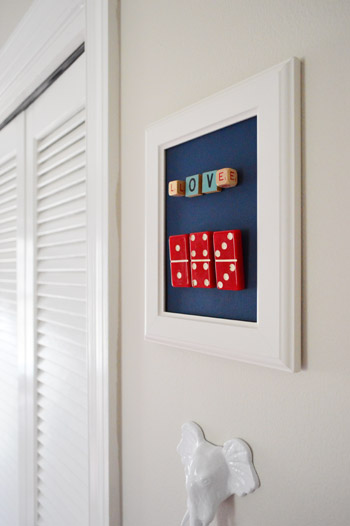 So my three quick summary tips for how we (sometimes subconsciously) mix and match patterns would be:
Don't be afraid to bring in tons of texture and pattern, as long as it relates in color so things sort of layer in on top of one another instead of competing (our "common denominator" was that many of the bold/patterned things were pink, red, navy, and teal so they tied into each other).
Remember to use some larger neutral/white/non-bright items to temper all the boldness (choices like white or wood furniture, neutral walls, and even chocolate or navy furniture and fabric can balance out lots of bright and happy color in other places).
Figure out which item is "the star" (perhaps it has the largest scale pattern and more color range than many other things in the room) and try not to bring in a bunch of other items of the same large scale & boldness. It can get chaotic and compete-y if too many things are fighting for attention, but by all means, layer in some other colors and smaller scale patterns for more interest and fun.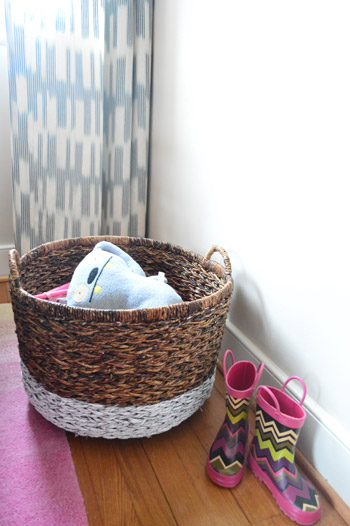 How do you guys mix and match things at your house? Do you prefer to only have one or two patterns in a room? Do you layer in a bunch? Are some bolder or larger in scale than others? I remember when I heard Sarah Richardson say that she usually uses around 10-14 fabric textiles in each room and it kinda blew my mind (in the best way possible). In fact she's definitely one of my inspirations, right along with Clara and her enthusiastic color-palette-picking, art-making, animal-loving, and curtain-choosing ways.
Psst- Kristi, who commented right under Cappy's question, shared this link from Ralph Lauren with ten tips for mixing fabric patterns, and it's definitely an interesting read as well. Happy print and pattern mixing to one and all!