Remember how we stopped at this place in Maryland on our way to our Labor Day beach weekend?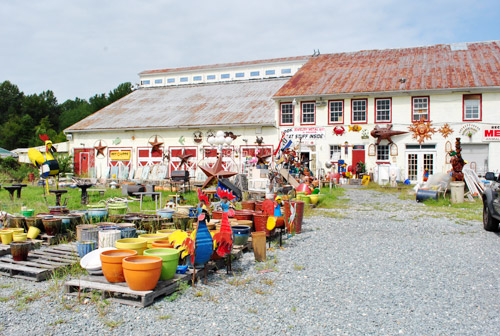 And remember how we spotted these cool sign letters there that were made even cooler when we learned that they were meant for a Dollar Tree store and were selling for $20 each? I was obsessed with them and almost took home an E, R, or A, just because (sadly there's no P, J, S, C or B in Dollar Tree).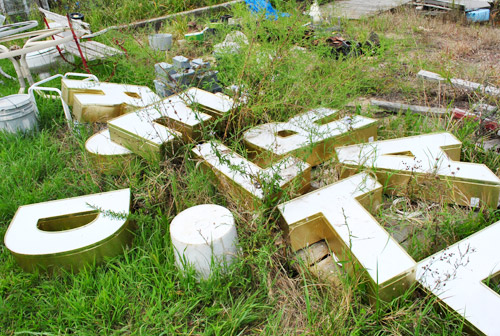 Well, I finally got me one. Let's give a lukewarm welcome to letter L.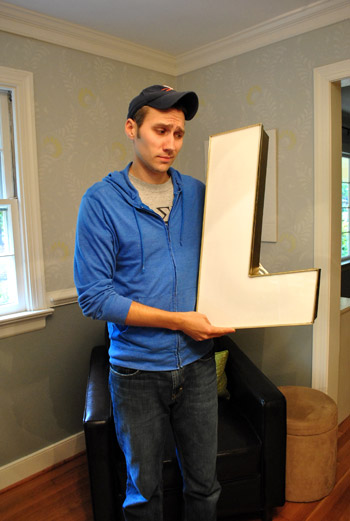 Why L? Well… give that L a little 180 degree spin and whaddya get? Our favorite number AND a happy John (our first kiss: 7/7/05, our wedding date: 7/7/07 – even Clara was born on the 14th, which we affectionately call 7+7).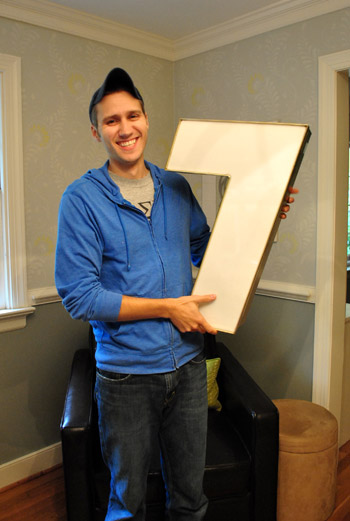 Maybe it makes me a little too happy, actually. Avert your eyes Sherry.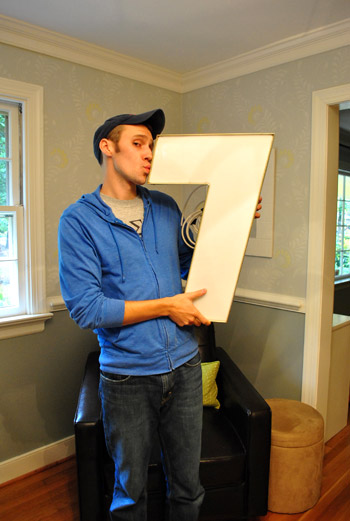 What? Nothing weird going on here. Just a man snuggling a giant number 7. It's completely platonic, I swear.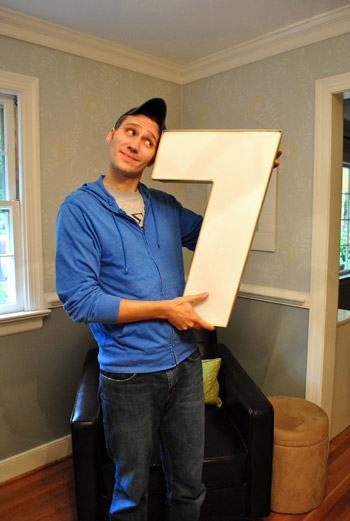 So here's the deal. Since I kept talking about how much I regretted not getting that L, Sherry had been brainstorming a way to surprise me with it (we didn't realize its 7-like appearance 'til we were back home looking at road trip pictures). Her maniacal planning came to an abrupt conclusion when Lesley read the initial post about it where Sherry mentioned that we regretted not getting one and contacted Sherry to act as a secret courier to help with the surprise. Apparently she lives right near the Ole Sale Barn in Denton, Maryland and her mom lives in Richmond so she frequently makes trips between the two spots. Perfect!
Sherry had planned to surprise me for my birthday next week, but Lesley made a trip earlier than expected so after a quick meet-up-in-a-parking-lot and a cash-for-giant-letter swap, the 7 was mine ours. I was actually really surprised. And more than a little in love (both with the wife for her sweet surprise and with my giant number seven itself). It's already keeping me us company in the office (still need to figure out what to hang next to it, get a real side table and lamp for that corner, etc).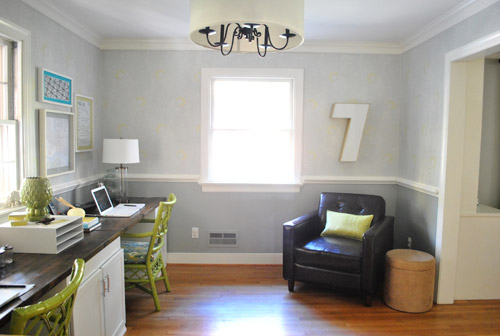 We thought about hanging it on the other wall behind the chair but we both decided we liked walking into the room and seeing it "smiling" back at us, face first (instead of seeing the side of it most of the time, which would be the view if it was hung on the other wall behind the chair).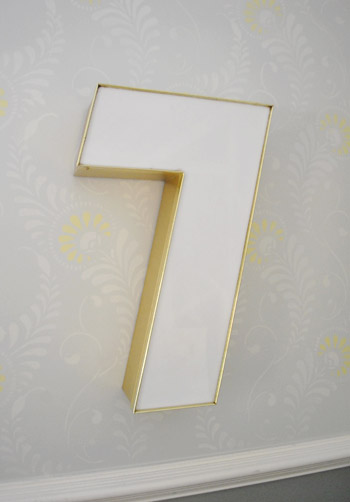 Oh, if you're wondering how it's hung – it was pretty easy. The letter was still wired with lighting, but we're not planning to get all Novogratz up in here by actually using it as a light (at least not anytime soon due to the cost of wiring the wall). So I carefully disconnected the two giant nubs on the back that would've required it sit out from the wall about an inch and stuffed the wires into the 7 for possible future use (we can fish them out with a coat hanger if need be).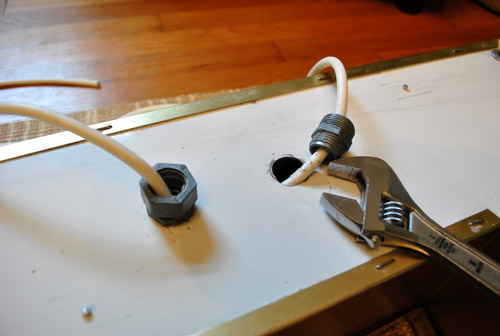 Once those big metal things were removed, I was left with two holes – plus some others at the top – that were perfect for hanging it. I just put a couple of anchors and screws into the wall where I wanted 'em, and hung the 7 in place.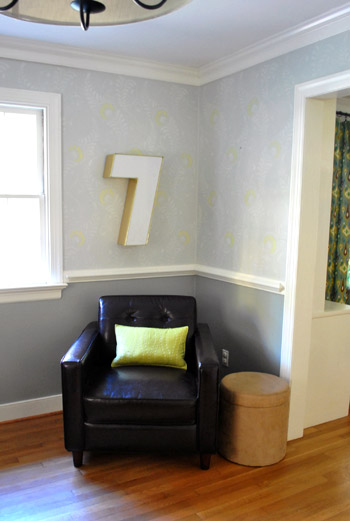 A big thanks again to Lesley and taking the time to deliver it us (and for temporarily forking over the $25 to pay for it). Yup, the guy raised the price by $5 since Labor Day. Oh well, still totally worth it.
Psst-We're over on BabyCenter sharing one of the most creative kids' birthday parties we've ever seen. Seriously, it's so imaginative and fun.
Psssst- We'll be back with a kitchen update this afternoon. No dust flying yet, but very very soon…