By now you know that we're nothing short of OBSESSED with the results of painting our brick house white last fall. It has probably been one of our favorite makeovers in our 13 years of homeownership. So for anyone else who might be considering doing something similar, we wanted to share some advice and some exciting news! And also some spring pics of the house, because it's the first time we've gotten to see her with the white flowering dogwoods out front and it makes my heart wanna burst.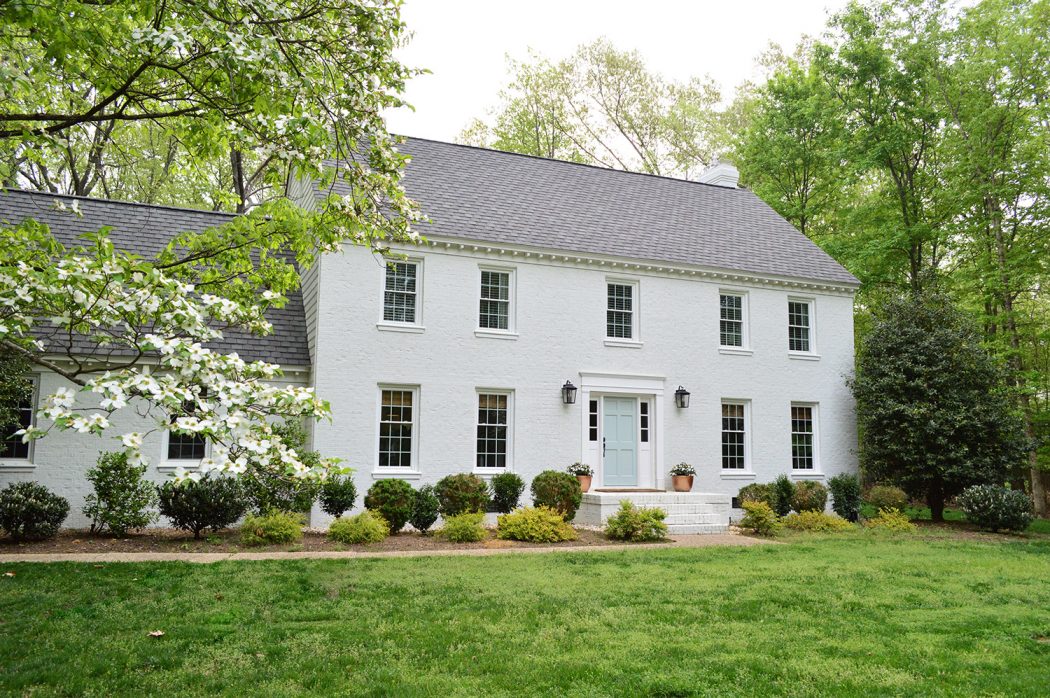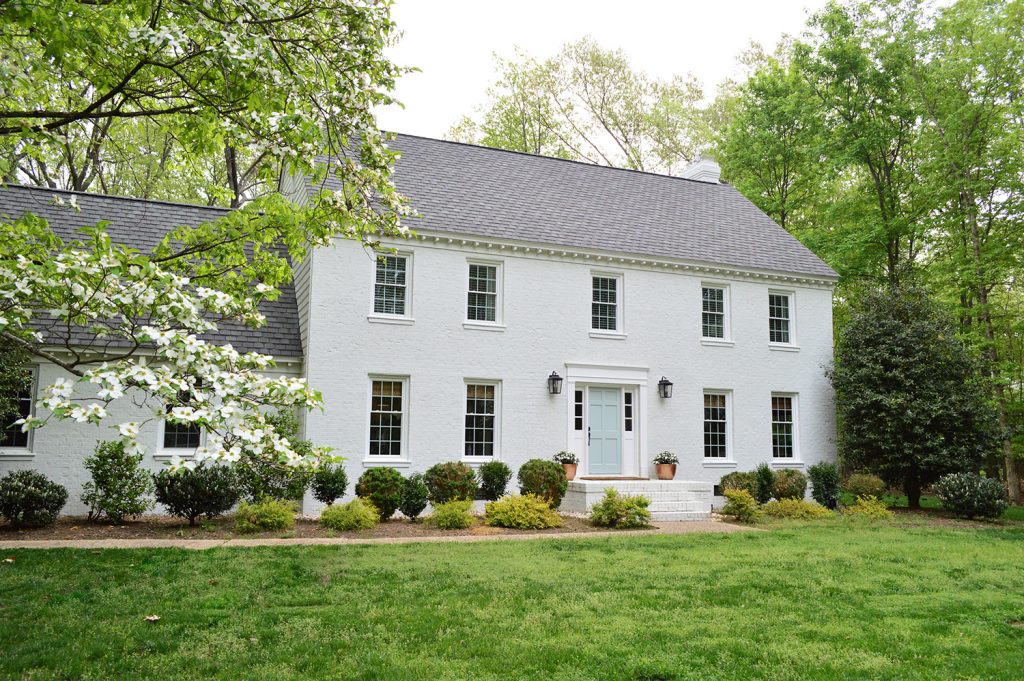 Wait but first I should passionately proclaim that we don't think that all brick should be painted. We still very much love an unpainted brick home or a natural brick accent, especially when it's beautiful historic brick – like the 100-year-old brick chimneys that we exposed at our beach houses – or the wide reclaimed brick steps that we added to both of them.
But then there was the brick on this house, which wasn't particularly old or charming (it was from the early eighties and sported a blotchy maroon and dark brown color, with yellow-beige mortar that was applied with little messy triangles in some of the corners). You can see what I mean below: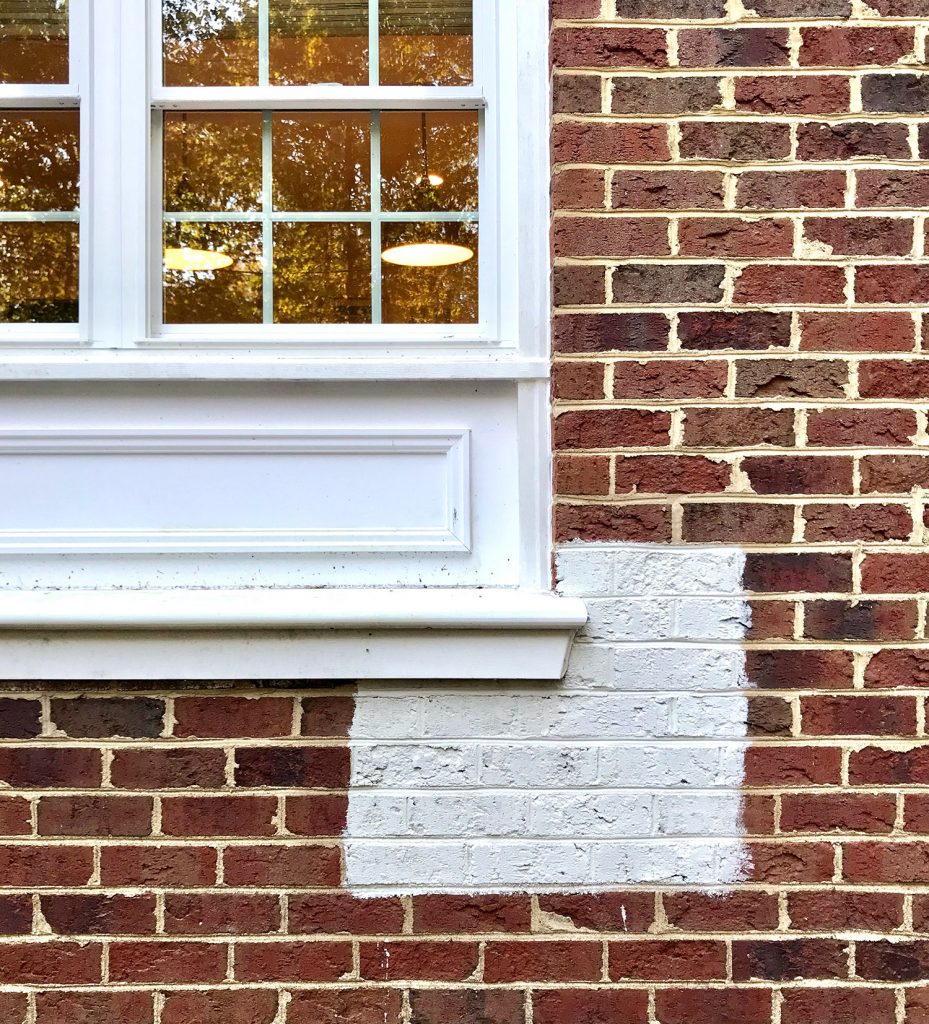 See how the white swatch of paint immediately neutralized all of our issues with it, and basically brought this brick back into that "ahhh, it looks so historic and stately and classic" arena? The point is that there are a ton of different types of brick, and some of it is gorgeous and amazing just as it is, and some of it isn't even close to what you would have chosen – and you don't have to live with it that way! If you've disliked yours for a while, our first suggestion is just to trust your instincts and think deeply about it. If you're not quite sure you want the painted look, don't do it! But if you're 110% sure like we were when we finally went for it, well, it's a good indication that you'll love the result. Whenever we see old pictures we're like… "yeah, zero regrets… except that we didn't do it sooner!"
Even if you're sure you want to go for it, we know it's not a decision to make lightly. Believe me, we went through a whole smorgasbord of concerns and reasons NOT to do it over the years, like:
What if we regret painting the brick?
What if we don't like the color?
What will the neighbors think?
What if it's much harder to maintain?
What if it's wildly expensive to do?
But again, now that we're on the other side of the project, we can assure you that NONE of those concerns were founded. In fact, we're faaaar more in love with the "after" than we ever expected to be (you can see how much it cost & learn more about the process here).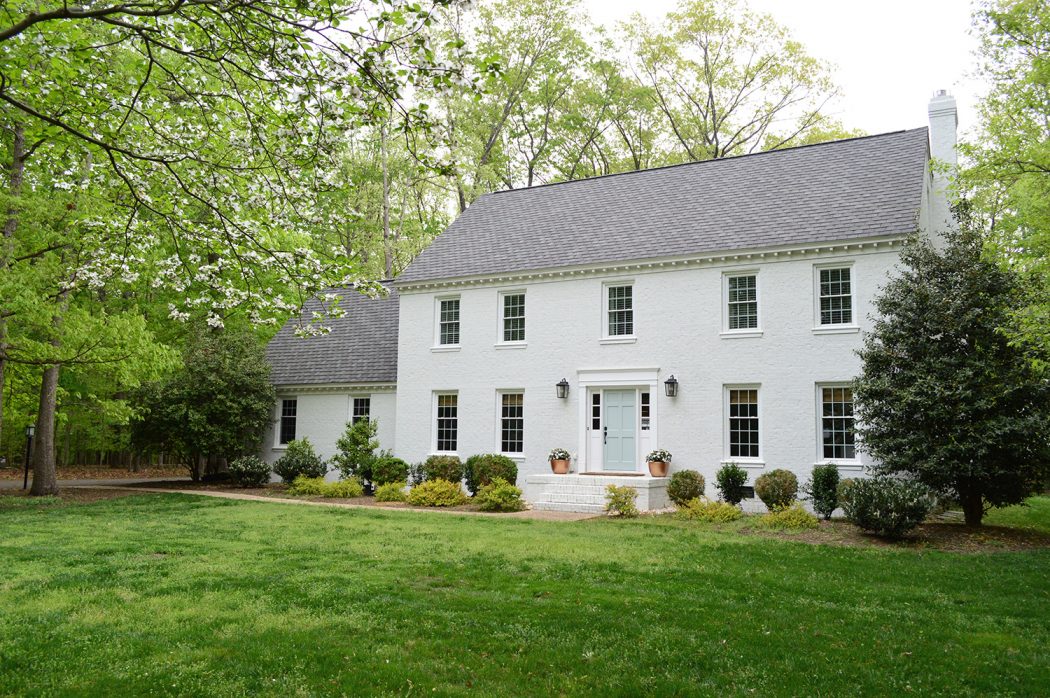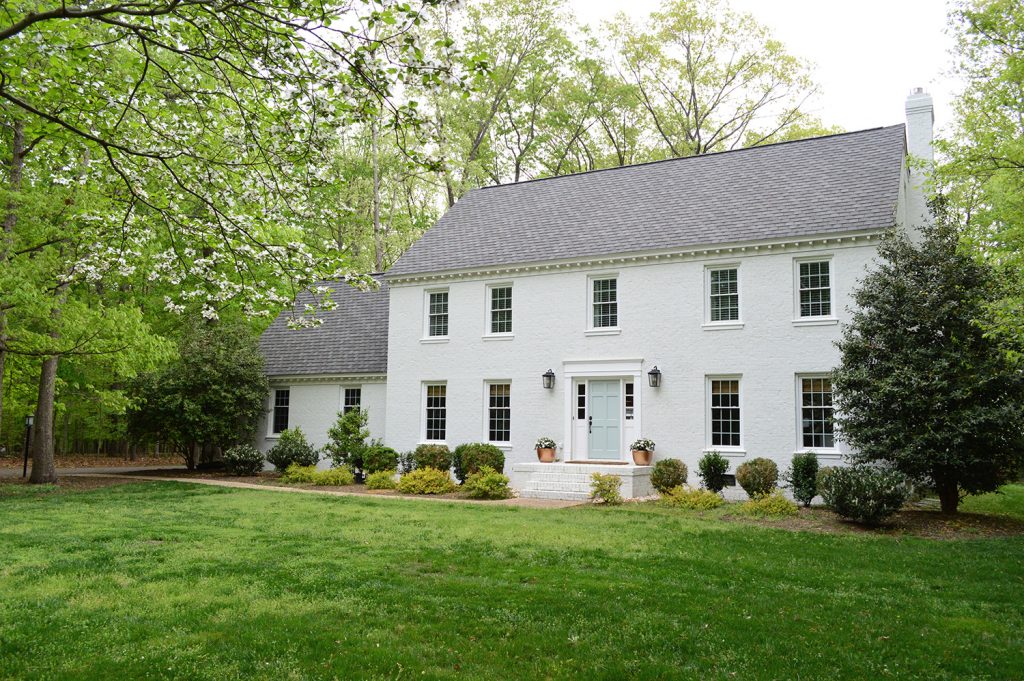 And if you followed along with our decision-making process last summer on the podcast, you know a big reason we finally worked up the confidence to take the plunge was finding the right paint product. It was actually one a bunch of you guys recommended to us, called Romabio Masonry Flat (at the time it was called Boidomus I).
We hadn't heard of it before, but learning that it's a breathable mineral paint specially made for brick and other masonry, so it won't crack or peel like latex paints tend to do overtime (because it doesn't seal brick at all – it lets it breathe) – well, that really piqued our interest. And the more we learned about it, the better we felt moving forward with the project, like:
it has a 20-year warranty
it's eco-friendly
it's naturally mold resistant
it's what they use to paint historic brick buildings in Europe
it has this BEAUTIFUL matte finish that looks so classic and never too garish or shiny)
As our pro painter later told us: "it's like painting brick with brick."
You can read more about why we chose it here.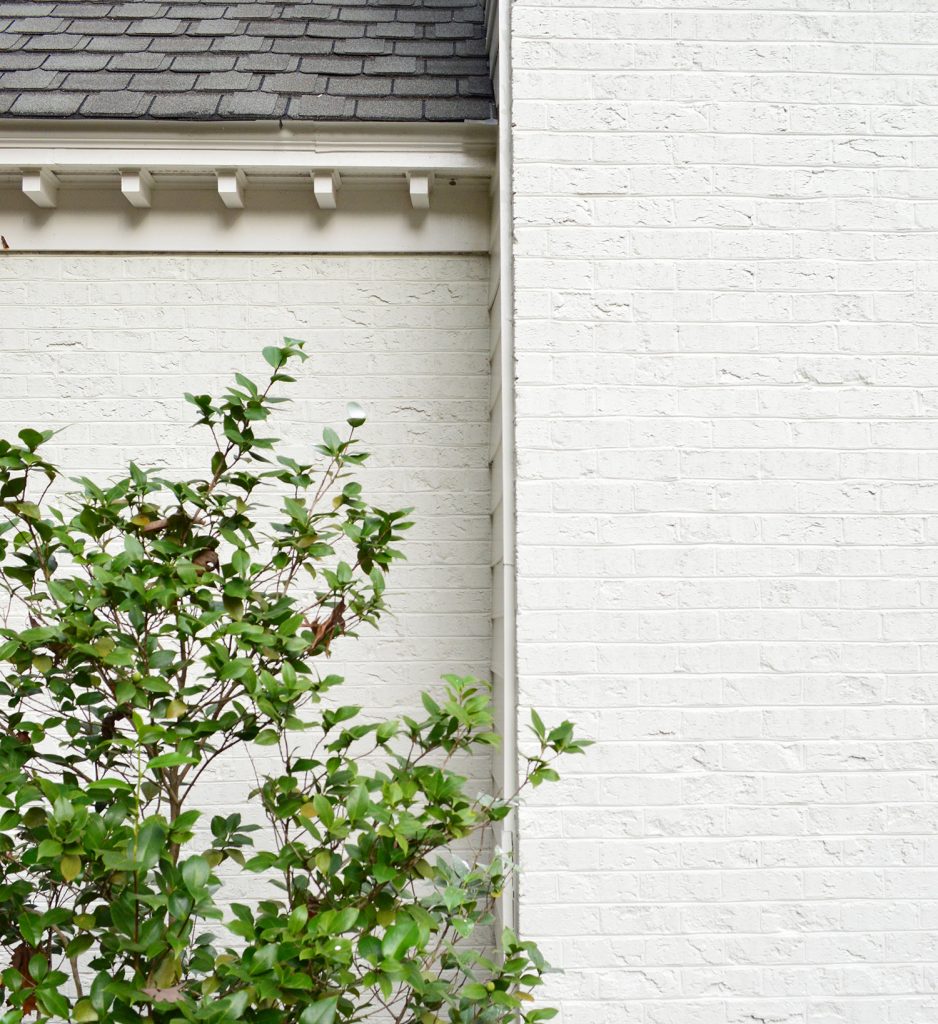 Romabio didn't sponsor our makeover (we paid for everything ourselves!) but we did get to know the husband-and-wife duo behind Romabio throughout the process, because I'm a gal who asks 10,000 questions. Ha! And then after we finished our house painting project last fall, and we loved the result so much, they came to us a few months later and asked if we'd ever want to curate a paint color collection to help simplify the decision-making process for other homeowners. Took us about two seconds to say: "Um… YES!"
Choosing a paint color can feel agonizing for any space, but we had just experienced firsthand how nerve-wracking it was to pick one for our exterior. So the idea of getting to help other people choose the right one without worrying and second guessing themselves quite so much sounded great. Plus I'm a lady who likes to play with paint swatches and imagine what I'd do to every single house I walk or drive by on the street – so basically it was a dream project to pull together a collection of our fifteen favorite exterior paint colors for brick or stone. Literally the ones we would use if it was our house that we were painting (oh to have 15 houses to try these all out on…).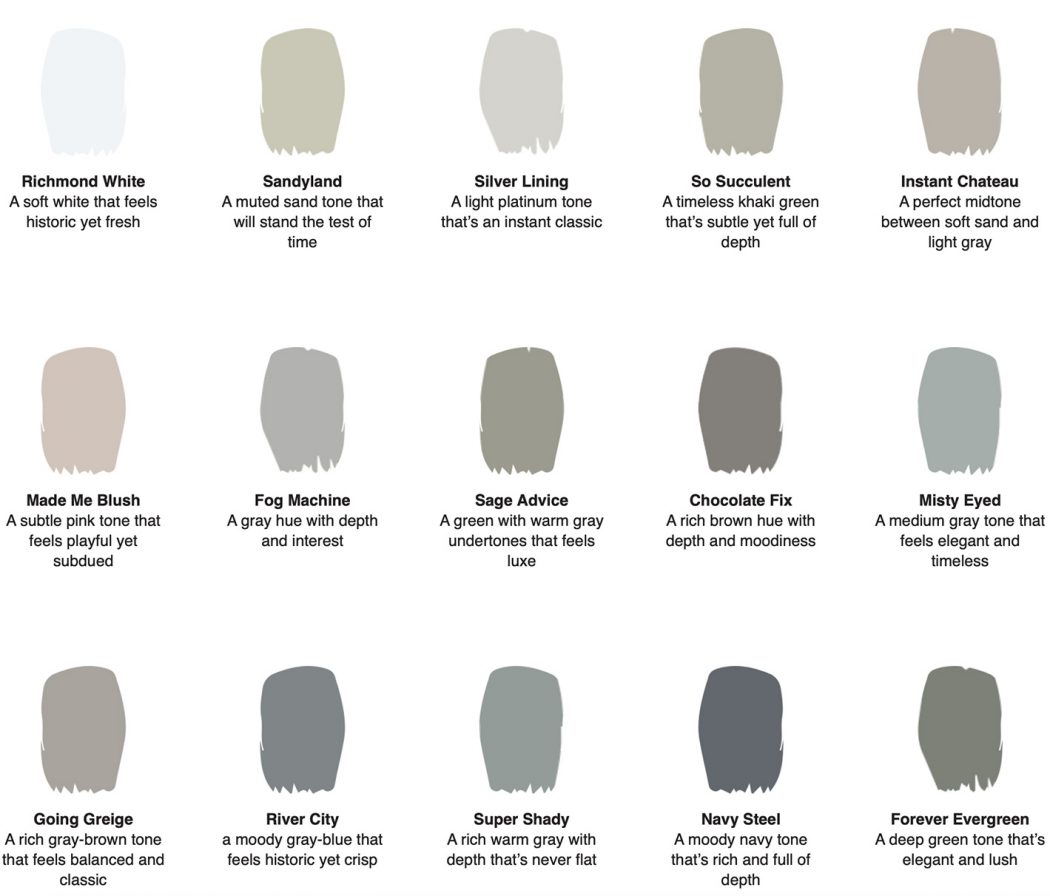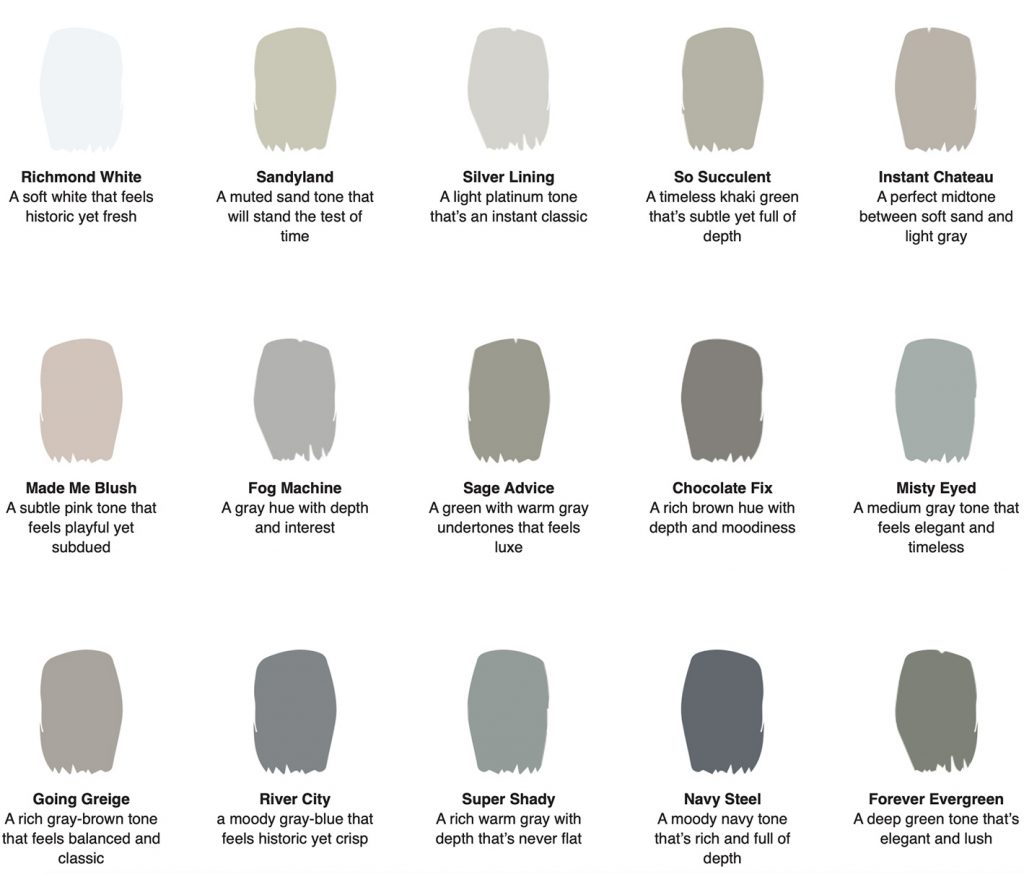 Note: Mineral paint can only go so dark because it's made from natural materials – aka: minerals. So that's why you don't see anything suuuper dark in the collection. Also, dark colors have a tendency to fade outside and Romabio wants everything they make to be super durable and easy maintenance – remember they have a 20 year warranty ;)
We took a lot of our inspiration for the collection from many of the historic painted brick houses in our hometown of Richmond, Virginia. Specifically a gorgeous neighborhood here called The Fan. There are literally blocks and blocks of painted brick eye-candy to soak in, covering just about every color in the rainbow. We love strolling through that neighborhood just for kicks, so it was pretty fun to take a bunch of trips there with our paint swatches in hand and call it "research."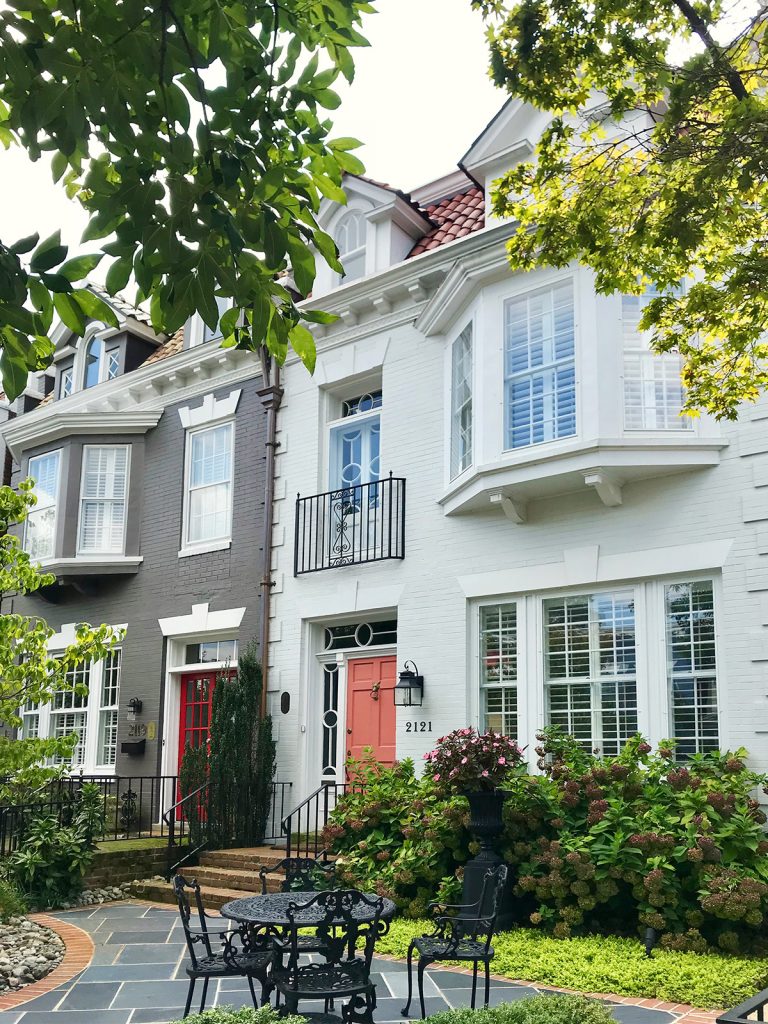 Speaking of paint swatches, we used Romabio's stock color deck as a starting point while we walked around downtown, and we began zeroing in on some classic no-fail neutrals (think greiges, khakis, sand tones, and chocolates) as well as some options for those who want a bit more color (misty blues, mossy greens, even a subtle blush pink). The paint blobs in our collection might look somewhat muted or subdued on your screen, but anything with too much color saturation can quickly read as "too crazy" or "too bright" on an entire house's exterior, especially when the sun hits it. So things needed enough gray or tan (aka "muddiness") in the color to keep it classic and stately.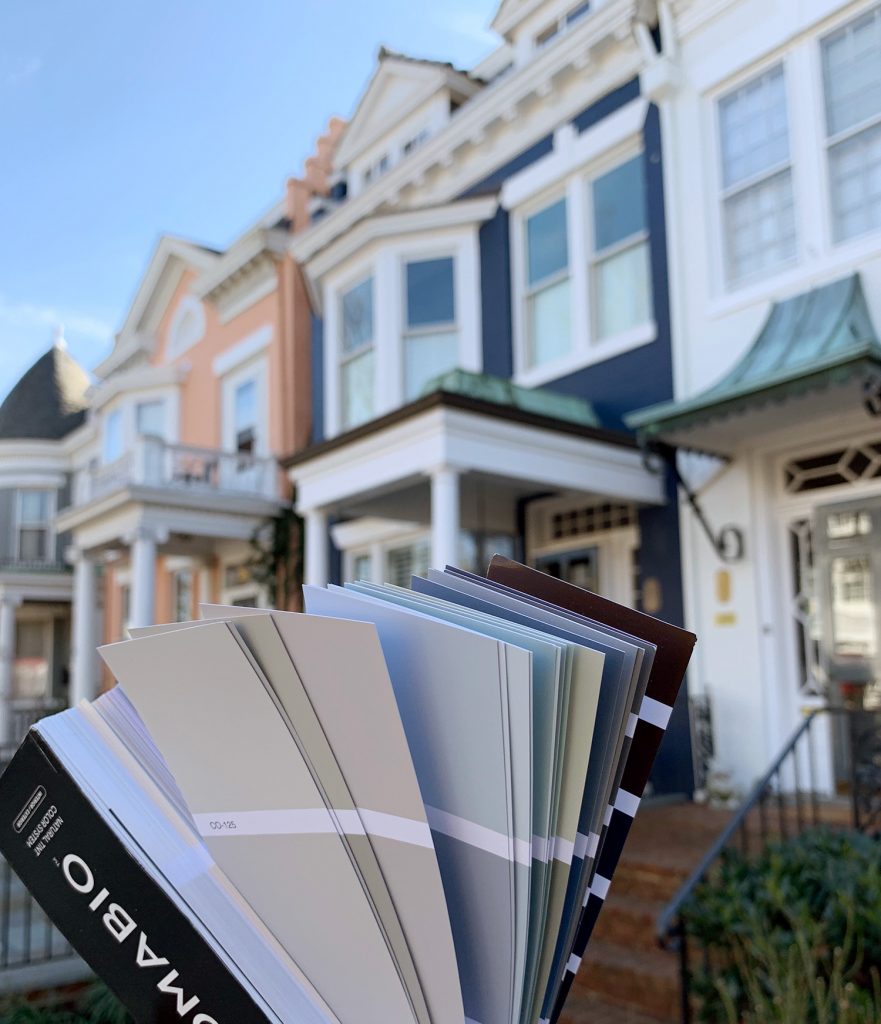 Once we zeroed in on a few dozen favorites, Romabio sent us painted swatches so we could tinker and fine-tune (lightening some, graying others, and eliminating too-similar options). Our goal was to simplify the decision-making process, after all, so offering 10 slightly different blues felt like it would defeat the purpose REAL FAST. So if you want a light warm gray, we gave you one (Instant Chateau). Looking for a deep gray blue? Navy Steel is your guy. We did a couple rounds of narrowing and adjusting (always taking things back to The Fan for a real world gut check) so we could be certain we LOVED EVERY. LAST. COLOR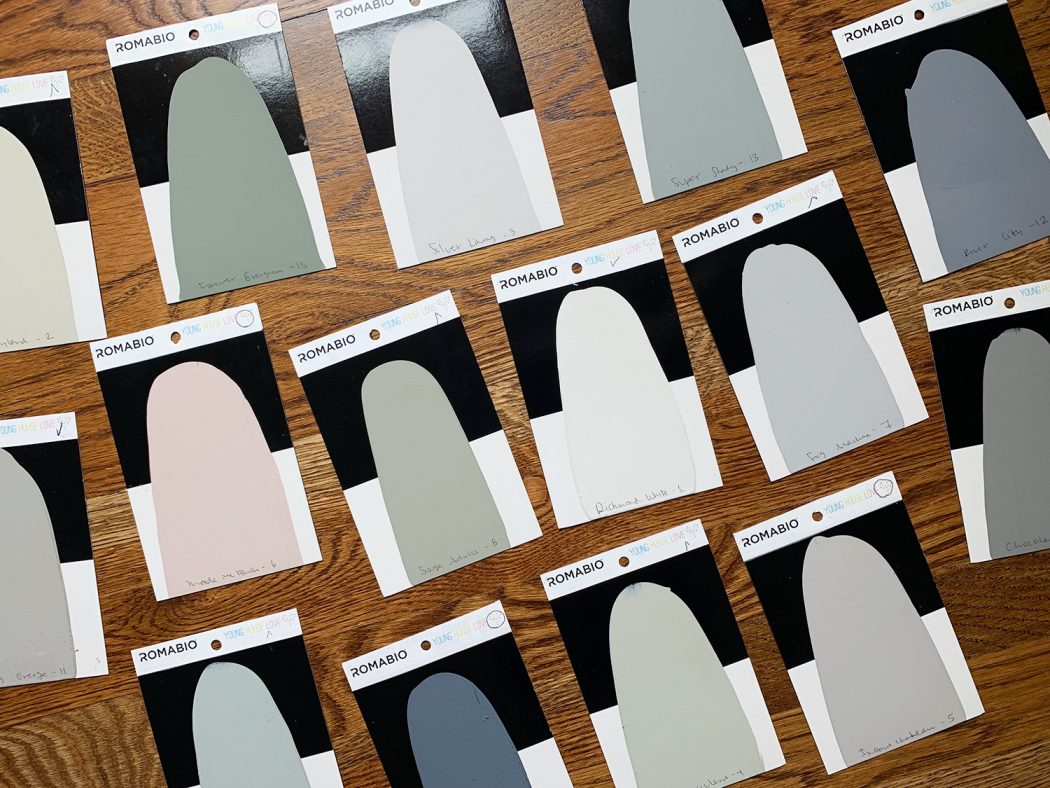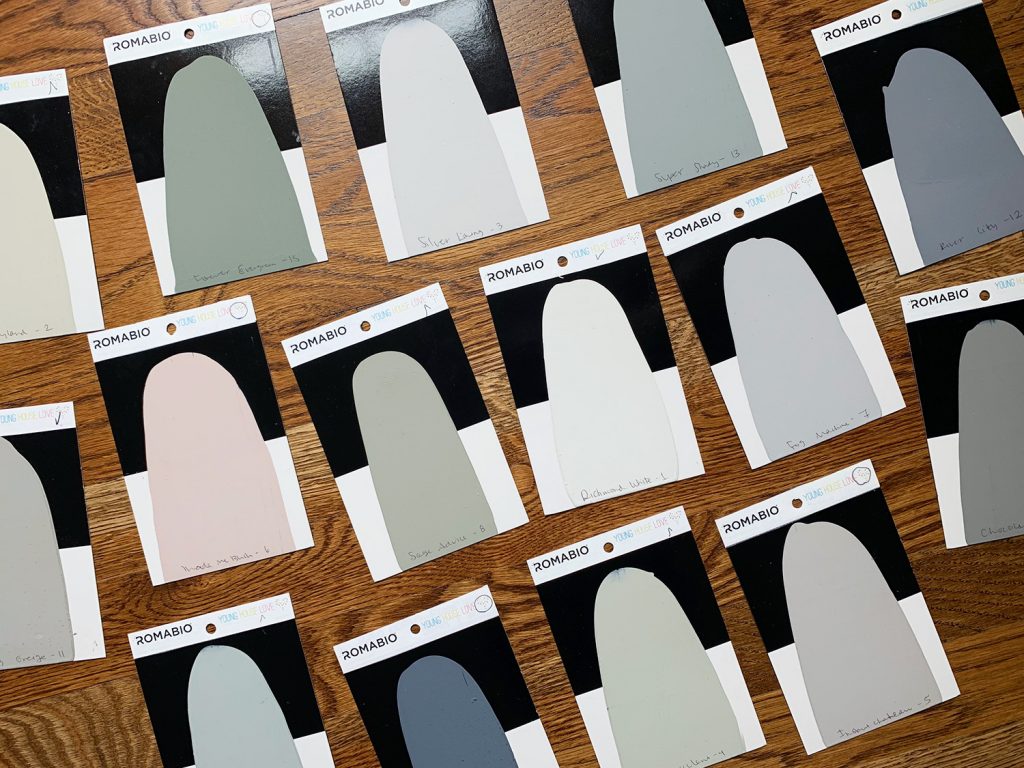 During some of our paint color reconnaissance missions, we also witnessed some examples of what can happen when you don't use masonry paint on your brick. Not only can latex paints sometimes give you that extra shiny finish, they can also peel and crack over time since the brick can't breathe and it traps in moisture which is actually damaging to the brick as well as the paint job.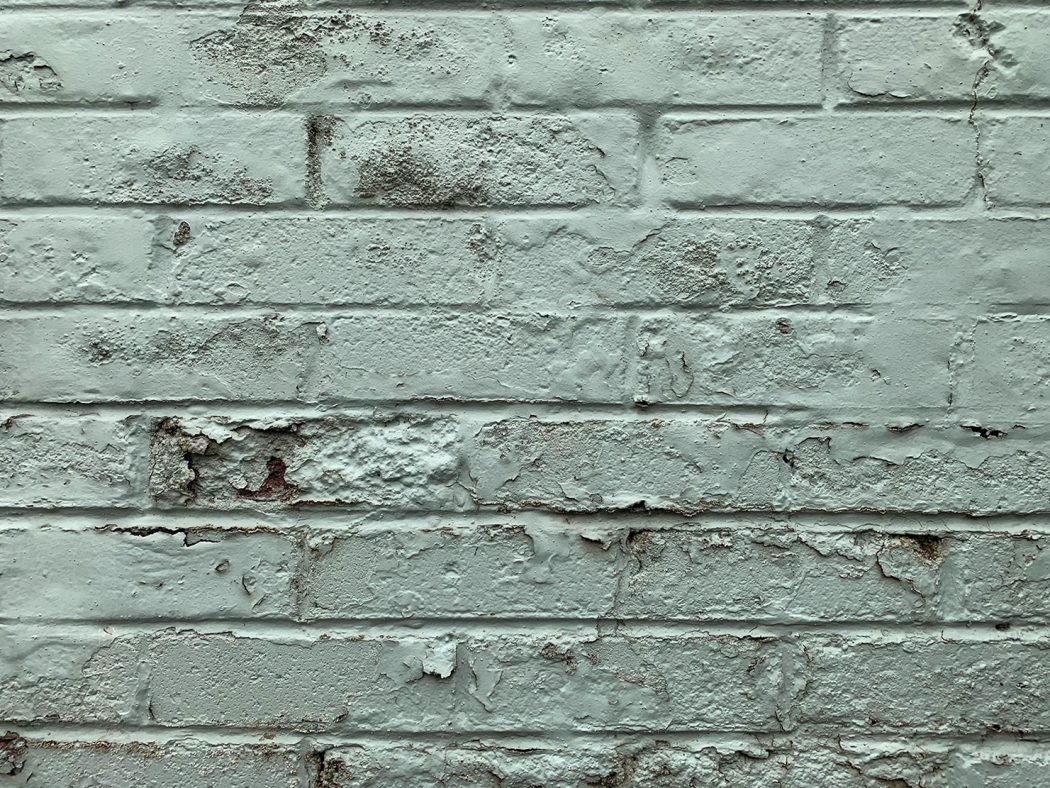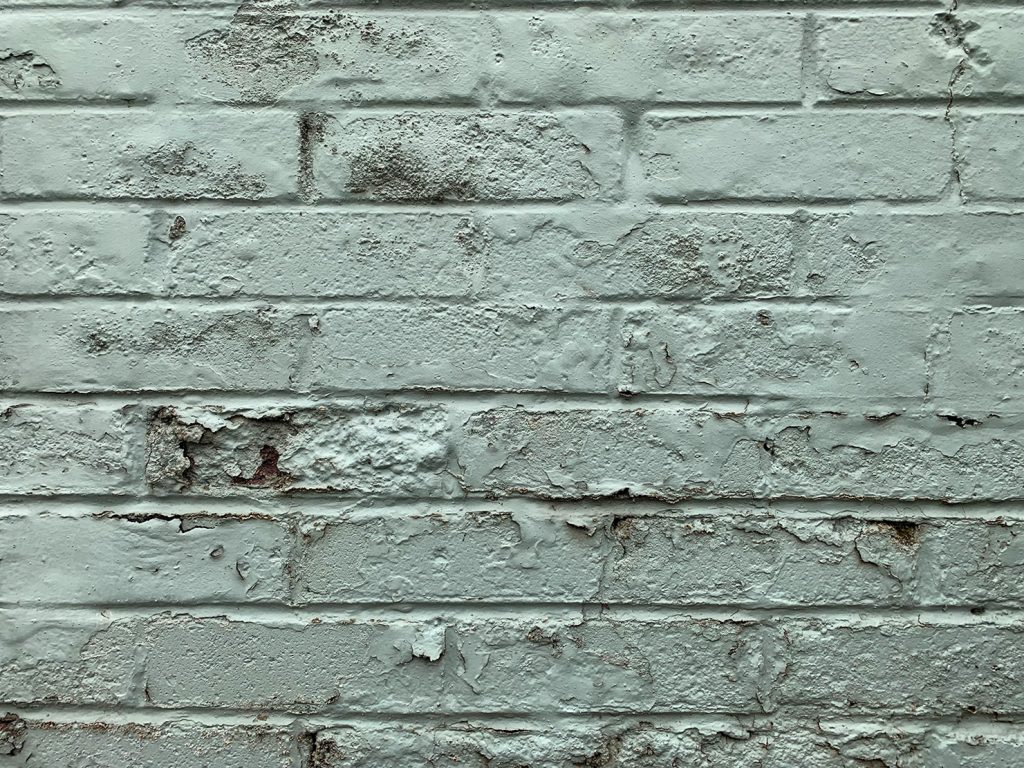 Before locking in our final color selections, we painted sample brick boards with every option to help us better picture what they'd look like on a brick house (you may have caught a sneak peek of these on Instagram). And, well, WE LOVE THEM ALL SO MUCH I KINDA WANT 14 MORE BRICK HOUSES TO PAINT (#JohnSaidNo).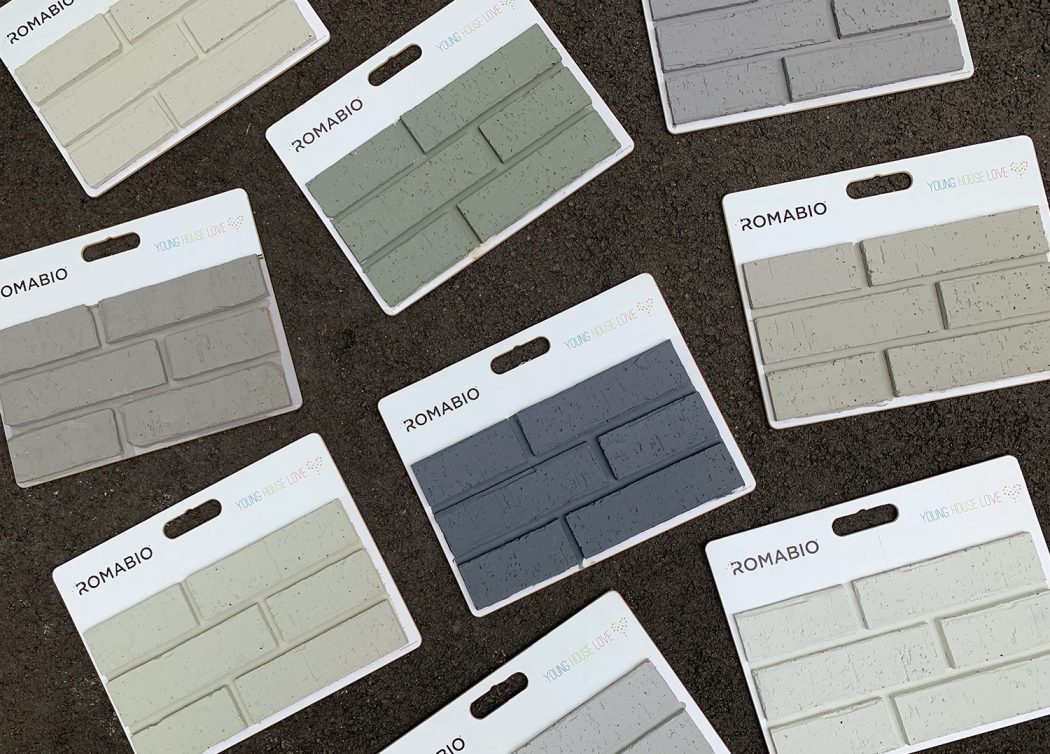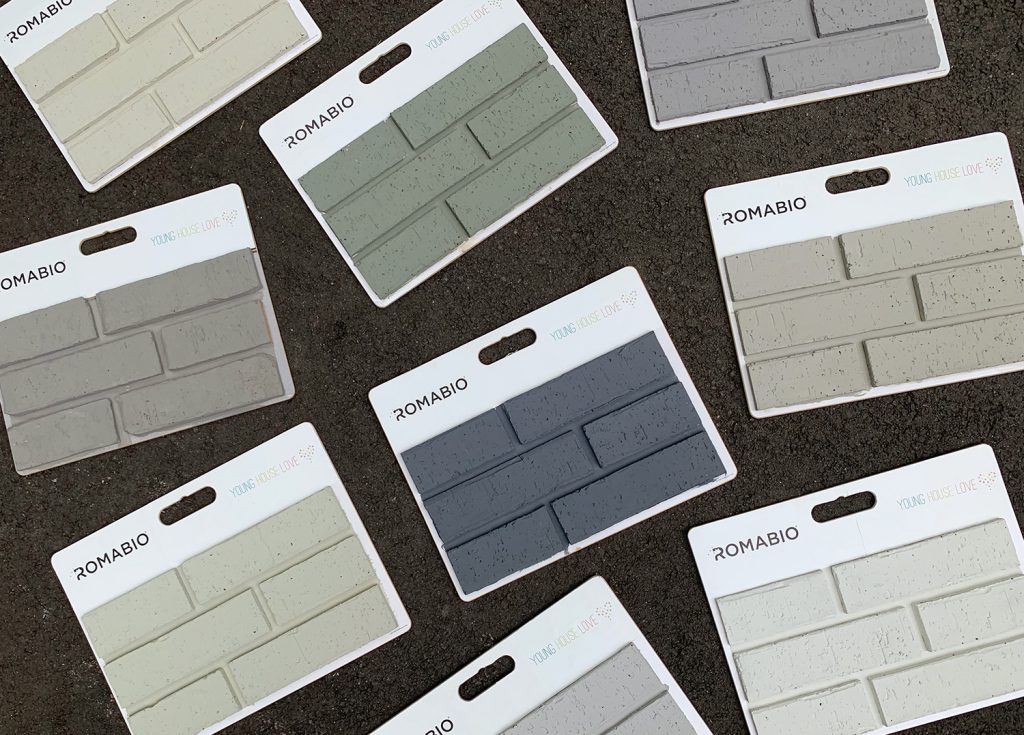 The final step was naming them all, which was THE MOST FUN (you guys know I've always wanted to name nail polish and paint swatches). And since we love an outtake, here are some names that we left on the cutting room floor (but laughed at for a while before we cut them):
Green Day
Villa Rosa (RHOBH anyone?)
Theon Greyjoy (GOT anyone?)
Red Wedding
Rachel Green (Friends anyone?)
Moss Gellar
And probably our favorite: Mossy "Mossdemeaner" Elliott
In the end, we were aiming for names you'd be proud to put on your house (I think "So Succulent" is my favorite) and we also worked in a few nods to the town that inspired us (like River City and Richmond White). Actually, Richmond White is the exact white color that we used on our house. It's not too stark and blinding or too yellow – it's just about the perfect tone, even if you mix it with bright white trim (which is what we have on our house thanks to white vinyl wrapped windows that can't be painted).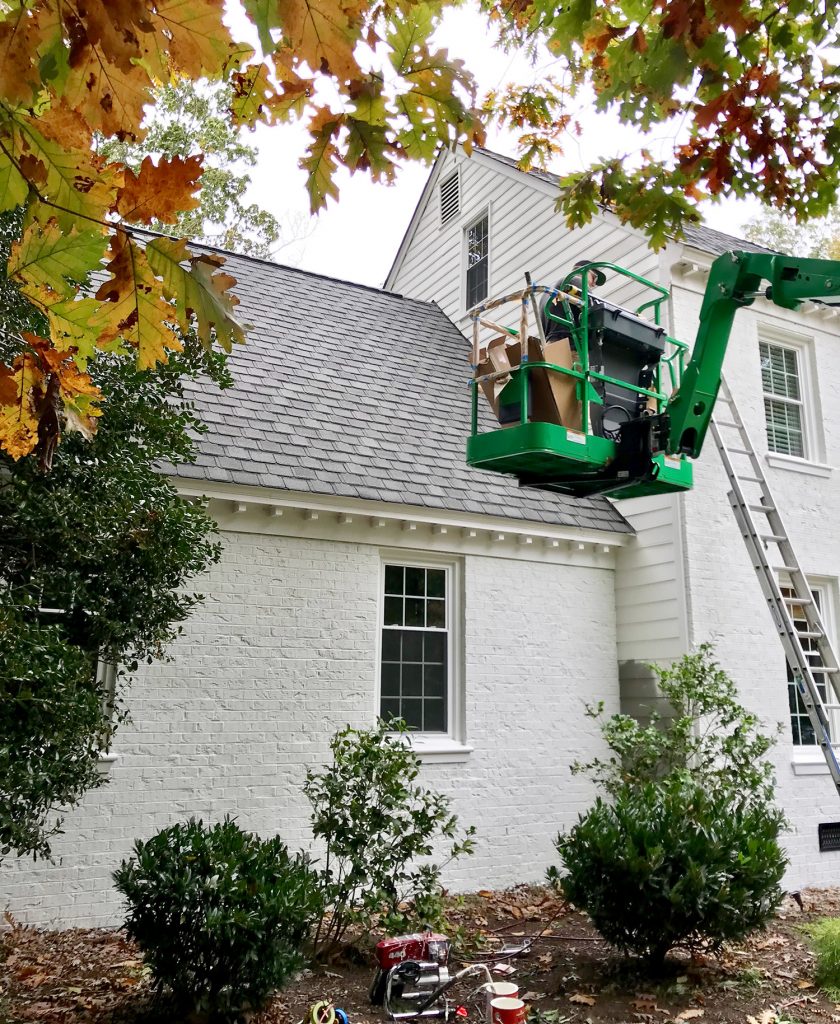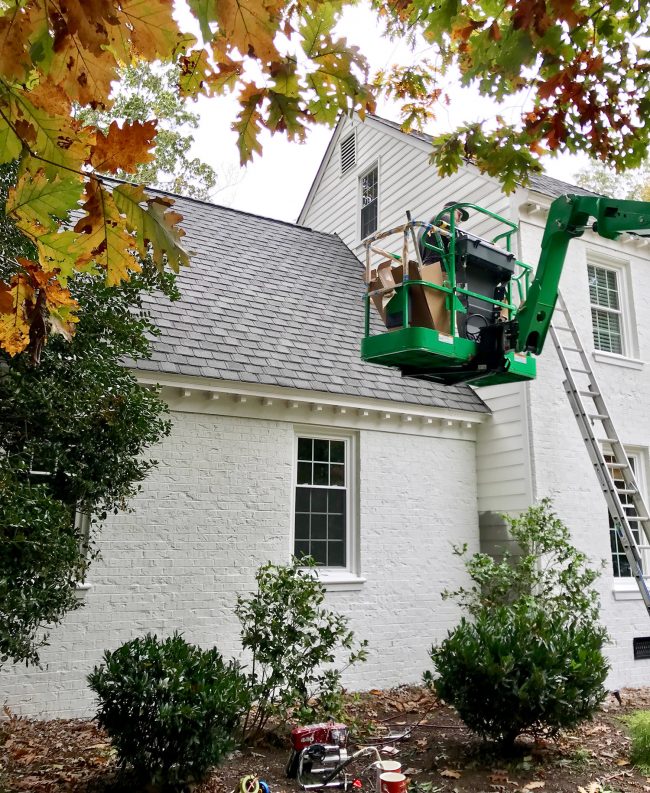 You may remember that to land on our final white paint color for the project, we agonized. We took home dozens of swatches, narrowed it down to four colors, and then had Romabio color match the Masonry Flat Paint to a few Sherwin Williams and Benjamin Moore colors, which we then painted onto the house to make our final pick. And then we had Romabio color match that swatch again to make us big buckets to cover the whole house. Whew.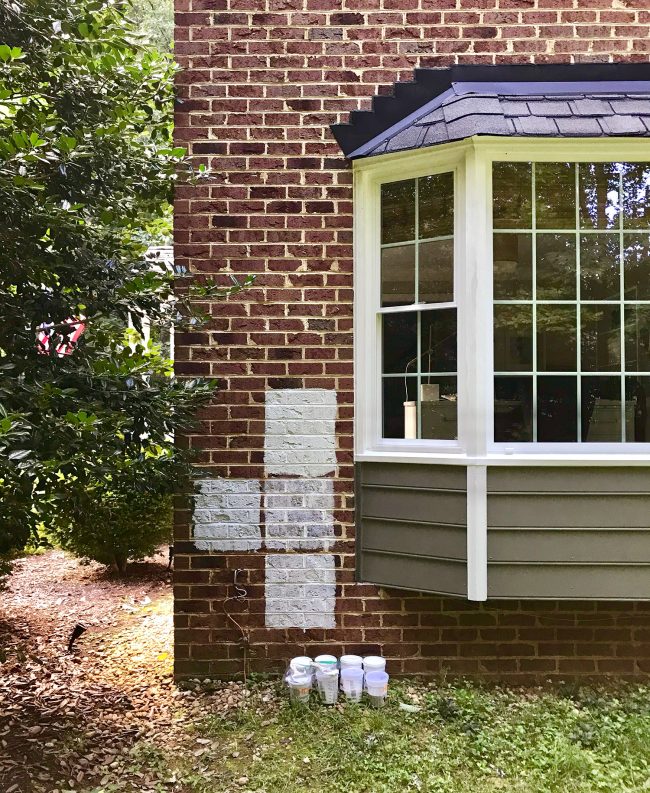 But since color matching isn't an exact science across different paint brands (the different pigments and bases in each company's formula make it difficult to get the exact original color – more on that here), we wanted to give you guys a foolproof way to replicate the exact white that's on our house without worrying about any margin for error due to the color matching process. So now you can just ask for "Richmond White" which is the true color we used (it's the original formula they created for our house using their own pigments & bases).
You can visit the Romabio website to learn more about our color collection with them and soak up all the info on their masonry paint (why it's so much more durable than latex paint, and what you can & can't paint with it). And you can order all 15 colors on Amazon (NOTE: AMAZON HAS A SHORTAGE SO THEY CHANGED THIS LINK TO THE TEXTURED KIND – NOT FLAT, but it's very similar to what we used – just read the instructions and call Romabio if you have any questions – we're just the color pickers). WOOT! Just be sure to check Romabio's info about what materials it works on and to see if you need a primer or not (for example, already painted brick needs this primer – and you can always call Romabio with questions at 678-905-3700).
Oh and it works on interior brick too (like your fireplace – and you'd probably only need a 1 or a 2.5 liter bucket!). They can also make any of these colors in their standard interior wall paint if you see one that you'd love indoors (just call them for that and they can ship you interior paint in the exact color).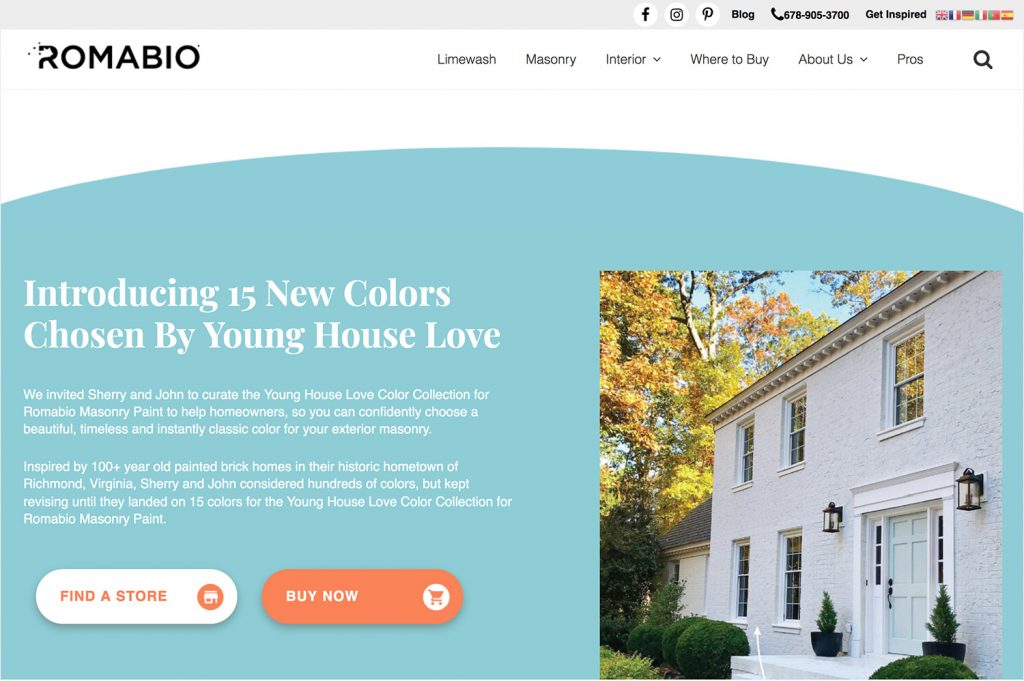 Over on their website we also shared some tips about how to choose an exterior color that works with your existing trim & roof colors, and even pulled together some fun door color ideas to go with some of the colors in our collection.
And if you have any technical questions about the paint, its application, or how to get a small bucket to test any color before diving in, just ask the folks over at Romabio. We picked the colors, but they're the actual paint pros ;)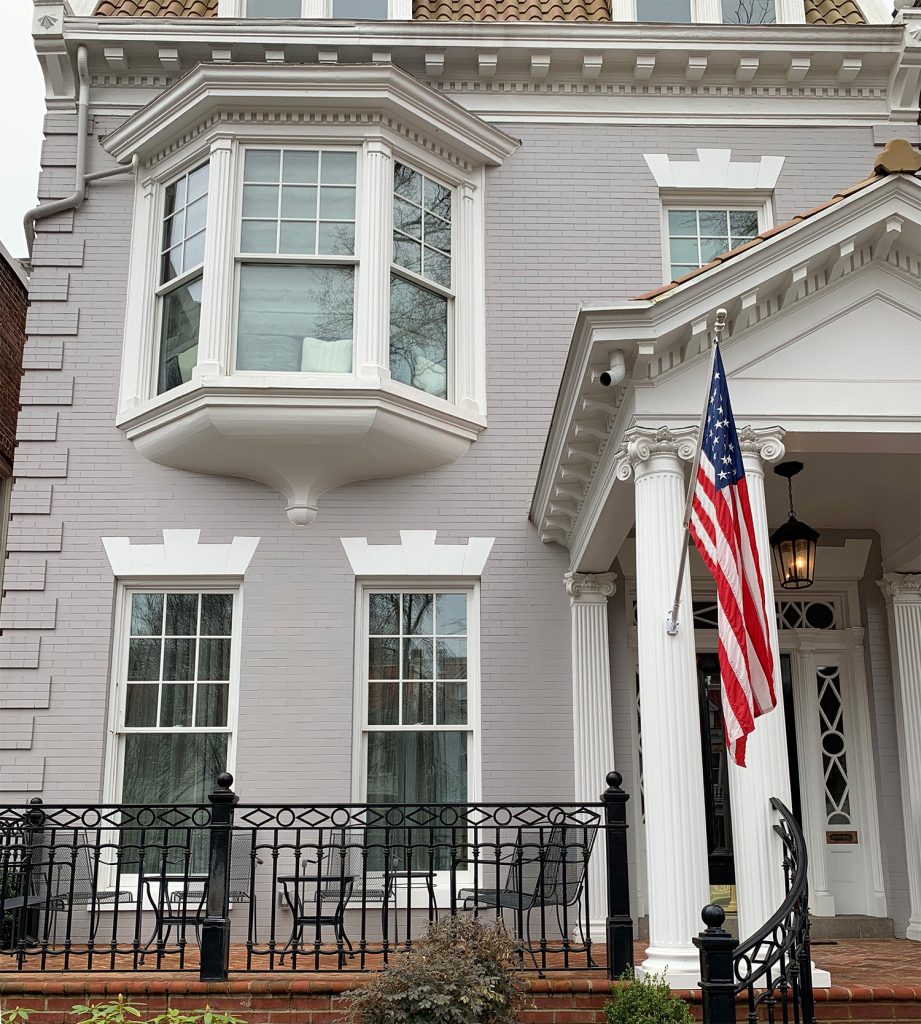 Also, if you guys use any of our colors, PLEASE PLEASE PLEASE SEND US PICS (you can also tag them with #YHLforRomabio so we'll see them on Instagram). I can promise I won't cry over them.
Just kidding I totally will.
*This post contains affiliate links*