Still working on the drywall situation for our new opening! While we get that together and snap some pics for this afternoon, let's look at an awesome kitchen makeover – you know to keep the momentum up. Of course we perked up when we spotted the words "1948 ranch style house" and "kitchen renovation" in our inbox. Then we saw the awesome before & after pictures attached and, well, see for yourself. This is one of those makeovers that reminds us that whatever the budget, making one or two daring or unexpected choices can make the room (and make it feel like yours). We're loving the playful choices like the yellow floor and the chalkboard pantry door along with a ton of functional upgrades like the large glass cabinets and the glossy white backsplash. Here's Kathryn's email:
We had a very outdated kitchen in our 1948 ranch style house. We bought our house in 2009 knowing that we'd have to do something about the kitchen – the overhead light didn't work, the stove worked about 50% of the time, and it was claustrophobic.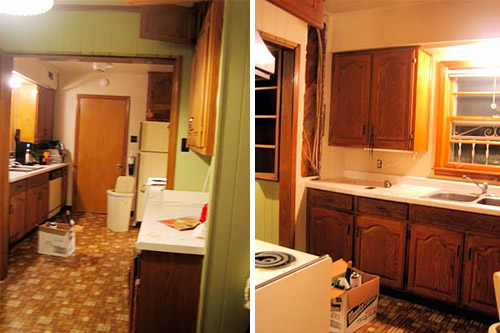 We used the first time tax-buyer's credit plus some other savings to re-do the kitchen and ended up redoing everything to make more sense of the room and update the dark and dated feeling (we removed a soffit, got new flooring, new cabinets, new counters, new lighting, new backsplash tile, new appliances, a new sink & faucet, etc). Hope you like it as much as we do! – Kathryn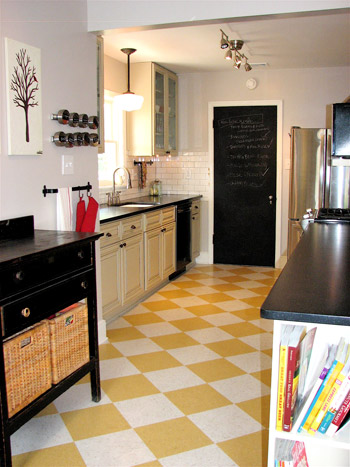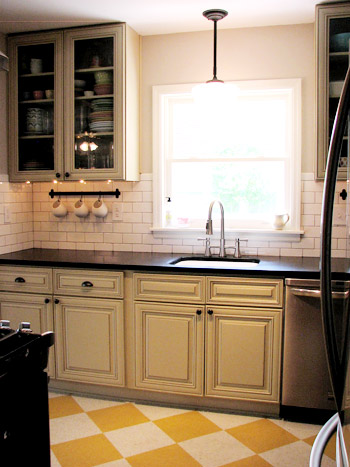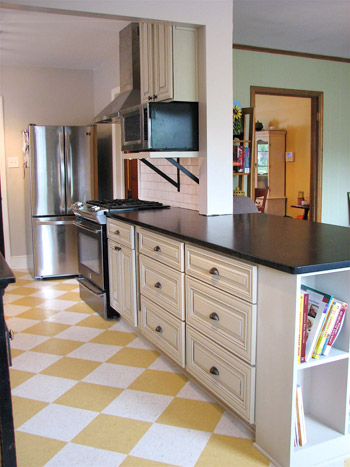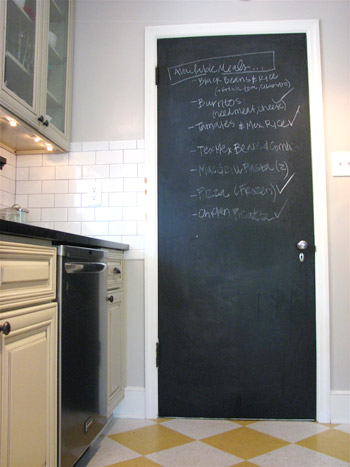 Isn't that amazing? A big thank you goes out to Kathryn for sharing! She has more awesome after pictures here on her blog, and you can see more of the in-progress pics here. It's like a totally different room, huh? And when you take a moment to really check out those cabinets (the lines of them, the glass fronted ones, the fact that they go all the way to the ceiling instead of hitting a soffit, the abundance of large functional pull-out drawers, the open bookcase for cookbooks on the end of the counter, etc) it's clear that the room's not only a lot easier on the eyes, it's a lot more fun to cook in too! So let's make like the floor and have some fun… playing the what's-your-favorite-part game. Mine are the glass cabinets, giant drawers, and the pendant above the sink.