We're back with a fresh and fabulous living room makeover for next to nothing. Here's Kelli's letter:
I have a before and after for you! My husband and I sold our house a couple of months ago without another place lined up. Luckily, his grandmother had an empty apartment above her house (rent-free, yippee!). Turns out it hadn't been rented for several years and was very dark…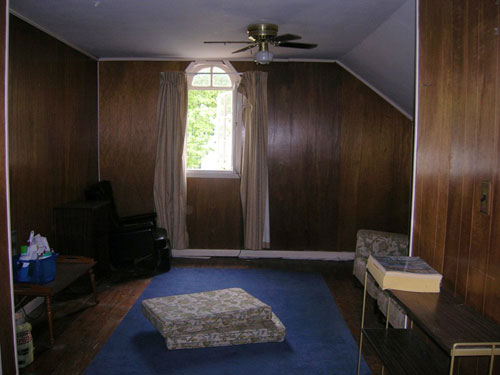 …so our first course of action was to paint the dark paneling in the living room to make it more homey. We used Glidden's White Fog, which was inspired by several mood boards you'd done recently with pale blue used as the main wall color. My mother-in-law is very creative and was inspired by the huge leaves Jenn (from Design Star) had painted on the wall in the episode with the airplane hangar. This was just the blank canvas she needed. Everything was done on a budget, with items coming from Old Time Pottery, Target, TJ Maxx and JC Penney. We're super happy with the final result, and I hope you like it, too! – Kelli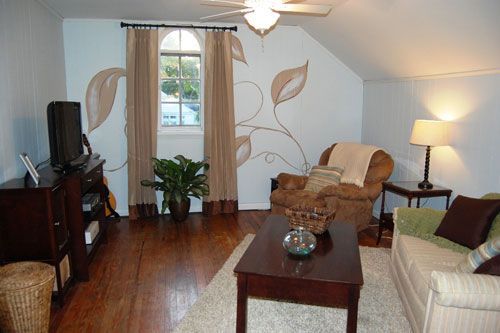 Totally fabulous transformaton Kelli- thanks so much for sharing! Isn't it amazing what a coat of paint can do? Bringing in more cozy furnishings (like the soft textured rug and the table lamp) make it even brighter and more inviting. And painting all that panelling really brings out the gorgeous wood floor that you hardly notice in the first picture!