When Totty and Dave sent us their latest room makeover we had to share the goods. After all, everyone loved their amazing bathroom overhaul so much that we knew their kitchen would be a hit too. Here's their letter:
Dave and I have another Reader Redesign for ya. Our kitchen has been undergoing a facelift for the past six months. What started as a simple "let's move the cabinets around a bit" turned into a full blown kitchen renovation. We relocated all of the upper cabinets, built floating shelves, got new cabinet doors and hardware, new appliances, tiled the backsplash, and discovered hardwood floors hiding under ugly orange tile! Shew- I think I covered it all! But the best part is that several of the key items we already had on hand and didn't have to go out and buy! For example, the blacksplash was created with leftover tile and grout from our bathroom renovation (which you showcased back in November). We also reused all of the cabinet boxes and just got new doors and hardware! Plus we did all the work ourselves (minus sanding and refinishing the floors). That really helped to keep our little renovation under budget! I still can't believe it is the same kitchen. For the entire scoop and photos check out www.bootsandtotty.com. – Totty and Dave
Here's their kitchen before the redo: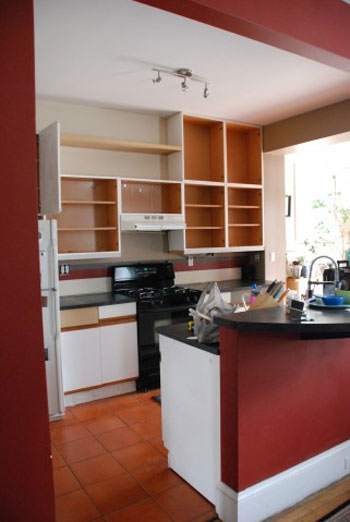 And here's their amazing kitchen masterpiece as it looks today: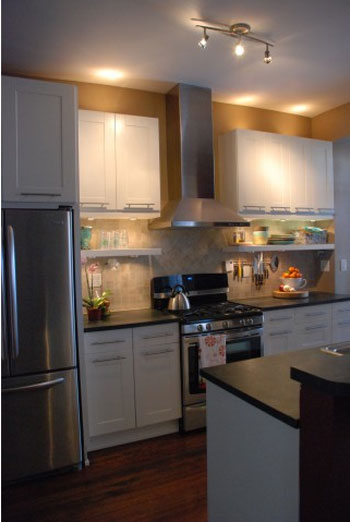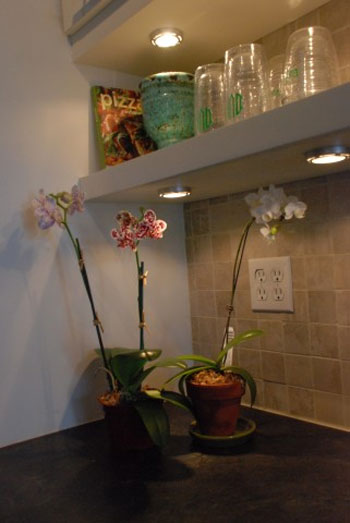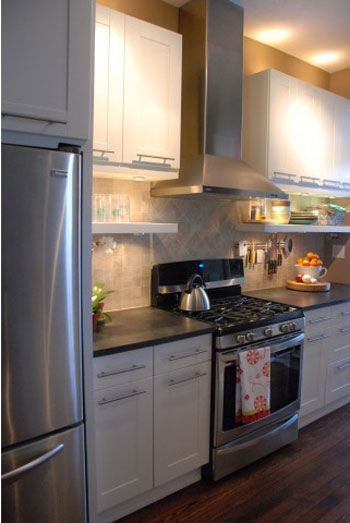 Oh and here's a quick source list from Totty and Dave:

Cabinet doors and hardware are from Ikea
New fridge & stove were bought from Sears "Scratch & Dent" at majorly reduced prices
Tile and grout for backsplash were leftover from our big bathroom reno
The hardwood floors were sanded & refinished by Mr. Sanders (thanks for the recommendation- we loved him!)
Didn't they do a fantastic job? We love that they reused, repurposed and salvaged as much as they could (like using leftover bathroom tile for the backsplash, refinishing their existing floors, reusing their cabinet boxes and just getting new doors and hardware for a totally new look). Gotta love a reno that's easy on the wallet and good for the planet. Plus we can't believe that they did so much work themselves (except for calling in the same guy who refinished our wood floors– love him). This reader redesign really shows that a little creativity, some smart repurposing, and a little elbow grease really can go a long way. But now let's play the what's-your-favorite-part game. We're torn between the gorgeous and sleek horizontal door hardware to those awesome floating shelves below their high-hung "new" cabinets.