When Erin and her husband Ben sent their before and after pictures our way we couldn't wait to share the eye candy. Here's their letter:
I read your blog every day and love your style, your thriftiness, and your wit! My husband and I have lived in a 1925 Arts & Crafts bungalow for almost two years, and have been making it our own one room at a time. After three and a half long months of our entire first floor in total disarray, we've finally finished our family room project, and I wanted to share some before and after photos. We are really proud of our handiwork, and are thrilled to finally relax in our new space – we're taking a bit of a break before our next big project! It was long and hard but we managed to remove the old built-ins and build new ones, strip all of the original oak woodwork, and tile the entire fireplace with ledgestone veneer over the course of about 70-80 hours (we lost count after a while). Thanks so much for letting us show it off! Sincerely, Erin & Ben
Here's the room before their makeover magic: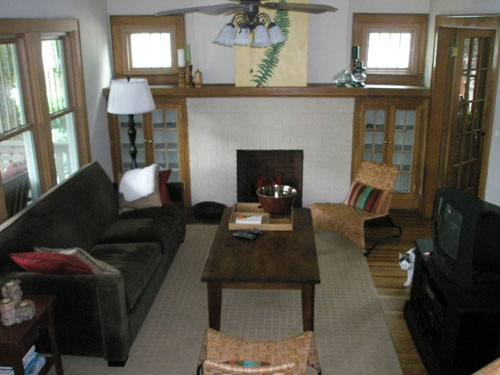 And here it is now in all its gorgeous after glory: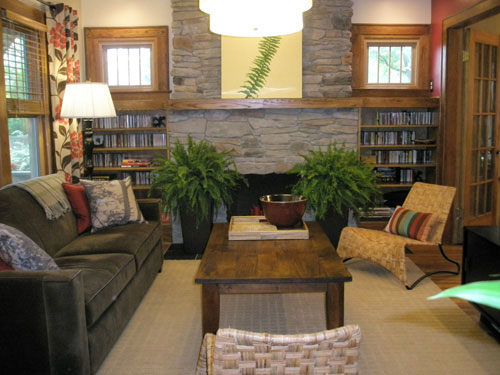 And for all you Curious Georges (or Georginas) out there, here's a source list– fireplace ledgestone veneer: Dutch Quality Natural Blend Ledgestone from a local dealer, paint: Valspar Martha Stewart Signature Barn Door Red & Valspar Churchill Hotel Wheat, new blinds: Levolar Real Wood Blinds from Lowe's, floral curtains: Pier 1, leaning media center: Crate & Barrel, overhead lighting: Two-Tier Round Chandelier from Restoration Hardware, bookshelf lighting: IKEA, sofa: Crate & Barrel, chairs: IKEA, coffee table: Crate & Barrel, red side table: Target, rug: carpet remnant from local warehouse sale, pillows: all from Crate & Barrel.
Is that not a seriously amazing transoformation? And the fact that they did most of it with their own two hands (especially that breathtaking stone fireplace) is seriously inspiring. Thanks so much for sending the unbelievable before and after pictures our way Erin and Ben! We hope you find some time to relax in that lovely new room… before you move on to making over the next one.