When Dana and her husband Steve sent us photos of their mudroom makeover we just couldn't wait to share the amazing eye candy. This is definitely one of those spaces that has our mouths watering! And the budget is almost too good to believe. Here's their letter:
First of all, I love YHL. I'm very inspired by your hardwork, DIYing, financial responsibility and overall aesthetic. My husband and I, along with our 2 young boys, recently moved into our 'forever' home. The problem: an under-utilized, short hallway between our garage and kitchen crowded with THREE doors (garage, bathroom & closet). The solution: remove closet door, widen closet doorway and set up digs for a functional mudroom to be known as "the MODroom." Like anyone these days, we were on a budget. The shoebench and flowered pillows were stolen from other rooms in the house where they didn't really belong. I painted the shoebench white (previously black with a black leather cushion) and recovered the seat with linen fabric. Once the doorway was widened, we patched a vinyl floor square after googling for a how-to. Hubby used a bolt-cutter to shorten the wire shelving that used to hang lengthwise across the closet. We chose to hang it front-to-back style (for lack of better phrasing) in the corner for everyday jackets. Handy-hubby also wired 2 recessed lights into the ceiling. The best part is that this small room is functional for our family. We take off/put on shoes there, unload backpacks and lunchboxes, and even sit things to 'go out' on the bench as a reminder. Oh, and did I mention we are FRUGAL?! Check out our cost breakdown below. Much love! -Dana & Steve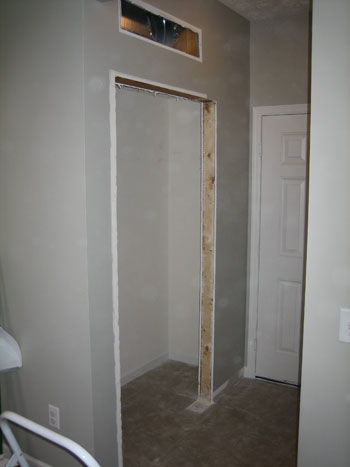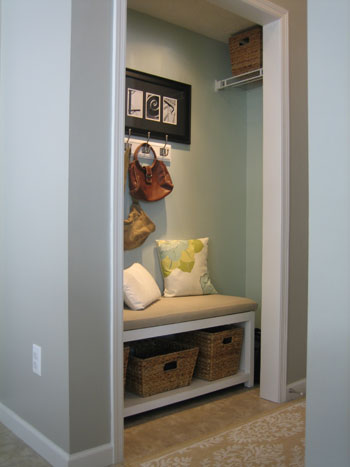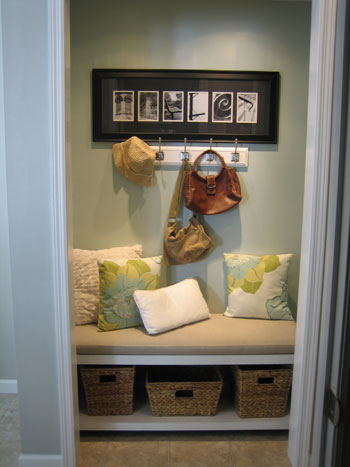 The Budget:
Shoebench- FREE (stolen from front door where it wasn't being used)
Pillows- $8 (white rosette pillow from Meijer on clearance…had other pillows already)
Artwork- FREE (my artsy sister-in-law crafted it as a Christmas gift for me… it's our last name "MILLER" spelled out in photos)
Hooks- $25
Shoebench fabric- $13
Baskets- $20 (on sale at Kmart)
Vinyl floor tile repair- $16
Electrical supplies- $30
Paint supplies- $40 (yes, it's Glidden's Gentle Tide…thanks for the inspiration!)
TOTAL: $152
Is that not an amazing mudroom- er, modroom makeover? We love how functional it is without sacrificing an inch of style. What do you guys think? Does this transformation have you drooling too? Thanks so much for sending your breathtaking photos our way Dana and Steve! Long live cheap yet oh so chic makeovers.
Update: Dana now has a blog! Stop in and see her for more info on her mudroom and other areas of her ever-changing home.