When Evelyn sent us a letter about her fun Real Simple inspired hanging decor- just in time for a family gathering- we had to share. Here's her letter:
Here's a little thing I made that I ripped off from Real Simple magazine. Their idea looked really interesting and its amazing what they did it with. They used large embroidery hoops and hung them over the table. The embroidery hoops only cost like 5 bucks or something and I added some Target jeweled ornaments inside to make them more sparkly and girly. I think they look really interesting especially considering they're made from an item you wouldn't think twice about. And to tie the hoops in with our place setting, I used wood utensils and a clothespin will hold each guest's place card. Anyway, thought it was cute enough to share with you two czars of cute. – Evelyn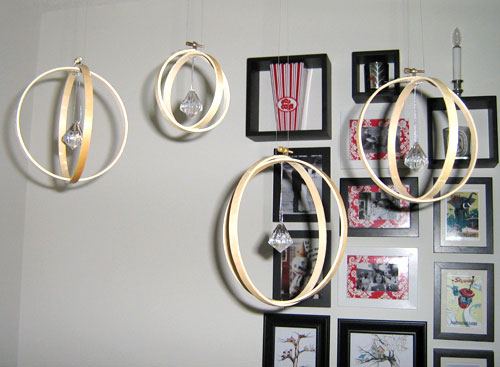 Thanks so much for the entertaining letter and the fabulous idea Evelyn! Those jeweled ornaments from Target really take things to the next level, and we love that you brought other wood accents into the place settings to tie everything together. Fab. U. Lous.