Ready for some wow? Jess and Monica really turned some out for this makeover of their friend's guest room. Sherry has been obsessed with houndstooth ever since I met her and you're about to see a pretty cool take on it below. Here's their letter:
Hi John and Sherry! We just finished a fun and affordable room redesign for our friends Connie & Mark, so we thought we'd share it with you. When a close friend asks you to help re-do their bubble-gum pink, non-descript guest room, you can't say no.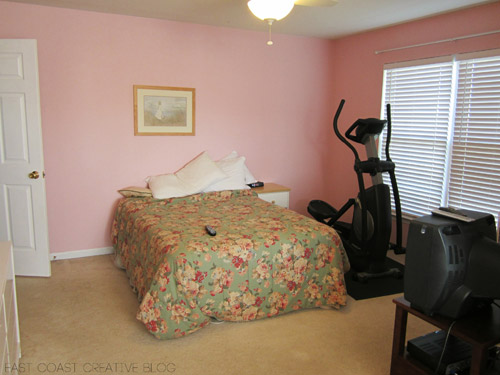 Our favorite part of the room is the multi-colored houndstooth stencil. We love how it's kind of a modern spin on a classic pattern. It was definitely a labor of love (we even called in some backup assistance), but it makes a huge impact in the room. It definitely set the tone for the rest of the space: mixing old with new.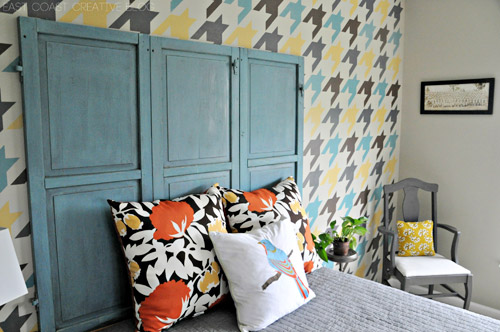 We made the headboard out of old shutters (or are they doors? Not sure!). We needed something that would stand out from the wall, command attention, and add some character, so we were happy to find these.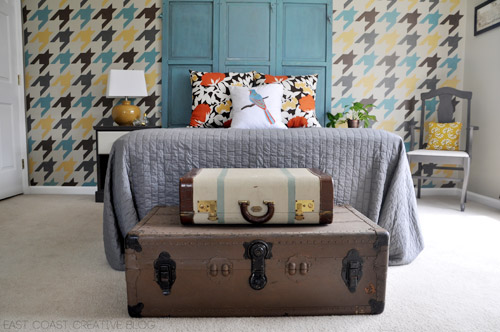 Connie & Mark had this dresser that we knew we could wake up with some paint and new hardware, so that saved us some big bucks! Another fun part was coming up with a unique way to showcase Connie's collection of old family photos. A simple gallery wall worked really well.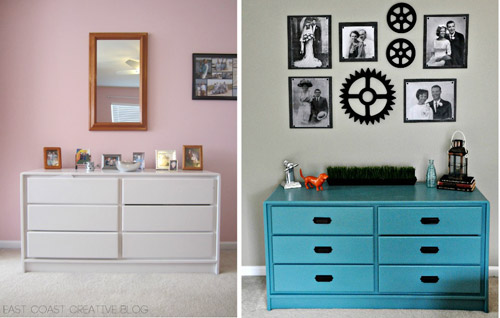 We wanted the room to be functional too. Since this is their guest room, we made sure to add some towels and an extra blanket to the $8 industrial cart so their guests feel at home.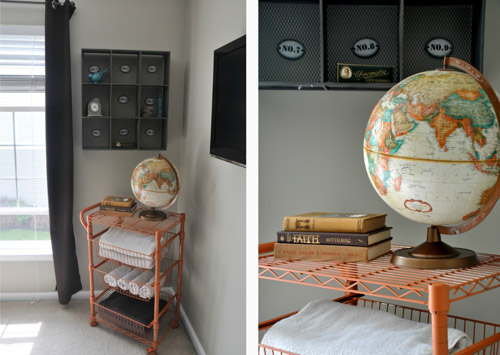 We're already planning a sleepover at Connie and Mark's. Thanks for letting us share! – Monica & Jess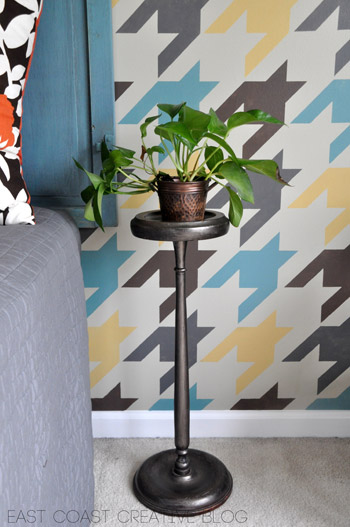 As much as I can't stop looking at that stencil, I have to say I'm really digging the rustic, subdued touches that anchor the room. Nice work ladies – your friends must be in love. And for those who want to love on this room a bit more, you can check out some extra photos and deets on their blog. But first tell us your favorite part. Is it the stencil? The blue dresser? The suitcases at the foot of the bed? The homemade headboard? That cute plant stand? There's definitely lots to love…