Taking an old thrifted piece of furniture and freshening it up is one of our favorite types of makeovers. Which is why we've enjoyed Tanis' china cabinet project so much (and no, not just because it involved painting it white). Check out the beautiful transformation that she and her husband recently achieved:
A friend of mine introduced me to your blog and I've been hooked ever since! The love of my life and I bought our first house in May, and then 3 weeks later we got married! We've just started tackling a few DIY projects around the house and are particularly proud of this one: a china cabinet makeover to display our special wedding china (you can read more about why it's so meaningful to us here).
The entire piece was washed, sanded, primed and then painted a semi-gloss pure un-tinted white. Then we wallpapered the back with a textured wallpaper from the Debbie Travis collection and painted it 'Aegean Blue' by Martha Stewart. I have to admit, I am beyond pleased with the result! It took a lot of elbow grease, but it was worth it!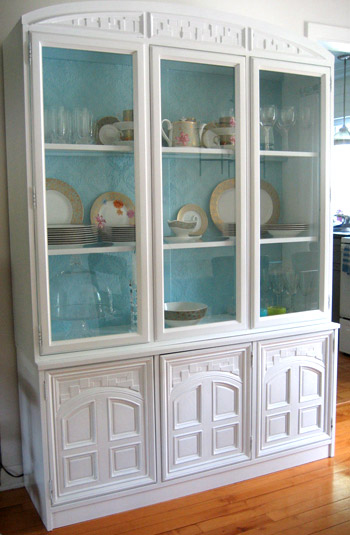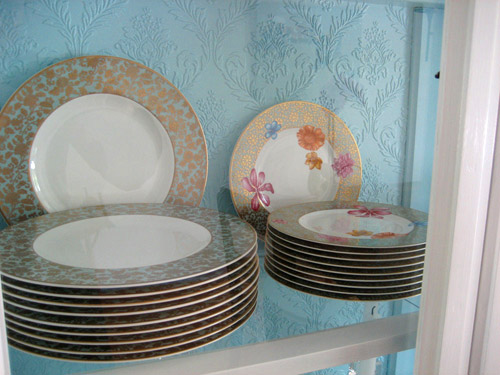 We're looking forward to many years of wedded bliss and many more DIY projects to tackle together. Thanks for the inspiration! – Tanis at Tanis Fiber Arts
Isn't that blue painted wallpaper such an incredibly elegant accent? We love that Tanis and her new hubby jumped in there and fearlessly made that dated china cabinet their own. What do you guys think? Will anyone else out there be following in their very stylish footsteps?