When Emily sent us her amazing china cabinet makeover we just had to share her before & after pics. Here's her letter:
I've been following your blog and have been inspired to move away from a house full of dark furniture and lighten things up a bit! We had some dark $10 clearance dining chairs that we purchased last summer but we decided to give them an airy overhaul (we found discount fabric and payed a professional to paint and upholster the chairs and they still came in under $100 a piece!). We also had been on the lookout for a china cabinet to store all of our servingware (which was sadly being stored in our guest room's closet) when we came across one on Craigslist for just $75. It even had a working light! All it took to totally transform it was some leftover topcoat and fabric from the chairs along with around $40 of primer, paint and brushes from Lowe's. We just love the new look- and we hope you like it too. Keep up the good work! And thanks for sharing your lives! – Emily
Here's the cabinet before the big makeover: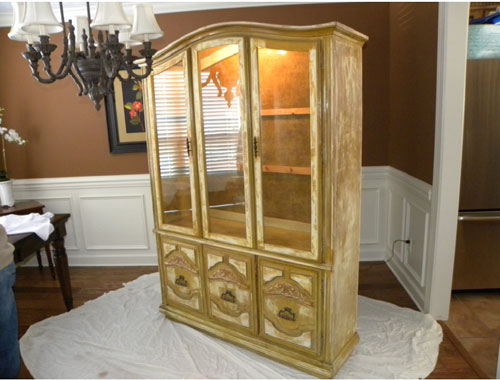 And here's the same china cabinet with a crisp new paint job and some leftover chair fabric lining the back: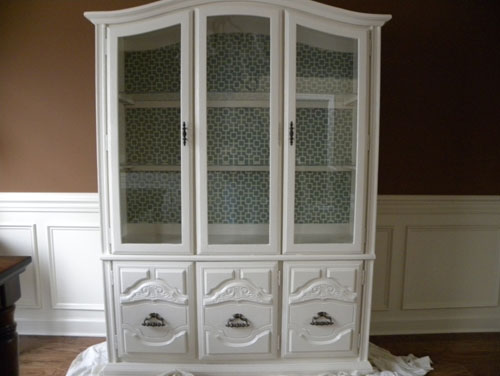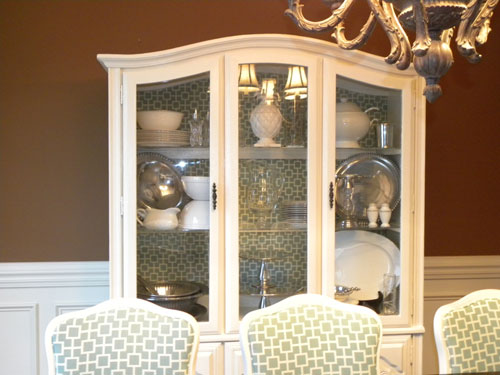 Isn't that incredible? It looks like a $1000+ piece and it was just $75 on Craigslist. This is such a great reminder that old pieces of seen-better-days furniture can always be upgraded in any number of ways (new hardware, paint, fabric, playful paper drawer liners, antiquing, etc). There really is no limit to what you can do with a smidge of determination and a little elbow grease. Great job Emily- thanks so much for sharing!
Psst- Looking for a step by step furniture painting tutorial? Well look no further.