Jolie is a woman after our own heart. Just check out how she too took a dark office / laundry room and lightened things up with a bit of paint on those red brick walls. Here's her letter:
Your den transformation was such an amazing inspiration to me that I decided to paint my brick walls, too. It's my laundry room with an office over to the side. Before the makeover, this room used to feel dark and gloomy and it just didn't flow with the rest of the house.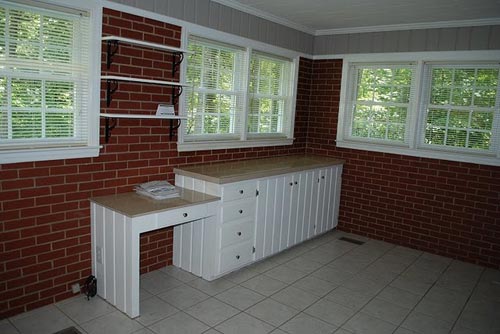 So I painted the walls a light color and it transformed the room! It doesn't feel gloomy anymore- as a matter of fact it's one of my favorite spaces in the house now. It actually makes me want to do the laundry! And it was very easy and inexpensive. Here's what I did:
Painted the walls Sherwin Williams Antique White
Painted the built in cabinets Olympic Light Sage
Picked up bamboo shades from Lowe's
Hung white curtains from Ikea
Hung sea coral art on the wall from your shop (love it!)
Made a burlap cabinet curtain from fabric.com
I hope you enjoy the before and after pictures. And thank you for all the wonderful work you put into your blog. It's truly inspirational. – Jolie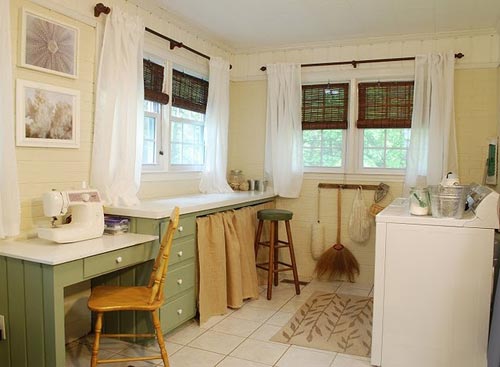 Of course we love the touches that Jolie borrowed from our own den makeover, but we're even more excited about those painted built-in cabinets. What a charming dash of color they bring to the room! Thanks for sharing your makeover, Jolie. And if you guys want to see more pictures of Jolie's recently purchased and already transformed brick ranch, hit up her blog to check 'em out. Talk about style to spare.