We never get tired of seeing a solution like the one that Sada and her husband Reagan sent our way. They took an otherwise useless wall in their entryway and turned it into both a functional space for coats and a pretty spot for displaying art and personal mementos (we think they did an especially awesome job picking meaningful, happy art and arranging it in a really charming way). Here's their letter:
My hubby and I recently redid our entryway! With the way that our house is laid out, I knew we were never going to be able to have a beautiful "mudroom", however, we have this huge blank wall right by our front door.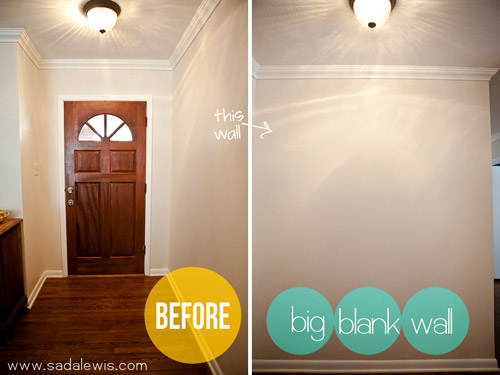 So we took advantage of it and created a little board and batten magic! Here is the before and after – Our version of a mudroom. :)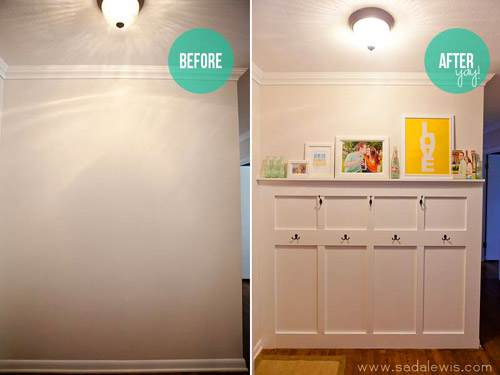 It is practical and it definitely adds a much needed pop of color.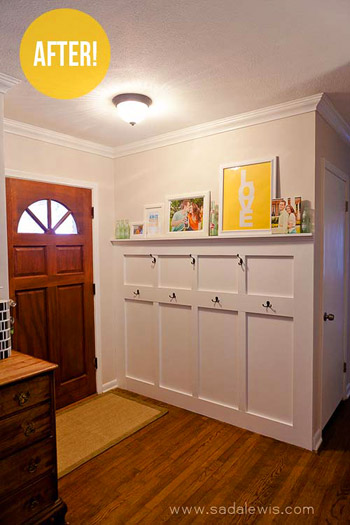 The only thing we are still working on is the light (the light fixture AND the lack of natural light, as I'm sure you can tell by my photos). We are in the process of trying to fix both, but I love how our entryway is much more cheery! I find myself just staring at it, ha!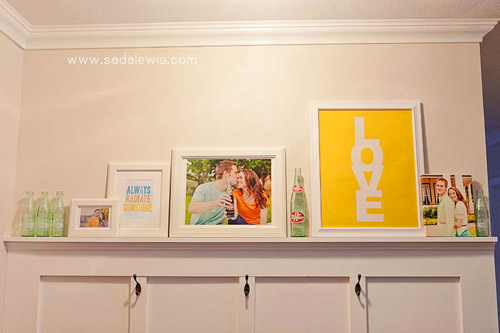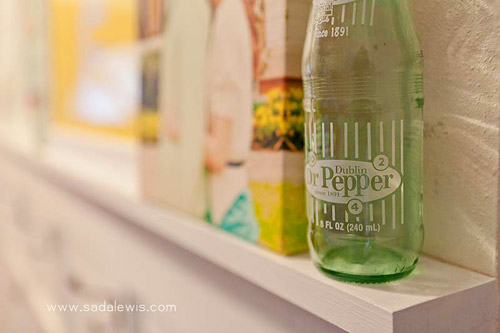 I love your blog (and would pretty much pee my pants if this was actually featured…tmi?)! Have a great night! – Sada
Obviously the woodwork looks great, but we're totally into Sada and Reagan's art arrangement (um hello, you know I love all things soda). It's such a fun touch that they mixed engagement pictures with some of the real items they used at the photo shoot. You can click over to Sada's blog to get more of the details on how they pulled this whole shebang off, along with sources for the art and all that good stuff. What's your favorite thing? Sherry loves the sweet "Love" and "Always Radiate Sunshine" prints and I'm digging the dark hardware and those come-hither soda bottles. Oh yeah, I'm smitten.
Psst- We announced this week's giveaway winner. Click here to see if it's you.