You guys have to remember Krystol thanks to the amazing porch makeover that she sent our way a while back. Well, she's done it again. And her kitchen is nothing short of fantastic (not to mention budget friendly). Here's her letter:
Thank you so much for posting our porch reno on your blog. I was so amazed at the response and wanted to share our latest project: the kitchen reno. We ripped out everything right down to the studs and started over with new Ikea cabinets, new appliances, a new laminate counter and my favorite: a zinc topped work island which we made by "wrapping" the top half of an MDF sheet with zinc that we ordered from rotometals. I felt kind of bad because the previous owner had just "redone" the kitchen with new tile, countertops, sink, DW and range but we did end up keeping the tile and the dishwasher so all wasn't lost. The kitchen reno cost about $8,000 total, which includes all cabinets ($3000), appliances ($2500), lighting ($400, a splurge), paint, plumbing and electrical work as well as drywall and tile work. We did everything ourselves (with the help of my dad the carpenter) except for a few minor plumbing and electrical items. Oh and we got the tile on "closeout" at Home Depot but ended up having to drive two hours away in order to get more matching tile! Oh the adventures of DIY. Hope you enjoy!- Krystol
Here's her lackluster kitchen before the big makeover: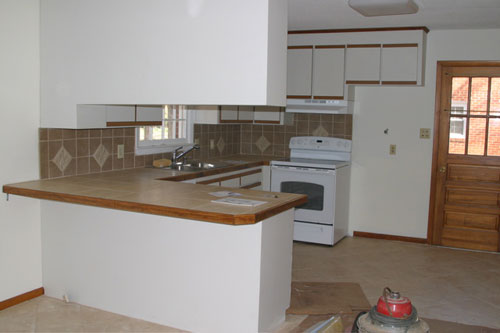 And here's the very same space completely transformed: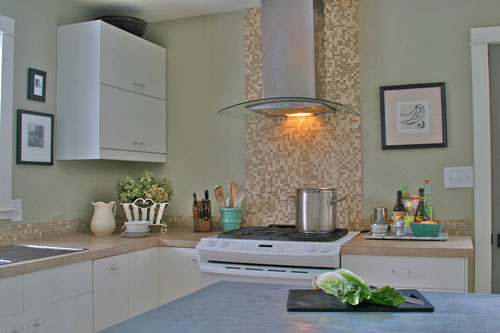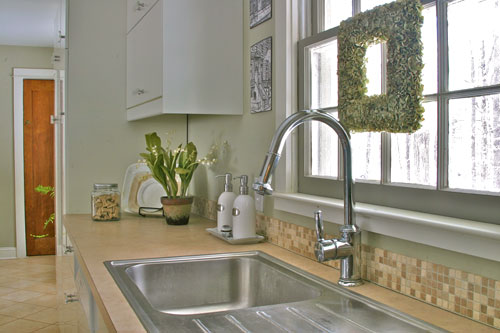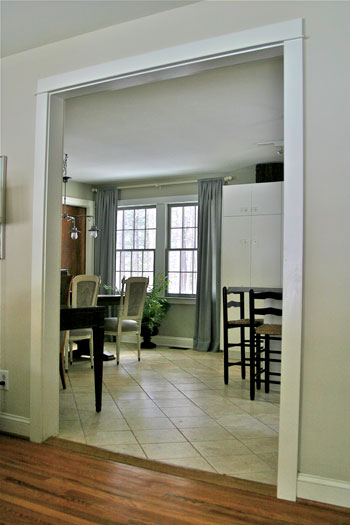 Isn't that amazing? It looks like a super spendy farmhouse remodel to us- right out of House Beautiful or the dearly departed Cottage Living (sniffle). And we love that stunning details like the mosaic backsplash and range hood came from affordable sources like Home Depot. Plus the total cost of this remodel is pretty unbelievable considering that it includes everything from drywall to all appliances and lighting- not to mention a custom made zinc topped island, new countertops and new cabinets. Inspiring! Oh and here's a handy source list from Krystol:
Wall color: Horsetails by Martha Stewart (from Sherwin Williams)
Window sash color: Squirrel by Behr
Cabinets: IKEA
Cabinet hardware: eBay for $1 a knob (they're vintage lucite handles and I love them)
Mini mosaic tile: Home Depot (it was a cinch to install since the area isn't a wet area- we just stuck them to the drywall with mastic and grouted)
Lighting: a splurge from here, but I've since seen similar fixtures at Lowe's/Home Depot

Zinc sheet for island counter: rotometals.com
Curtains: I made them
Didn't Krystol do a fantastic job totally reinventing her kitchen? We love that she and her family DIYed nearly everything themselves (from the drywall to the tiling and even the curtains). And the fact that they relied on places like Home Depot, Ikea and eBay to get 'er done without breaking the bank should give everyone hope that you don't have to drop a million dollars for a high-end effect. Now let's play a little game we like to call what's-your-favorite-part? We're torn between that gorgeous mosaic-backed range hood and the homemade zinc-topped island. And those dramatic blue curtains are pretty sweet too. What do you guys think?