Jessica accomplished a major kitchen makeover in under 10K- and that's no easy feat when you're gutting the place and replacing everything from the appliances to the cabinets and counters. Here's her letter:
I love your blog! My husband and I purchased our first home this past June and did a lot of work on it to get it ready to live in. I just wanted to share some pictures of our kitchen redo! We got the house in the middle of June and moved in the end of July. We gutted the kitchen and redid it floor to ceiling in about a month and a half. We redid the floors, scraped the popcorn ceilings and retextured, installed new cabinets and countertops, got new appliances, painted, etc. A whole overhaul. Oh, and I was about eight months pregnant when we bought the house! It was pretty crazy! Luckily we have lots of handy family members and friends who came together to help us finish the house before our daughter arrived. We did the whole kitchen for under $10,000- I'm not sure of the exact total… we were just glad to get in the house! I just wanted to, well, show off a bit! Thanks, and keep up the good work! – Jessica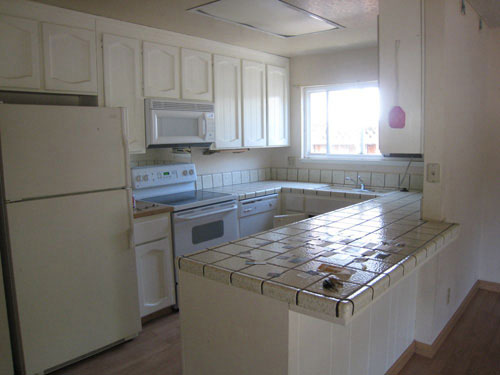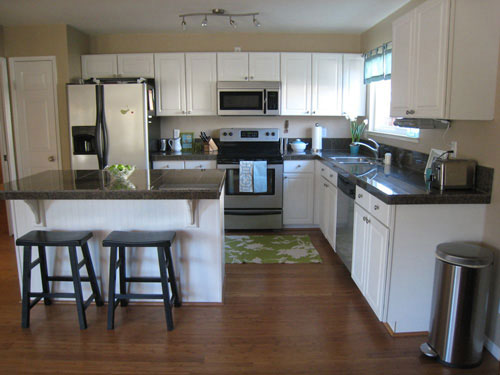 Thanks so much for the gorge makeover pics Jessica! We can't believe that you totally transformed the heart of your new home in a month and a half and on a budget… all while eight months pregnant! My hero.