Ah. Push it. Push it real good.
I hope you all got that Salt-N-Peppa reference. Good times. And now on to our guest bedroom's recent mini makeover. Check our our lovely new Wallflowers (courtesy of LaDiff) in all of their 3D glory (btw, have you entered the giveaway yet?).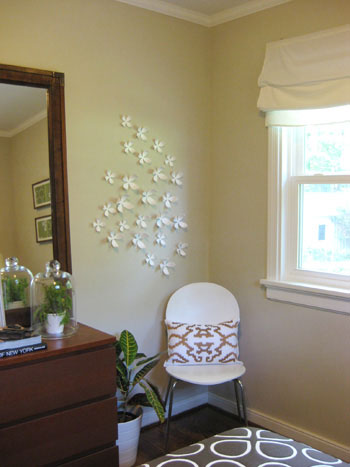 Aren't they so fresh and so clean in white? We love the gentle shadows that they cast on the wall and the playful texture that they add to a room that's already full of fun patterns and prints (although I believe they'd be equally amazing on the white wall of an all-white room, like white on white sculpture).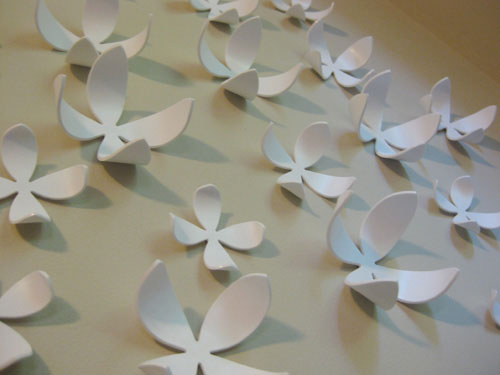 As soon as we got them home we ripped them out of their boxes all Christmas-morning style and started playing with them. The white flowers are actually magnetic, so it's no surprise that they ended up on our fridge (so pretty!)…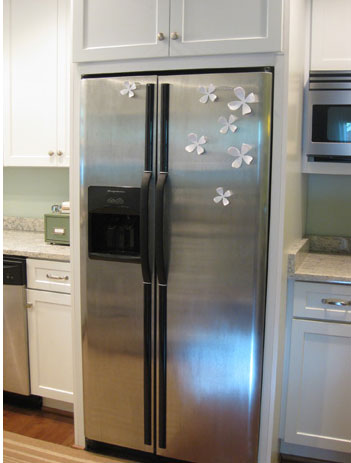 …and even on our hallway's air intake vent (it's so nature-meets-machine):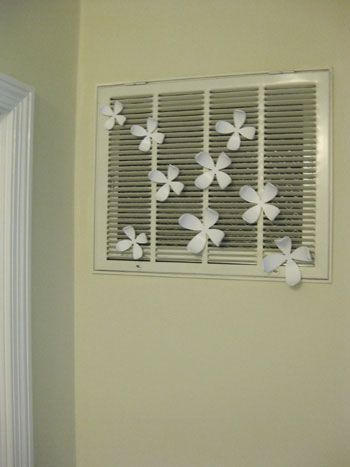 But how do the magnetic flowers stay in place on a regular old wall if they're magnetic? Why push pins of course! You just hammer them into place on your wall…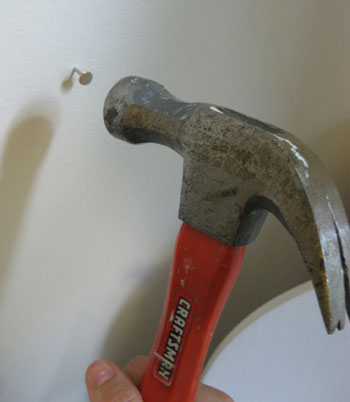 … and the flower is drawn to the pin and stays up like magic: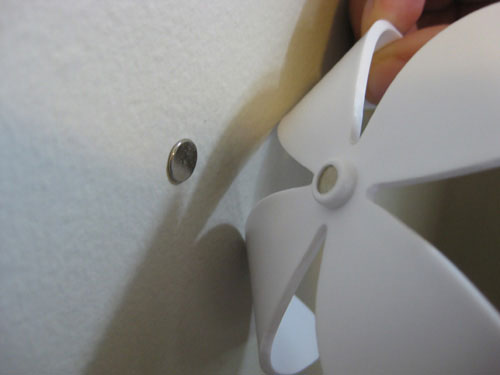 Planning our pattern was no sweat. We just laid the flowers down on a high-contrast surface (the brown back of our guest bedroom's patterned quilt) and messed around with them until we found an amorphous blob of blooms that tickled our fancy: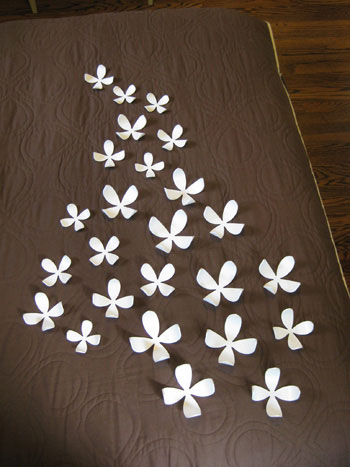 Then we slowly transferred them over to the wall (working our way up from the bottom and studying their relationship with each other as we went). We also found that placing a small piece of paper to mark where the already hung wallflowers used to be really helped us keep the whole picture in mind (and study the proportions that we wanted to duplicate on the wall).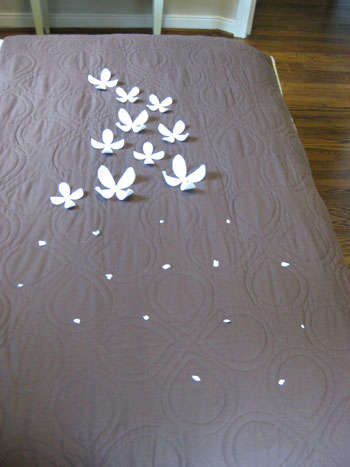 As we went we did decide to slightly alter our layout since we didn't want our gaggle of flora to be higher than the mirror that's centered in the room. So we made it a bit thicker and less pokie (that's a technical term) at the top.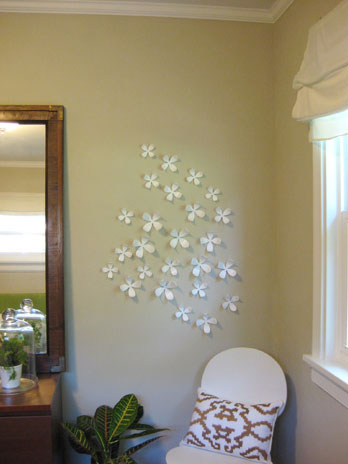 Before we knew it, our bloom blob was really working for us. One of the most fun things was switching the sizes around until we adored everything about our little art installation and didn't want to change a thing (thanks to the magnetic feature you can trade the flowers around tirelessly and even spin them to face any direction with ease).
So what do you guys think? Are you chomping at the bit to win some of your own? At $37 they're a total steal even if you don't snag them on the house (cheaper than most art + frame pairings). Would you choose the white flowers or the black ones – or even those fun stainless dragonflies? Where would you hang yours (framing a doorway? snaking up a staircase? in a nursery? the ceiling above your bed?). The possibilities are endless…
And speaking of Wallflowers in a nursery, check out Dooce's new nursery with none other than the very same white blooms. It's a small world (with lots of fabulous wall accessories, apparently).
————————————————————————————————————–

UPDATE: After we posted our little burst of blooms, a few people sweetly mentioned that they liked the original layout on the bed a bit more than the wall blob… and we actually agreed. A few minutes of switching things around (and eliminating three blooms, which are now on the fridge) produced our newer pokier shape (that isn't too tall thanks to the removal of those three flowers). Score.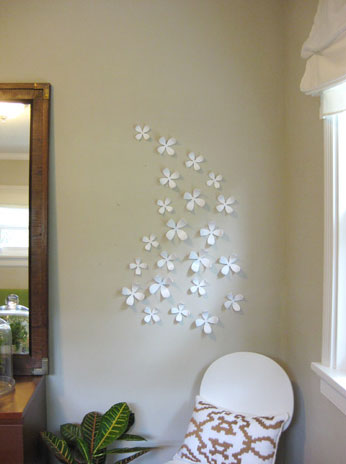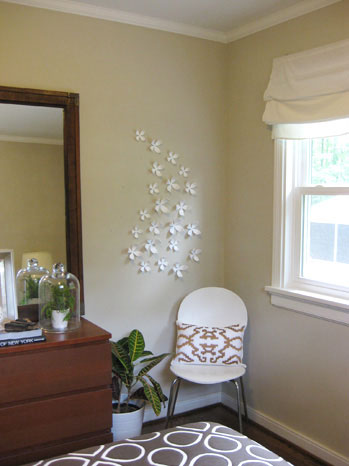 Gotta love those Wallflowers for allowing such a quick a presto change-o. Thanks for the comments one and all- and good luck on the giveaway!