Phuong's gigantic bedroom is about to get a major overhaul. Here's her letter:
Our overall taste is simple & understated focusing on comfort & timeless design (clean lines, contemporary style) but we'd like to give our bedroom a little style and personality since it feels too stark. Items that should stay: bed & headboard, armoire, night stands, our swing-out TV (which we can watch from bed), ceiling fan, window blinds (we'd like to add curtains), bed linens (but we want to add accent colors through pillows, throws, etc). The lamps can be replaced but we'd like to keep the current wall color. When it comes to adding style to the room we prefer soothing colors. It's too sparse and monochromatic so we'd like it to be a more inviting retreat- we just want to cozy things up and make the room feel more complete but avoid anything too trendy/shocking. We're open to patterns but want to avoid animal prints, plaid, and paisley. We are very excited to see what you come up with and hope you can take the "yawn" out of our bedroom! – Phuong and Jeff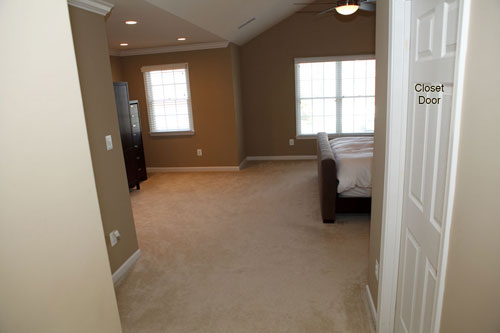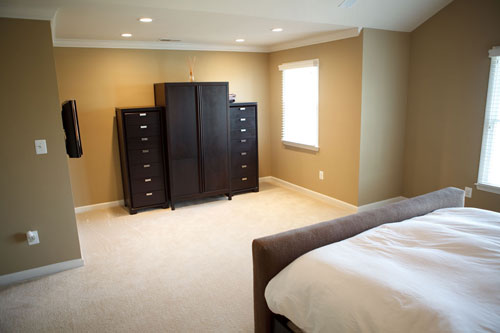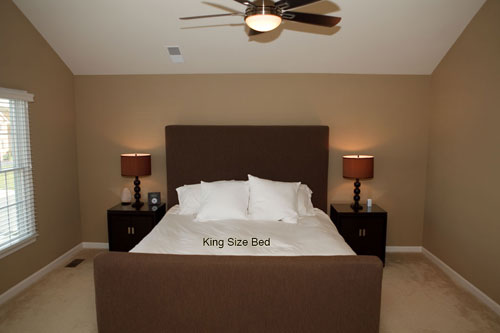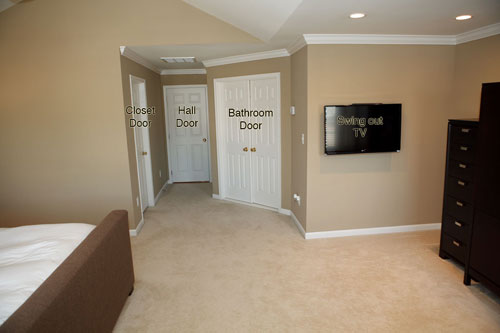 Here's the plan: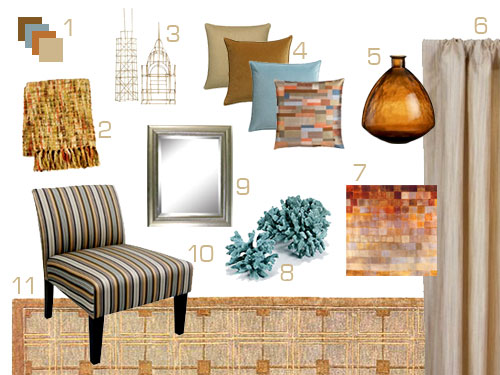 And now for the mood board breakdown.

1. The color palette for this soon-to-be serene little bedroom oasis will be tan tones layered with creams, chocolates, golds, ambers, and soft blues. Since the walls will remain the existing color we'll add eons of personality by layering in other similar hues and adding the amber and the soft blue tones to keep things interesting and enveloping.
2. Phuong mentioned that she wanted to keep the bedding but add interest and style with a throw and some pillows. We loved this warm and textured throw which is interwoven with many of the tones in our color palette- it'll look luxe and lovely folded across the foot of the bed.
3. The key to adding interest and personality to a stark space is the right mix of textures and accessories to keep the eye moving around the room. These great sculptural accents (on sale!) would look gorgeous atop the armoire to add more height and structure to the space.
4. Soft patterns and textures are the name of the game in here since they'll amp things up without making the room feel too trendy or loud. We'd love to see this combination of pillows (here's one, another, another, and another) tossed onto the bed for layered mixed & matched style that doesn't look too matchy-matchy but still feels cohesive.
5. Back to accessorizing the armoire and the two tall cabinets that flank it on either side. We'd love to see this glittering amber vase on one of the side cabinets to add a dash of color and light-reflecting material to break up all that wood (stay tuned to see what we'll suggest for the top of the other cabinet…).
6. These luxe cream curtains will look posh and elegant (and add an amazing amount of height and softness to the entire space) when they're hung high and wide above each window in the room. Plus the pretty darn amazing Target price really can't be beat (especially when you consider that similar panels from Crate & Barrel and Pottery Barn come in at around $120 a pop).
7. For the large wall to the right of the bed as you face it, we dug up this amazing oversized print that we'd love to see framed and hung across from the window on the other side of the room for balance and interest (the fact that it's full of tones from our color palette is the icing on the cake).
8. Here are the chic little accessories that we'd love to see atop the other cabinet that flanks the armoire. With the amber vase on one side and two blue faux-corals on the other, the look will be eclectic but still interesting and cohesive since all the items refer back to the colors in the pillows, the throw, the art work, etc.
9. We'd love to see one of these mirrors (which happen to be on sale!) hung on either side of the bed right above each bedside table to reflect light from the lamps and add a lot more sparkle and dimension to that entire wall. It's an old Candice Olson trick that we love, and it creates the look of pricy mirrored sconces with table lamps and regular old mirrors instead of having to hardwire anything. Gotta love a shortcut that looks like a million bucks. And switching out the current lamp shades for similar drum shades in a nice light cream color (perhaps textured linen ones) will further brighten things up and tie in with the soft cream curtains for an airy effect.
10. Another way to take this room from stark to stellar is to add a bit more to the inset area across from the bed. We definitely think there's room for two sleek slipper chairs to be angled in towards the bed on either side of the armoire, and thanks to their armless design and low backs, they won't interfere with access to the window, the cabinets or the TV (but they will fill things out nicely while adding pattern, color and classic style to the space). And tossing one of the same light blue pillows that we recommended for the bed on each chair will tie them in even more… and make them look super inviting after a long day.
11. Perhaps our favorite find of this mood board, we are hopelessly in love with this amazing 6 x 9 rug (on sale!). And we'd love to see it centered in front of the armoire to ground the two slipper chairs that we'll be bringing in and further differentiate that area of the room (when it comes to large rooms with lots of angles it's always nice to define certain areas with rugs). Plus the clean lines work oh so well with everything from our patterned pillow to the art we found and the colors couldn't have been better if we picked them ourselves.
So there you have it. A serene and soothing bedroom full of soft and inviting style. We can't wait to see what you guys think!
Update: We sadly can no longer find the time to take on client commissioned mood boards (we now whip up general inspiration boards instead) but if we ever reinstate them we'll make a big announcement!