When Phuong and her husband Jeff sent over their Design Dilemma after pictures we couldn't wait to share the goods. We know that many of you are chomping at the bit to see how our mood boards turn out (believe me, we are too) so we're always thrilled to see how those spaces transform after each homeowner gets down to business. You may remember that we whipped up this custom mood board for Phuong and Jeff a while back when they came to us for help turning their bare and basic bedroom into an inviting and cozy place to unwind after a long day. Here are the before pictures to refresh your memory: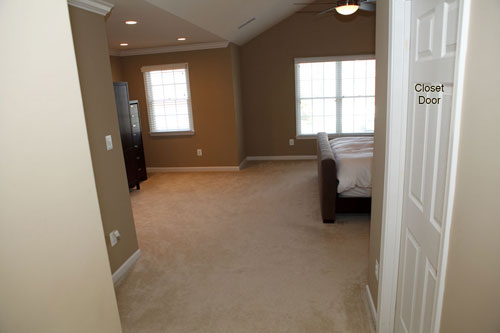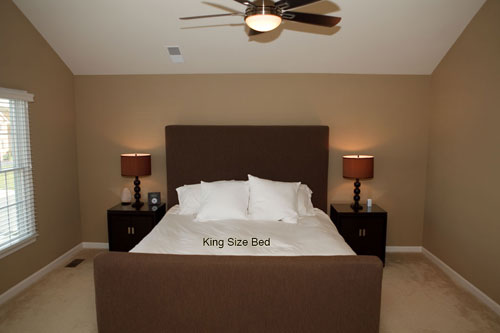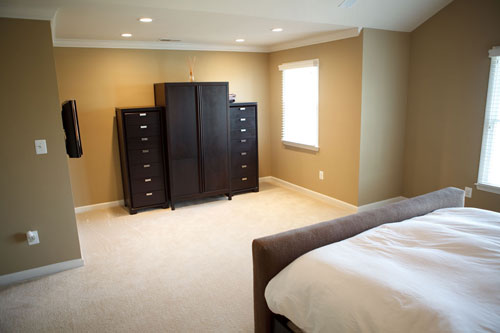 And here's the mood board that we created to add a splash of color and some crisp and modern layered interest for ambiance to spare (see more mood board details here).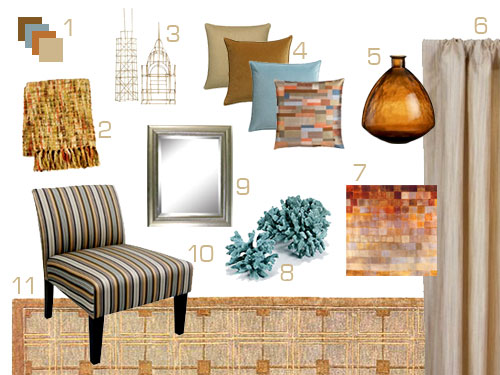 And now for Phuong and Jeff's after pics. Here's their newly spruced bedroom thanks to some colorful and textural accessories (which really amp up the formerly brown on beige space):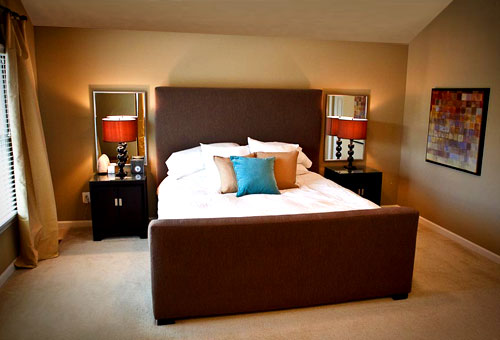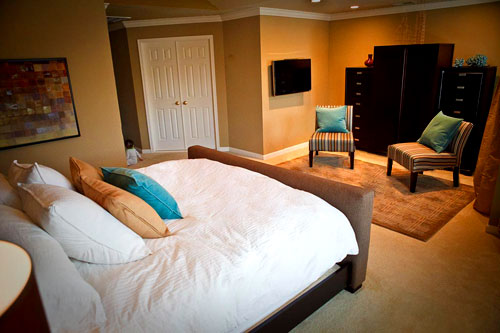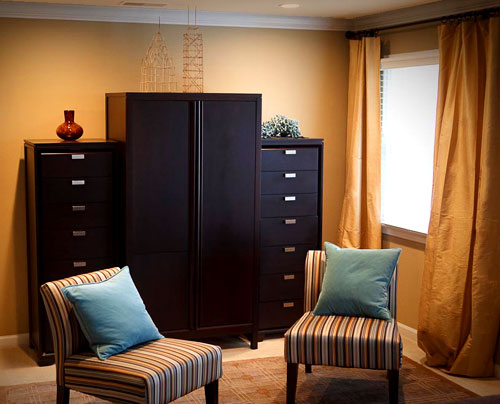 Didn't they do a fantastic job in there? The room is so much cozier and more inviting thanks to everything from those fun striped slipper chairs to the large abstract art print that they hung across from the window. We love the pops of aqua and amber along with the added texture and interest that things like the area rug and the curtains introduce to the room- and even the smaller upgrades like the blue faux coral on the tall chest across from the bed (or those pretty mirrors placed behind each night table to bounce around more light) make the entire space feel polished and special. And here's what Phuong and Jeff had to say about their big bedroom makeover:
What can we say? We LOVE it! We ordered nearly every single item that you recommended and everything came together very easily (sorry it took us so long to send the after photos to you). The room looks great and we are very happy! Thanks so much for the awesome mood board… we'll be back again for more help! -Phuong & Jeff
No thank YOU Phuong and Jeff, for sending us your room update (we get positively giddy whenever they turn up in our inbox). Didn't they do an amazing job bringing that mood board to life? It looks so warm and yet so modern at the same time- and we love that the mix of their gorgeous high-end existing furniture blends right in with affordable slipper chairs and curtains that we hunted down from Target along with the on-sale decorative accents and pillows (in the $20 range!) that we found at places like ZGallerie, Crate & Barrel and CB2. So let's all shower Phuong and Jeff with praise for being so wonderful and sending us their pretty after pics. And here's hoping more Design Dilemma after photos will be landing in our inbox very soon…
Update: We sadly can no longer find the time to take on client commissioned mood boards (and just whip up general inspiration boards instead) but if we ever reinstate them we'll make a big announcement!