And now for some "never thought we'd type that in our entire lives" news before we dive into today's post. Remember when we Instagrammed this (well, I guess technically we Regrammed it) back in May? It was from our day of shooting a little segment with the OWN crew (as in Oprah's crew). #ahhhhhh #more screaming
Well, that "short film" is airing this Sunday! It'll be on towards the end of their Super Soul Sunday season premiere (info here) and we're practically ready to faint at the possibility of Oprah saying our names out loud. Seriously, somebody get me a fan, a ruffled dress, and a chaise lounge so I can dramatically swoon.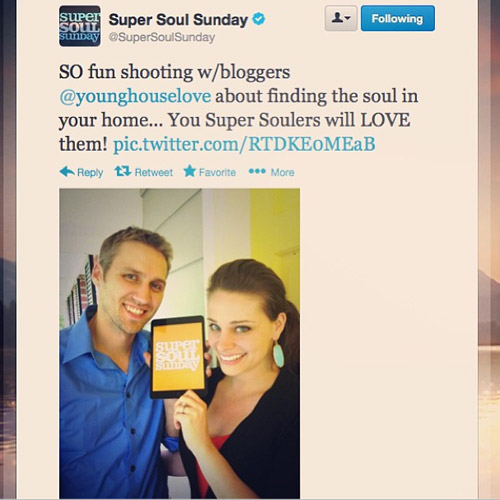 But now back to the opportunities that we seized and missed. First the one that we missed (I'm a "tell me the bad news first" kinda girl). A few blocks away from us we noticed that a neighbor was mid-renovation (the sizable dumpster in their driveway was our first clue). One day we spotted a bunch of outdoor furniture peeking out over its top edge. Was that some chunky wicker Restoration-Hardware-ish stuff? And some iron chairs and a table? Why was it in the dumpster? It looked to be in good condition. Could this be our new sunroom furniture?
Our brains started fantasizing a trash-to-treasure rescue story. Maybe a little cleaning or rust-removing spray paint was all they needed? But then again, maybe they were in the trash pile for good reason. And would it be super awkward to knock on a stranger's door and ask to raid their dumpster? Oh, but it would suck for salvageable stuff to go to waste…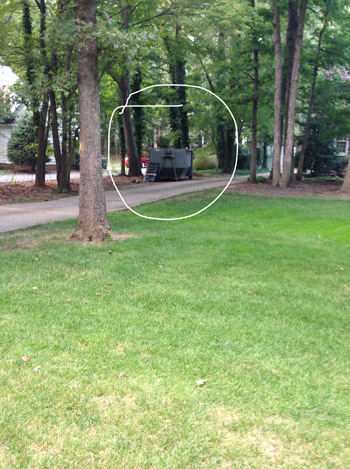 We spent a couple of days trying to decide if our idea was genius or crazy. Would the neighbors think we were thoughtful or out of our minds? Finally I decided we should just satisfy our curiosity and ask. No sooner had I mustered the courage did John burst my bubble: "I meant to tell you, I noticed on the way back from preschool that the dumpster had been emptied." $herdog = sad clown. I know it could have just been old broken furniture anyway, but now I'll never know. I guess I'll have to find another dumpster to dive into…
But in other "hey-what-are-the-neighbors-up-to?" news (here comes the good part) the family two doors down is in the midst of some major landscaping work involving all sorts of awesome things like an outdoor fireplace and a stone patio. We love them and Burger is even on decent terms with their dog which is a small animal miracle because Burger only likes cats. Anyway, we don't have anything major that needs to be done (yet) but it did give us one of those "since you're in the neighborhood" ideas. The tree work that we had done a few months back left us with some high spots, some low spots, and some grass-won't-grow-on-that-pile-of-ground-tree-stump spots. Photos don't do the ankle-breaking-potential justice. At their worst there were some areas that were about 15″ off (either too high or too low) so don't let what look like small piles fool you. We're talking about 30 wheelbarrows full o' mulch in that mound on the right.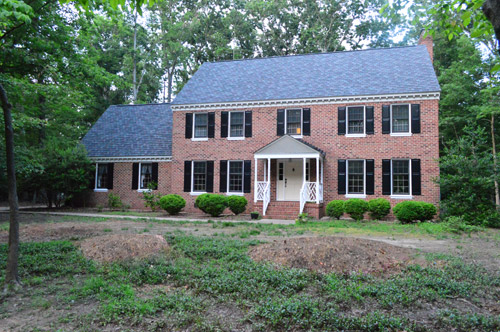 We had been meaning to slowly-but-surely wheelbarrow out the piles ourselves, but we eventually came to the conclusion that this was a job for some heavier duty equipment. We considered renting some sort of mini earthmoving dozer (um, John would be in heaven) but even the smallest dozer rental was $425 a day from local rental places like this. So we thought it couldn't hurt to ask the guys pushing dirt around just two doors down, right?
I strolled down there one afternoon, found someone who appeared to be in charge, and asked if they had an opening in their schedule to roll up the street and roll around on our yard a little. We figured it'd be easier (i.e. cheaper) than calling another company who would have to lug their equipment all the way over just for us, and hopefully they'd like the idea of earning some extra cash whenever they had a spare moment to stop by. They were very friendly and, more importantly, totally game. They said we'd have to get Miss Utility to mark our yard first (so they didn't hit any pipes or wires in the process) so I dialed 8-1-1 and just a couple of days later the yard was marked and, fortunately, nothing was in the path of our piles.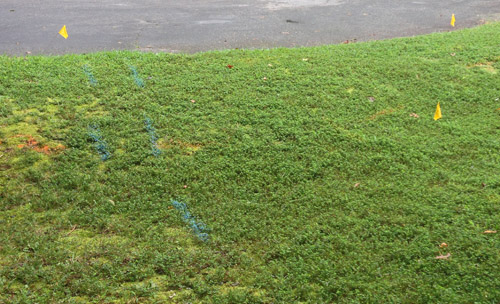 With our yard all flagged up, we checked back in with the landscaping crew and before we knew it we had front row seats. Clara was in awe of her own personal "digger show."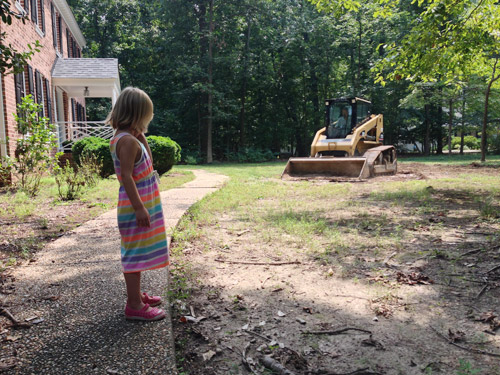 The crazy thing is that what we guessed would take a few hours, literally only took the guy about thirty minutes. He was a total PRO. And John was only a little jealous.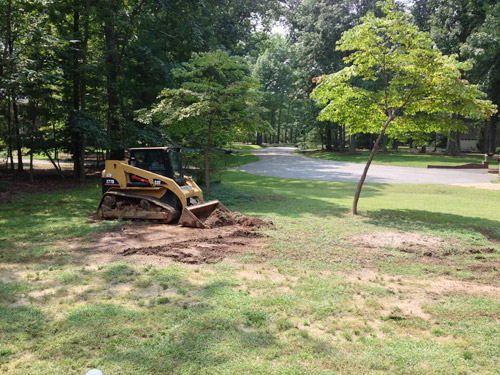 He even scooped all of the too-acidic-to-allow-grass-to-grow-on-it mulch and rolled it into our wooded side yard before meticulously spreading it out for us in there. Can't even tell it's there, right?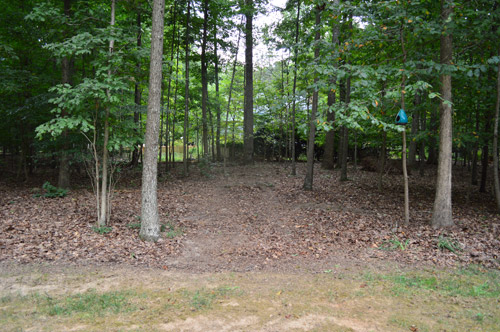 After his 30 minute flattening spree he said "how about $60 for that?" and we were elated! Sure beats the time and money we would've spent renting something. Dude, our front yard is sooo much better. Okay, maybe it's still kinda brown and weedy, but at least it's flat. And flat means it's ready for grass seed!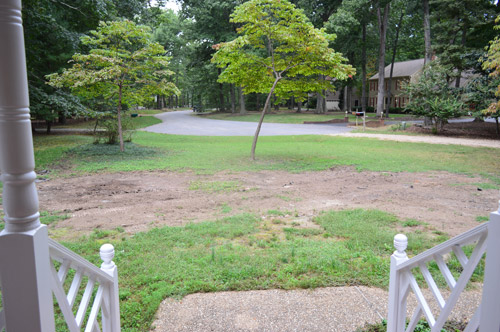 Speaking of grass seed, we may actually get a quote from the landscaping guys (the neighbor's project still has a few weeks to go) to see how much they'd charge to drop off some top soil for us before we seed. It's not a must-have, but a fresh layer of topsoil certainly wouldn't hurt our first season of grass-growing. Plus, they mentioned we might be able to piggyback on a delivery they're bringing to the other house. Is that efficiency I smell?
So there's one moment missed and one moment grabbed and squeezed like a lemon in my sweet tea. Sidenote: How much do the end of our railings look like hamburgers? I'm tempted to paint them like this. You know, in honor of Burger.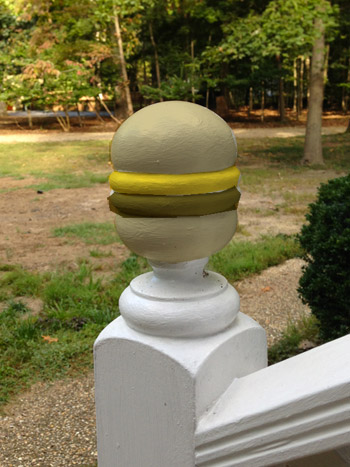 What have you guys been noticing around the neighborhood? Now that it's getting cooler and kids are back in school it seems like a lot of people are getting house stuff done – which of course we LOVE to watch. There have been some pretty amazing new fences going up and a whole lot of house-painting. Tis the season!