Back even before I knew for sure that I was prego I used to peruse BabyCenter for articles about "early signs." And once I had a test in my hand that confirmed that I was in fact "with-bean," John and I immediately logged on to find out when Baby P would be due. While there, I also signed up for emails about our baby's weekly growth (which I used to read aloud to John every time they landed in my inbox) and joined a message board to converse with thousands of other expectant May moms.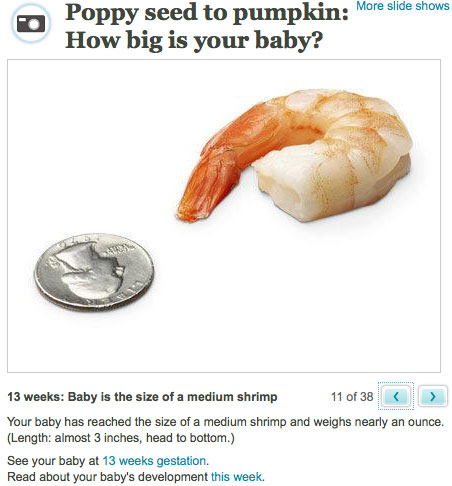 After Clara arrived I started receiving emails about her development outside of the womb (which I continue to read aloud to John every time they roll in) and I still find myself stopping by the May Message Board to read about milestones that other babies are reaching and challenges that other moms to two-month-olds are currently facing.
So imagine my geeked out reaction when I got an email from none other than the kind folks at BabyCenter asking if John and I would be interested in blogging about baby-related home stuff (toy organization, kid-art display ideas, tot-friendly decor, etc) as a part of their Momformation team. Yeah I pretty much lost it and fist pumped my way around the room until Clara and John exploded with laughter about "silly mommy's frenetic wiggling" while Burger cowered in fear. Picture Clara looking at me like this: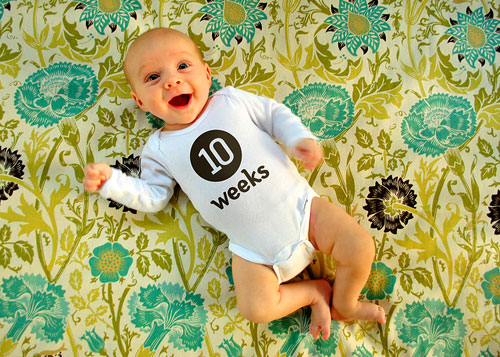 And Burger looking at me like this: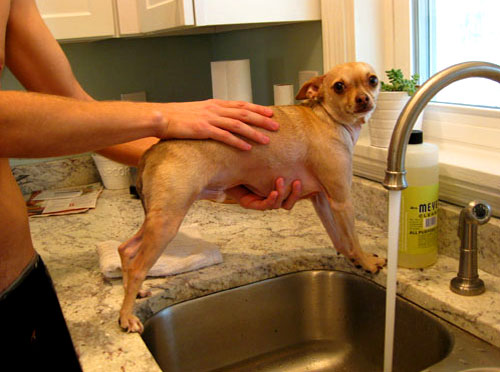 Even though that email only showed up a few short weeks ago, today our very first post is already live over on BabyCenter! And we hope that those of you who indicated an interest in a baby-based blog will head over and check it out. We know that many of our readers rely on us for non-baby-centric home improvement and decor advice over here on YHL, which is why we've worked hard to keep the wee-one-chatter to a once-every-few-weeks occurrence. And although many others of you have suggested/requested a baby spin-off blog in honor of Clara's arrival, there just aren't enough hours in the day to create and manage an entirely new blog- so our once-weekly column over on BabyCenter is an amazing solution!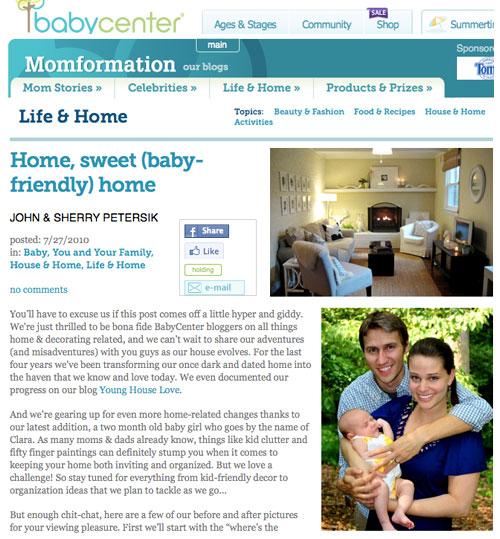 Today's post is just a nice-to-meetcha type of thing, but we already have tons of kid-related projects up our sleeves for the coming weeks. Seriously, we have a list about a mile long of fun tutorials, tips, and ideas that we can't wait to tackle. So for those of you with a bun in the oven, a bun that's already born, or just a love of bun-related projects (many of which can most definitely be adapted for adults, teens, tweens and even whipped up as that perfect niece or nephew present) we hope to see you over on BabyCenter every Tuesday when our latest post will go live each week.

So with our big announcement out of the way, now's the part where we get all mushy (stupid post-pregnancy hormones) and thank you from the bottom of our hearts for your support and sweet sentiments. You guys have no idea how much you motivate and inspire us every day with each kind comment, Facebook shout out, or sweet Tweet. You're the reason we do what we do and we love you (sniffle). Now somebody get me a tissue. Sheesh.