Fall is in the air, which is probably what inspired us to toss together this warm and texture-rich dining room mood board: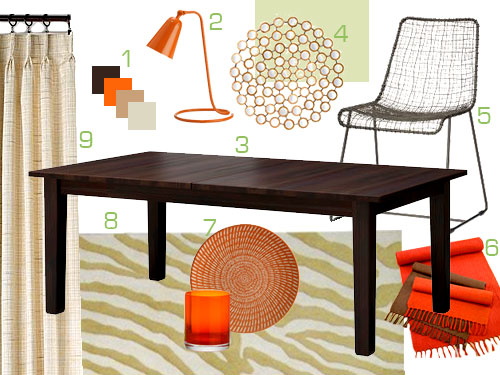 1. We love this warm, spicy color scheme full of rich chocolate browns, chic oranges, soft olives, and a range of tan and creams tones along with hits of hammered gold. If you'd like to add another hue to the mix, moss or even lime green (like the color of the numbers in the mood board) can also be peppered in with a few accessories. And speaking of green, we'd love to see the walls go a soft khaki olive color (Benjamin Moore's Dune Grass) like the rectangle of hue behind the number 4 in the board above.
2. One of these sculptural orange lamps on either side of a buffet would add ambiance as well as a shot of interesting color and shape to the whole room- plus they're on clearance for just $29.
3. This chunky and rich solid wood table from Ikea is a steal at just $399 (it can seat 6-10 people thanks to two extension leaves).
4. This gorgeous hammered gold circle mirror is huge (and on sale!). It will pair beautifully with the crisp hits of orange (gold and clementine look so great together) so we picture it hanging above a buffet with those two orange lamps on either side of it.
5. These textured woven chairs will help to create a nice layered look (as opposed to choosing chunky wood chairs that match the table). Plus we love how the airy and delicate woven chairs play off of the hefty and solid table to create a nice unexpected but balanced effect.
6. These linen runners from World Market remind us of a cozy fall scarf, so we'd love to see the orange one placed down the center of the table to break up all the wood and add a fun dose of color (which will tie into the lamps on the buffet and some plates and glasses that we'll mention next).
7. Dinner with friends and family members would be fun served on mixed and matched plates and glasses in our color scheme. Like these patterned plates (on clearance for just $1.95) and these Mad Men-ish modern glasses (for $3.95).
8. This olive toned zebra rug (nearly 50% off) is worldly and cool, plus at 8 x 10 it's easily big enough to be placed under a large table and still allow everyone to pull out their chairs without worrying about the back legs being off the carpet.
9. These cream curtains (on clearance) would add softness and even more texture- or anyone who loves a good DIY project could whip up some homemade curtains from drop cloths sold at Home Depot or Lowe's to save some serious loot (just google "drop cloth curtain" to find a bunch of online tutorials on the subject).
So there you have it. An orange spice dining room full of texture, shapes, materials, and layered and lovely interest. Anyone out there itching to add a little fall flavor to their dining room? Or use this palette in another room? Along with olive and lime green, do you have other accent colors that you love to see with orange? Navy could be really posh looking too. Oh the possibilities…
Psst- Looking for oodles of mood boards? Search them by color or by room right here.