Sorry we haven't been more frequent bloggers over the past two days. We've spent Thursday and Friday stuffing our faces and being thankful for family and friends… and for the fact that our new pendant light from CB2 is finally hung over our new dining area. Here it is as seen from the kitchen:
And from the "living" side of our living/dining room: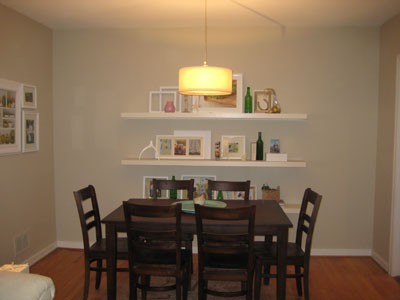 It's amazing how dragging a table and chairs into one side of our living room and adding a light fixture creates an instant dining area that everyone thinks has always been there. It's like it was meant to be! Getting that pendant lamp added only cost around a hundred dollars- a small price to pay for a brand new eating space that works perfectly for "open living" lovers like us. And since we conveniently placed our dining area right off of our kitchen, it's easy to serve and set the table thanks to the close proximity.
Speaking of the kitchen, the electricians also rewired that room as well (it's a total lighting makeover- we'll blog about our five new recessed lights in a little while) and hung our seeded glass pendant from West Elm over the sink as well (ignore the ugly ceiling marks, we've got some spacklin' to do).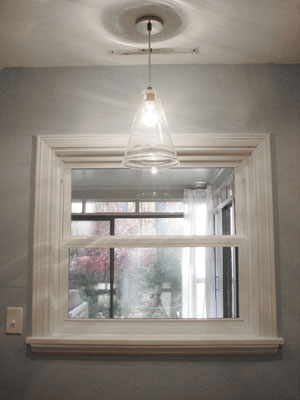 Oh and we got new windows for the ENTIRE HOUSE. Which make all the difference! See how sparkly new they look in the photo above? Now the whole house is a lot less drafty than it used to be with 50+ year old windows everywhere. And our new double hung versions with Argon and Low-E are tax write offs, too. What more could an old house ask for? It only took the window guys about three hours and after I spent the next day repainting all the window molding a bright glossy white, it was a total facelift for every room.
Hope everyone else is having a fantastic Thanksgiving weekend. We're off to stomp around our old stomping ground- NYC- for the next two days (where we met and fell in love). Should be fun and freezing. Of course we'll keep you posted about everything from the new CB2 store in Soho to Burger's take on the big apple.