After sitting in 9.5 hours of holiday traffic, we're finally home from our whirlwind Thanksgiving weekend in New York. After a Thanksgiving gathering in Long Island followed by another family feast on Friday in New Jersey, we tackled New York City on Saturday to enjoy our old home turf.
Between the two of us we lived in NYC for 8 years (in 10 different apartments and 3 different boroughs) before retreating south to my home state of VA. And the only time we lived even remotely close to each other was in Astoria, Queens. Which would've been great if we'd known each other then- and it hadn't been 2 years apart. Details, details…
So we took a quick tour of Astoria to revisit our old apartments (and to be reminded of how low our standards were when we were both broke college students). I was particularly grossed out by the state of my old place. I can't tell if it got worse in the past three years or if I'm just sugar coating my memory of it.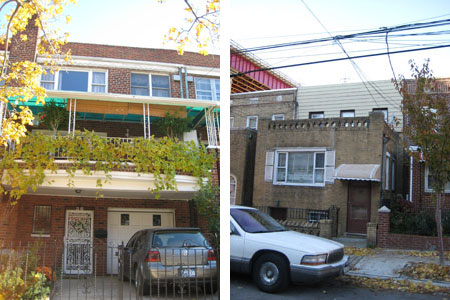 Sherry Was Here John Was Here
After our trip to Queens, we decided to spoil ourselves with a trip to the new CB2 store in SoHo (one of our other old addresses). It opened about 3 weeks ago as the first and only CB2 store in the world. So (surprise, surprise) it was pretty crowded. But it was still tons of fun to see all their stuff in real life. We restrained ourselves and walked out with only a few disco-ball Christmas ornaments. Probably because we knew we'd have to carry our purchases around with us the rest of the day.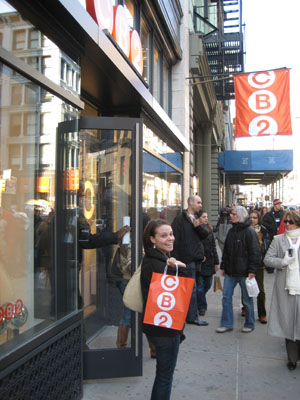 While in SoHo we also checked out the semi-new Z Gallerie store (where we picked up another Christmas ornament) and a new Japanese store called Muji (picture American Apparel meets Ikea – I know, hard to imagine). We also grabbed lunch at a cool gourmet coffee & crepe shop called Kitchen Commune where, like dorks, we were more interested in the decor than the goat cheese and turkey crepes we ordered. For instance, check out this cool, huge kitchen-utensil chandelier:
After lunch and a swoop through Chinatown, we hopped back on the A train towards the top tip of Manhattan where my big sister and bro-in-law live in a sweet apartment they bought last year. There we got to sit back and watch someone else's home improvement for a change. Here's strong-man Marty showing off the chandelier he hung to better define their dining space (sound familiar?).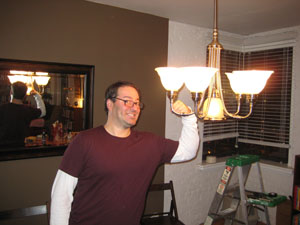 They got the light at Lowe's after a few other light fixtures (including a shade from CB2) didn't work out. Everyone was thrilled with the final result, and I empathized with Marty's relief that the project was over.
That pretty much wraps up our quick trip to the big city. We're not sure when we'll be back next, except that we want to go when it's warmer!