Continuing our showhouse-heavy week of reveals, we're bringing you a bunch of after photos from three more spaces – the main bedroom's en-suite bathroom, its attached closet, and cool little atrium space. We showed you the main bedroom on Tuesday (along with the office and the butler's pantry) so it only felt natural to continue our virtual tour where we left off.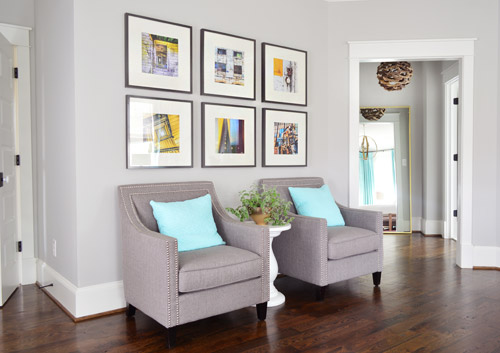 The attached bath and closet sit off a corner of the main bedroom and are separated by a space that we've been lovingly calling the "atrium" (it's really more of a vestibule) which you can see above on the right side.
Here's the floor plan for a clearer map of how that area is situated: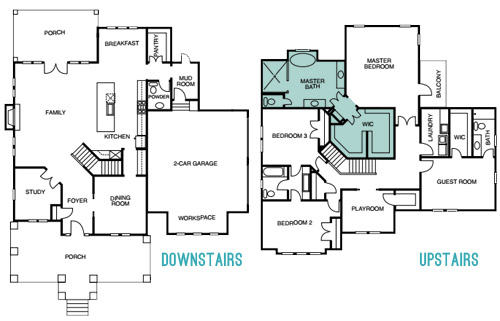 The atrium features a brass floor mirror donated by West Elm, a driftwood light from Shades of Light, and walls that are painted Stonington Gray by Benjamin Moore just like the bedroom. At one point we wanted to do a "living wall" back there with a bunch of built-in planter boxes filled with greenery, but due to the architecture of the roofline, we couldn't put a skylight there. So because it felt unwise to cram a sunlight-less area with live plants, we scrapped the idea. It's still a nice spot between the bathroom and the closet for a floor length mirror, and the driftwood light is one of our favorites in the house.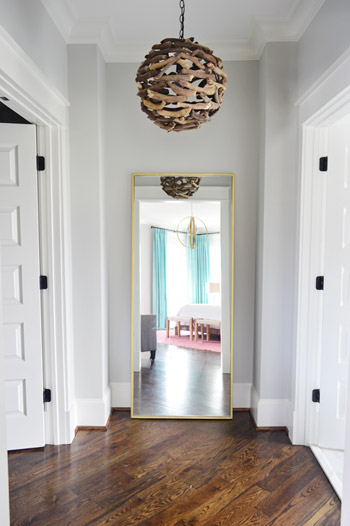 When you turn to your right, through the double doors you'll see the space that we most want to pick up, stuff in a suitcase, and put in our own house.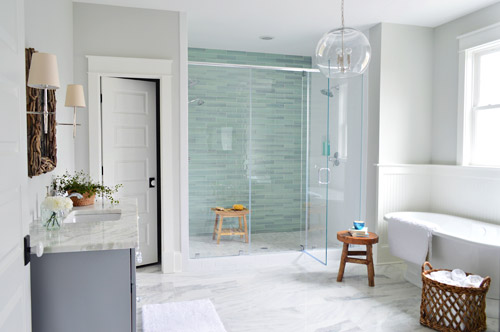 It felt fitting to aim for that spa-like effect in such an airy space (the house's floor plan meant we knew that this room would be spacious with a big window over the tub). So pretty early on we decided we wanted a light color scheme with a wash of color on the back wall of the shower. We actually considered a more intense cobalt blue tile at one point, but it was out of stock. We love the calming aqua glass tile that we ended up with, (it's the 3 x 12″ New Haven tile from The Tile Shop) so it was just one of those "happy accidents" throughout the room's evolution.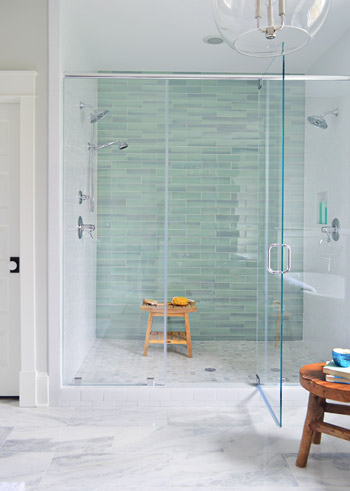 The sides of the shower are basic 3 x 6″ white subway tiles, also donated by The Tile Shop, which we picked because they were the same height as the bolder back-wall tiles (so the rows would line up), as well as feeling nice and simple – to keep the attention on that green glass tile. It's considered a double shower since it has Baliza showerheads on both side walls, which were donated by Brizo. At the suggestion of our local Ferguson rep, whom we worked through to select plumbing fixtures, we included a handshower on one side (we learned that new builds frequently include them, just to give people options like spraying off their feet or a pet).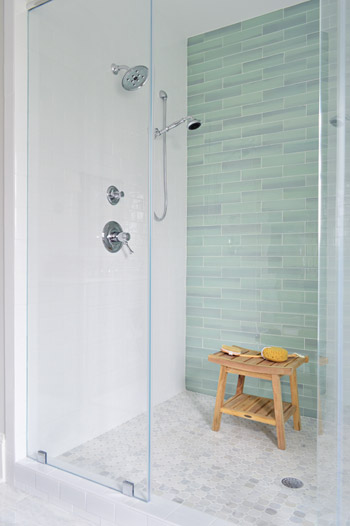 The floor tile in the shower pan is the Tile Shop's Evanston series in Frost Snow, which featured some small aqua glass accents between the marble squares which help tie the big accent wall together with the marble floor (that's 12 x 24″ Tempesta Neve marble) throughout the rest of the room. You can check out a detailed photo of our tile pics (and more clearly see those little green glass squares in the floor) here. We also really like how the tile installer wrapped the white subway around the shower threshold.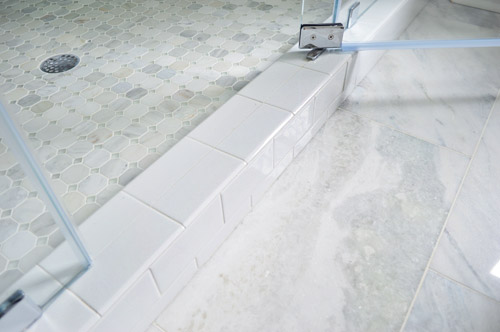 I'll be honest that as the glass tile was being installed I was certain we had made a big mistake (three different tile choices for the shower walls and floor felt like they didn't really "mesh" yet) but as soon as it was all grouted with the same white grout throughout, it tied everything together. And now it's my favorite thing.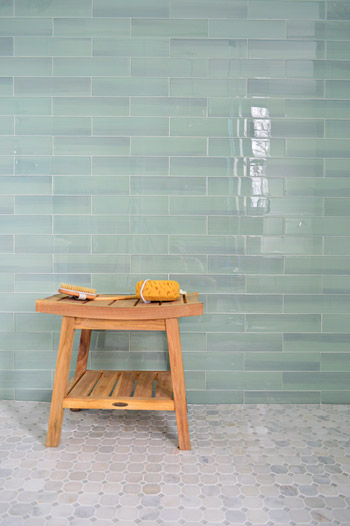 But let's step out of the shower for a second and talk about the vanities (you don't get to say that everyday), which came from the same local cabinet company (Affinity) that did the kitchen. They're also painted in their stock gray color, which we've discovered is close to Benjamin Moore's Timberwolf Gray. The walls are Moonshine.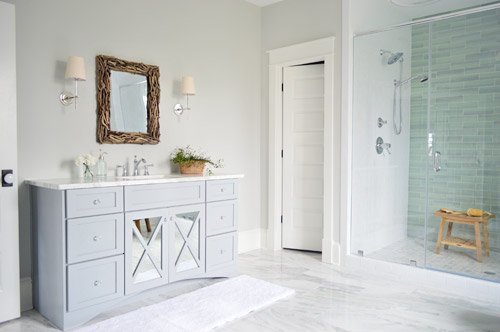 The driftwood mirrors and Soho sconces were donated by Shades of Light, the faucet is Brizo Baliza just like the shower fixtures, and the subtly green-veined counters are Lady Onyx which were purchased through a local company called Eternal Stoneworks.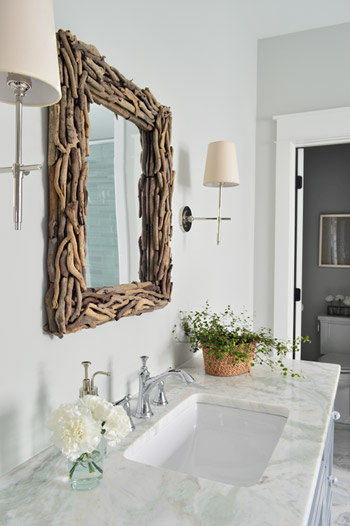 The onyx counters have a hint of the same seaglass color that's in the shower tile, so we thought they'd be a nice counterpart to the more traditional marble on the floor. The little woven baskets are from HomeGoods.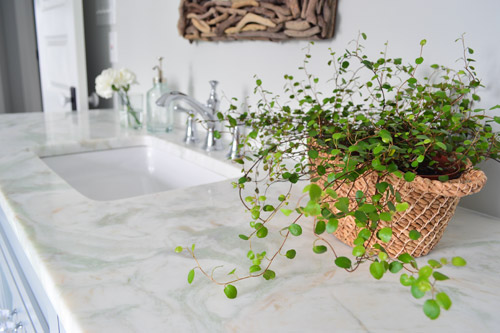 We added a little more interest to the vanities by selecting mirrors with a soft patina effect that we placed behind the x-frame doors (similar to the clear glass ones that we chose for the kitchen). We also went with arched trim along the base of each vanity to give the built-in cabinet a bit more of a furniture feel (you can see that better two shots up). The giant bathmats are from Target.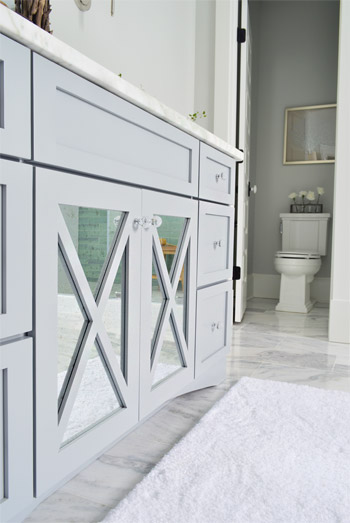 And now, let's get weird for a second. I have to take a moment to talk about this toilet. I've never given toilets much thought, but when our builder urged us to pick something more stylish than a basic model we both fell in love with this one (the Tresham, donated by Kohler). And now I have this crazy case of toilet envy. So I guess that's a thing. The little vases on the top are from World Market and the framed seafan art is from HomeGoods.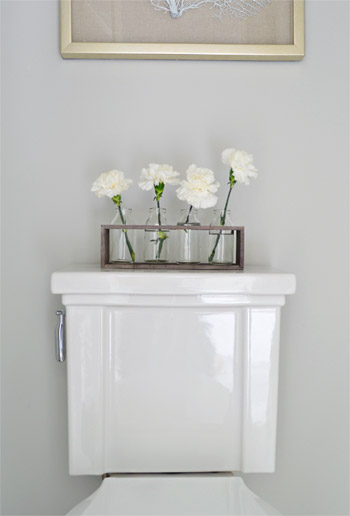 Speaking of envy, Sherry (in all her pregnant glory) has had a few moments of longing in front of this tub. Ever since one of our book tour hotels had a big soaker tub, she has been jonesing for one. It's the York from Victoria + Albert, and the cool thing is that lots of people paint the outside an accent color. We considered it, but decided that we wanted to leave the shower as the main accent in the room – but we thought we'd toss that tip out because it could be a fun idea for your space.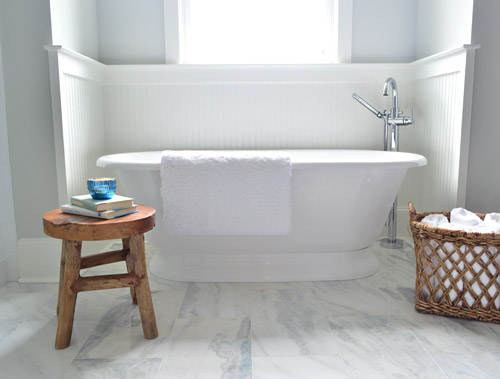 The stool and basket are both from HomeGoods, and the floor mount tub filler is the Trinsic, donated by Delta. You can see that we also had the carpenter add some beadboard wainscoting around the tub area as an accent, and to provide some extra protection from splashing, bubbles, and whatever else your particular tub fantasy entails. Mine includes nachos. Just sayin'.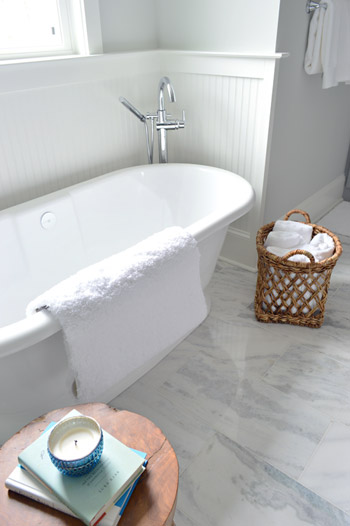 This is the view looking back on the room from the shower. Yes, I was literally in the shower when I snapped this. And yes, I did consider taking it for a test drive.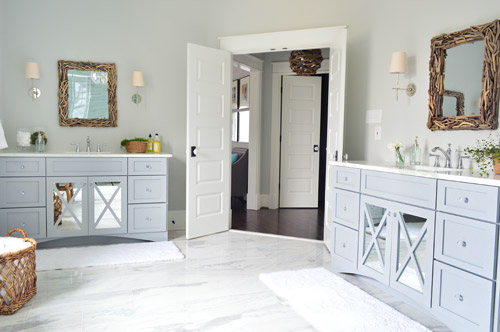 The mirrors were actually an 11th hour decision (as in, we were hanging them a few days ago) because the original chrome-y mirrors that we picked were blending too much with the other gleaming/polished items in the room and felt a little too invisible. So we decided that we needed something with more contrast and texture, and it hit us that rough driftwood frames would be an awesome reference to our lighting choice in the nearby atrium.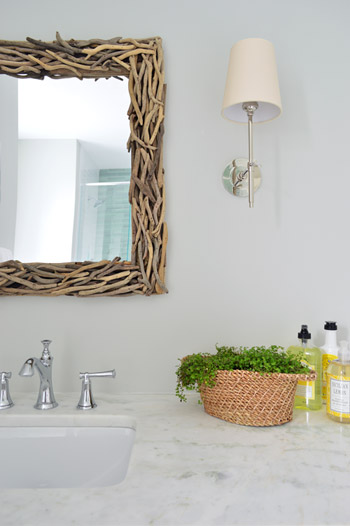 As soon as we hung the new mirrors we got more excited than we should have. Maybe we were just delusional at that point, but they're one of our favorite last minute changes.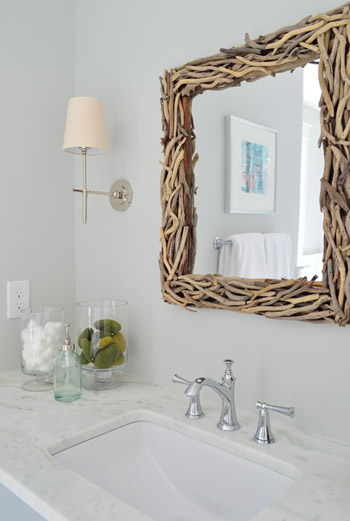 The main light fixture in here is the Clear Glass Chandelier from Shades of Light. It doesn't pop in pictures very much, but in person it's pretty amazing. So much so that we bought another one for the living room, but had them wire it in a gold finish to tie into some other fixtures down there.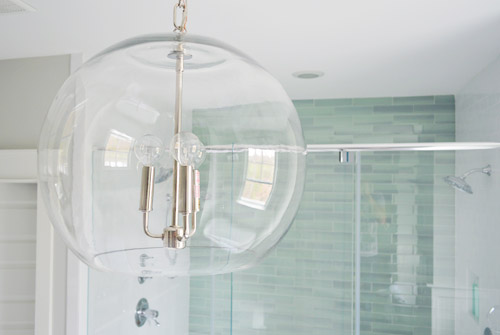 The en-suite bedroom closet is equally envy-inducing in size and sports two sections (which make it convenient for a couple) thanks to a little partition in the middle to carve out two sides. We can't claim much credit for how this turned out, since we mostly just nodded along as the builder and his carpenter told us their plans, but we're happy to show off their handiwork and our meager styling of it (closets typically get a few outfits, bags, and shoes for these shows, so you get the idea but don't have to see them stuffed with an entire wardrobe).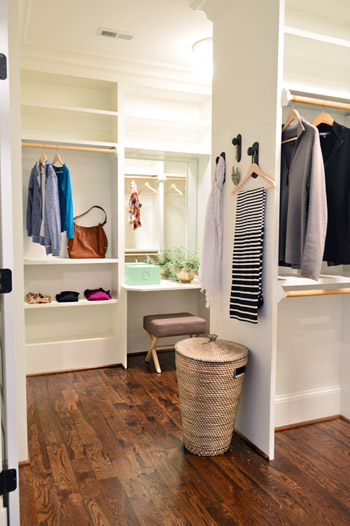 As we mentioned yesterday, we did hang a trio of our new doorknob hooks (two large ones and one small one) to create a little display space on the partition that separates the two sides of the closet. That flat wall was originally going to have a full length mirror on it, but it started to feel excessive after putting the floor mirror in the atrium – especially because we added a table-height mirror in that vanity area right behind it.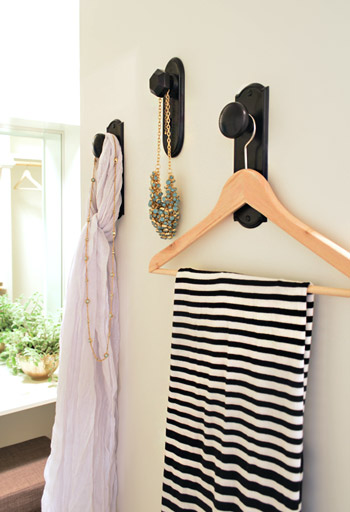 Speaking of that little vanity space, the stool is from Target, the green lacquered box is from HomeGoods, and the gold bowl with the plant in it is from World Market. The bags and clothes are mostly ours, along with some thrift store items and few scarves from Target.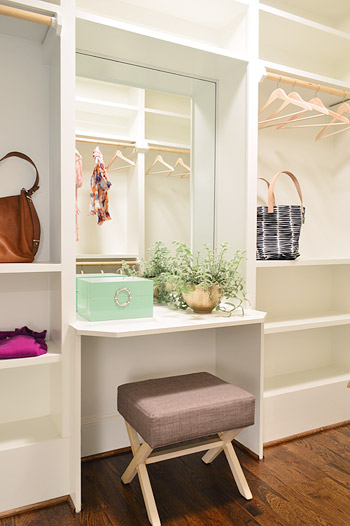 The vanity sits in the back half of the closet, which in addition to bars and cubbies, also sports this wall of angled shelves for shoes. I tell ya, Carpenter John (yes, yet another John who worked on this project) knows whats up.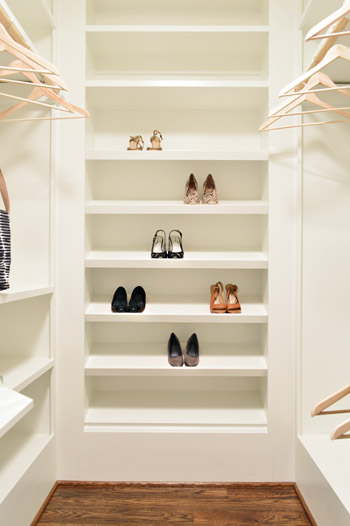 The front side is mostly bars and shelves, as you can see in this shot of that area…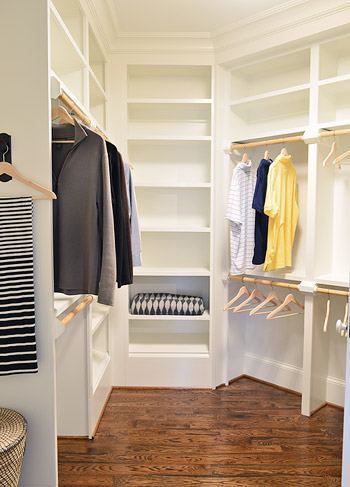 …but it does feature a built-in tie rack and a couple of shoe shelves. We bought some thrift store ties to fill it, only to get them into better lighting in this closet to discover they were all stained. Luckily some other folks working on the house had some (cleaner) spares to loan us, and my dad donated a few to the cause as well.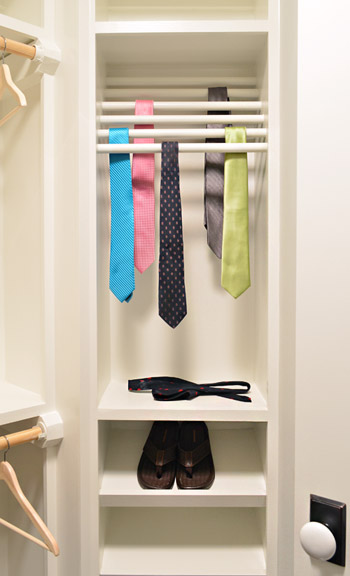 So now you've officially seen all of the main bedroom area of the house, bathroom and closet included. There's still lots more house to show – and we're madly trying to photograph it all before the baby comes (along with recording a video tour) but since we've probably overloaded you enough with photos for the week, we're going to spend Friday at our house in a final-hour attempt to paint the office (ceiling and walls). So we won't be posting tomorrow, but we'll hopefully be back on Monday with a freshly painted office, which means we'll finally be able to clear more chaos off of other surfaces – like the kitchen & dining room tables – before this baby arrives.
Psst – Wanna see more showhouse info & photos? Click here for Our Full Showhouse Tour, which includes final pictures of every room, the floor plan, budget info, a video walk-through, and shoppable showhouse furniture & accessories.