That's what Clara said when she woke up and saw our freshly hung real art in the kitchen. It was cute. And we laughed. And then she squealed "She's swimming! Look, fishies!" which are most definitely not in there, but the girl has quite an imagination. So hooray for imaginary fishies.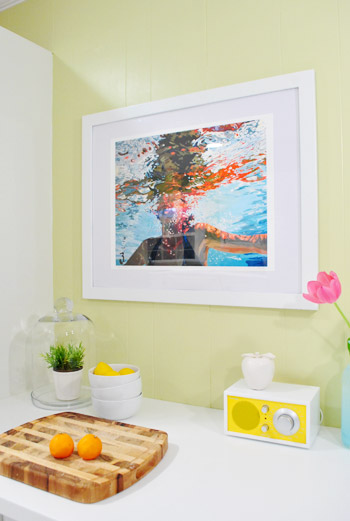 I described this gal as "real art" because it's actually our first big art purchase ever. It's a large print of an original oil painting by an amazing Etsy artist that we just couldn't get out of our mind. And at $195 it was definitely a splurge for folks like us who usually frame free art that we make ourselves or hunt thrift stores and garage sales for cheapo options, but we figure that we've done a lot of things to save a really significant amount of money on our kitchen (like reusing our cabinets/sink/faucet, getting pendant lights from an outlet and a range hood on craigslist, reselling things like our old granite and over-the-range microwave on craigslist, building our own fridge surround/hood cover/open shelving, getting on-sale tile and clearanced out cork and installing it ourselves, buying inexpensive lab stools from a school supply shop, etc).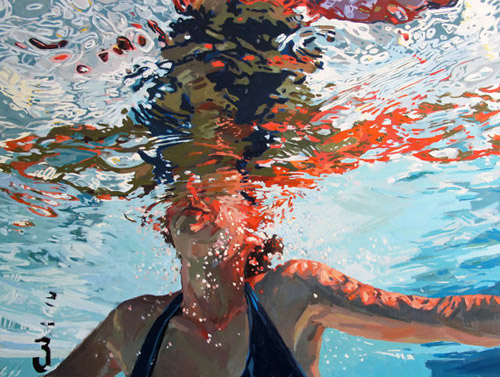 So yeah, it took a bit of rationalizing with ourselves and saying "dude, you have saved money in so many other places, and you love this art and don't have any real art in the entire house yet- just take the plunge already!" So we did. And it feels good. In the words of Katy Perry: No regrets. Just love.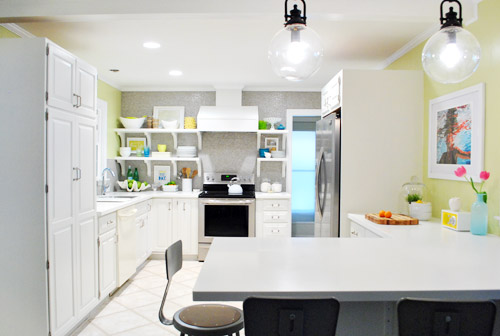 So yes, we're calling it our V-day gift to each other (and our beloved kitchen). And it was icing on the cake when Clara got excited about it too. Burger has yet to react but we'll keep you posted.
Doesn't our lady swimming with imaginary fish look especially cheerful with two pink tulips leftover from book shoots (yup, those are still going on – they wrap this Friday and today we're actually shooting cover stuff – ahhhhhh). As for framing our lady, I'm sure one day we'll man up and pay to have her professionally framed (they always seem to have those 50% coupons at Michael's) but sometimes it's a better balance for us when we spend in one area and then work a bit harder to save in another. So for now we have framed it really inexpensively ourselves, just by getting a simple black frame for $21 at Target and a $4 sheet of archival-quality mat-board at Michael's (they sell it in their framing department for anyone else who wants to try DIYing it).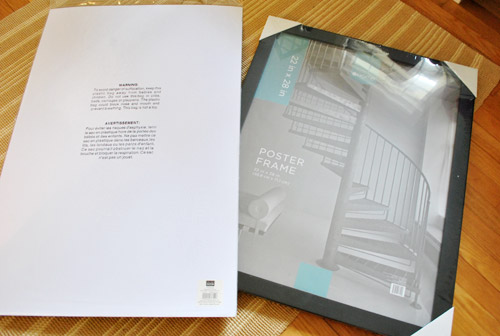 This entire framing job was just $25 (for a 31″ x 25″ finished piece!) thanks to already having some white Rustoleum Universal spray paint (the kind with the built-in primer). Yup, I'm completely predictable. You know I spray painted the heck outta that frame (after removing the pane and the backing and laying it out on a piece of cardboard outside). Then I just cut down the archival mat-board to fit the frame and placed the print centered in front of it.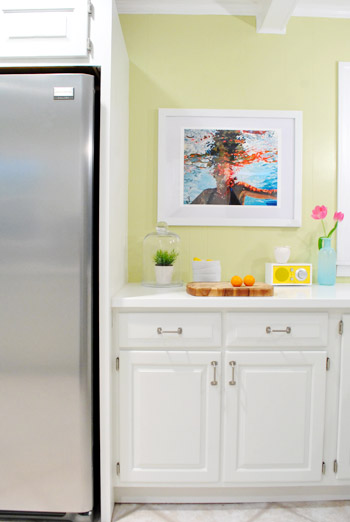 So unlike a pro framing job, this mat isn't a cut-out window that you look through to view the print – the print just floats right in front of it in the middle, with an equal amount of mat around it to beef it up and fit the frame. The luckiest accident of the whole thing is that the mat-board has subtle gray undertones while the print and the frame are bright-bright-bright white. It actually makes for a nice balance since the soft gray-ish coloring in the mat relates to other softly-gray things in the room (the penny tile, the appliances, etc) and the bright white of the print and the freshly sprayed frame ties into the glossy white molding/trim, our counters, and the dishware on the open shelves.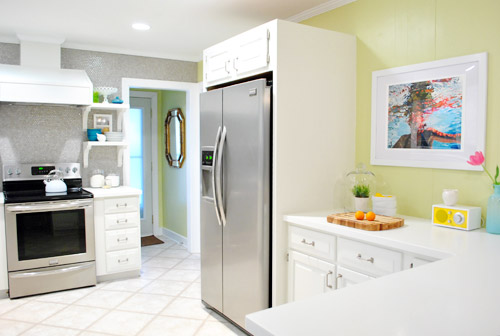 We love that our print (on archival paper with an archival mat, no less) can always be upgraded with a proper frame down the line, but for now it slips right into the room. And it's refreshing. Like a big ol' glass of lemonade. Or a dip in the pool. This is actually how we frame a ton of stuff (like all of the things in our hallway of frames, for example) so although it's not the fancy way, it works for us. Art is definitely one of those highly personal things though, so this method might be heresy for some folks out there! Just do whatever works for you and your house and cover your walls with stuff that makes you smile.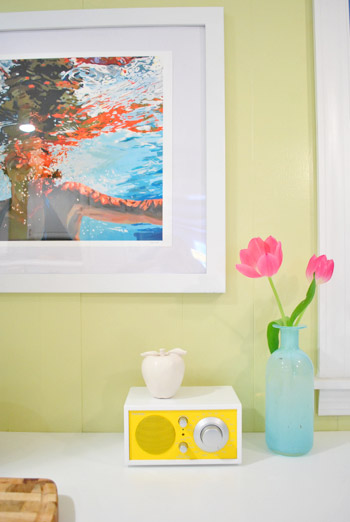 We have to admit that real art is definitely addictive. Our little swimmer lady confirms that sometimes a wall splurge can make you pretty dang giddy. So we're definitely hoping that the occurrence of saving up for art that we love isn't just a one time thing! What have you guys been framing lately? Do you have a favorite framing method? Do your children see imaginary fish? Let's talk.