Some spots just aren't great for a curtain panel. If it can't hang all the way to the ground, sometimes it can make a room feel awkward to hang a not-quite-full-length curtain panel. There are definitely exceptions where cafe curtains can look really sweet, but we generally just go whole-hog (full curtains from floor to almost-ceiling) or skip curtains entirely in that spot. So if you have a spot like that, and you're wondering what we'd do instead of a curtain panel, this post is full of photos and info for you.
Take our dining room, for example, which has two heat registers right where curtains would hang, as well as a window that's super close to the corner – so the panel would cover a lot of the window instead of having a wall to hang in front of: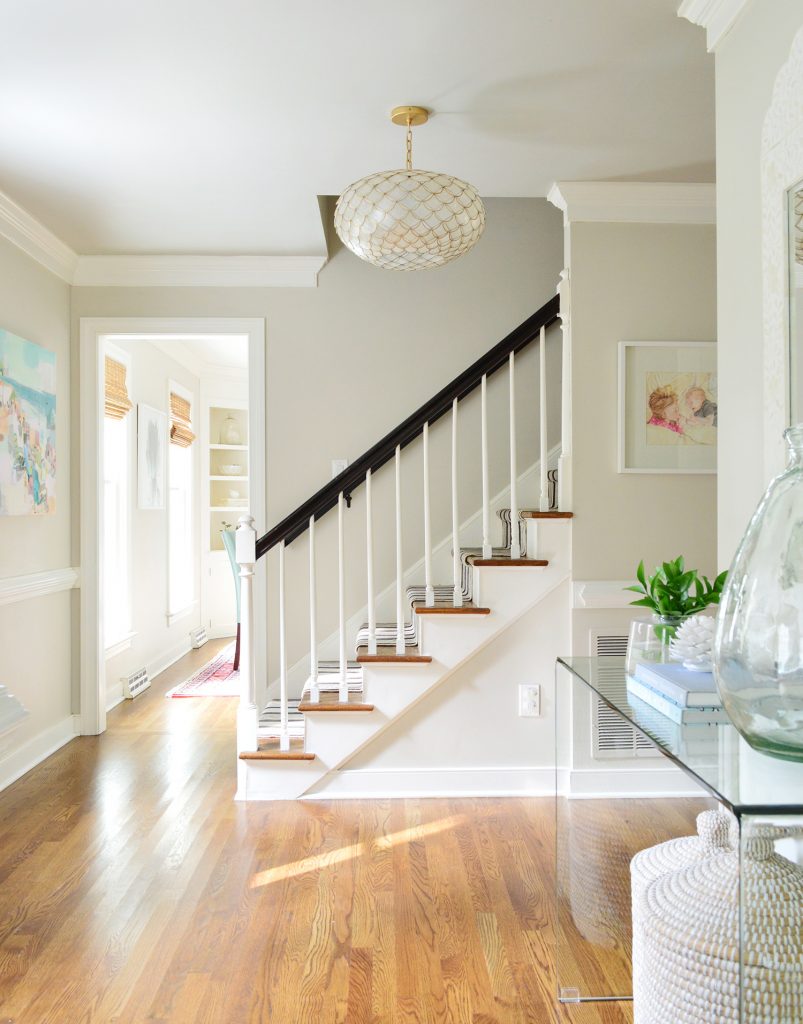 We just skipped curtains in there and went with woven shades. The room still flows nicely with other rooms nearby, since we kept the woven shades consistent throughout the first floor of our house.
For example, these are the same shades in the kitchen (you can read more on our curtain reno here):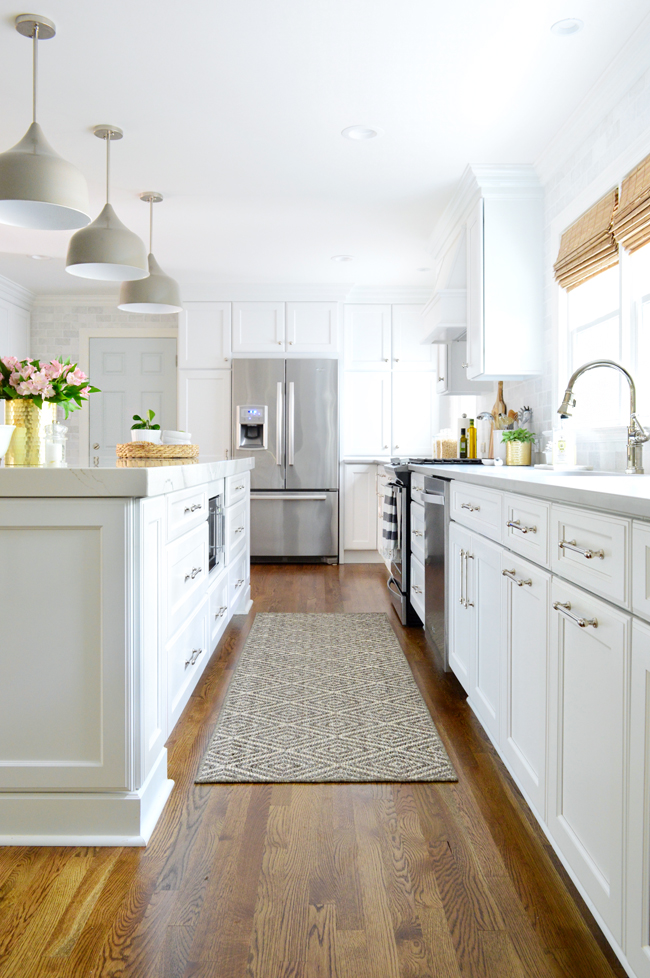 Clearly we couldn't have long curtains hanging down from those kitchen windows since they'd hit the counter – so we just went with the nice warm texture that shades added.
And here's the living room, which DID have room for nice long curtains (and we love the softness they add), so we did BOTH in here. The woven shades tie into the other spaces that also have them with or without curtains…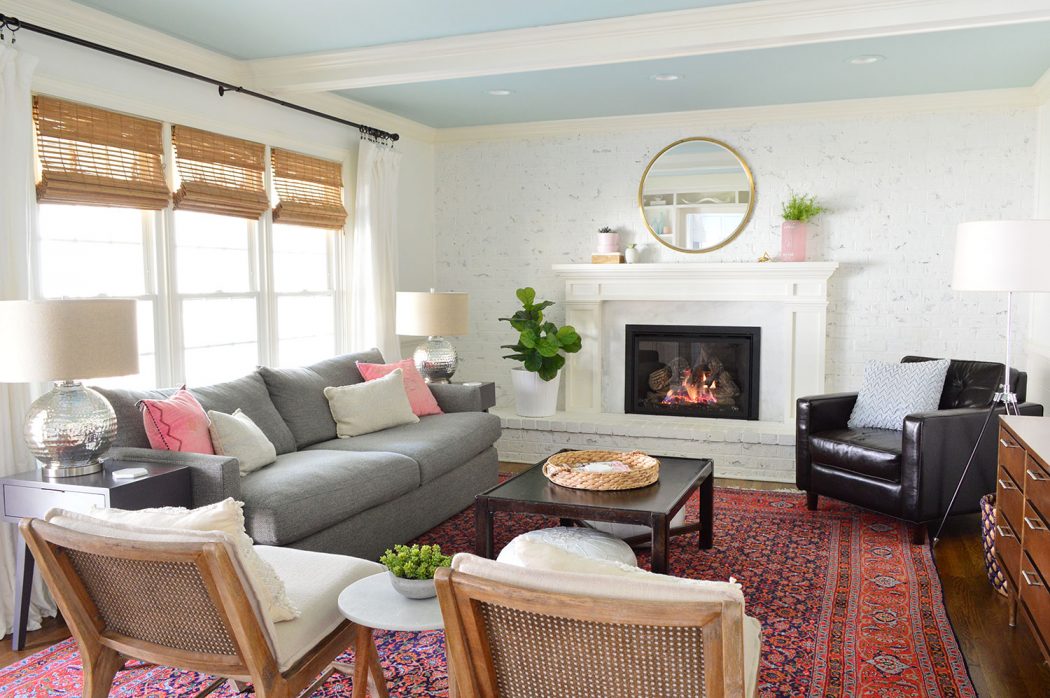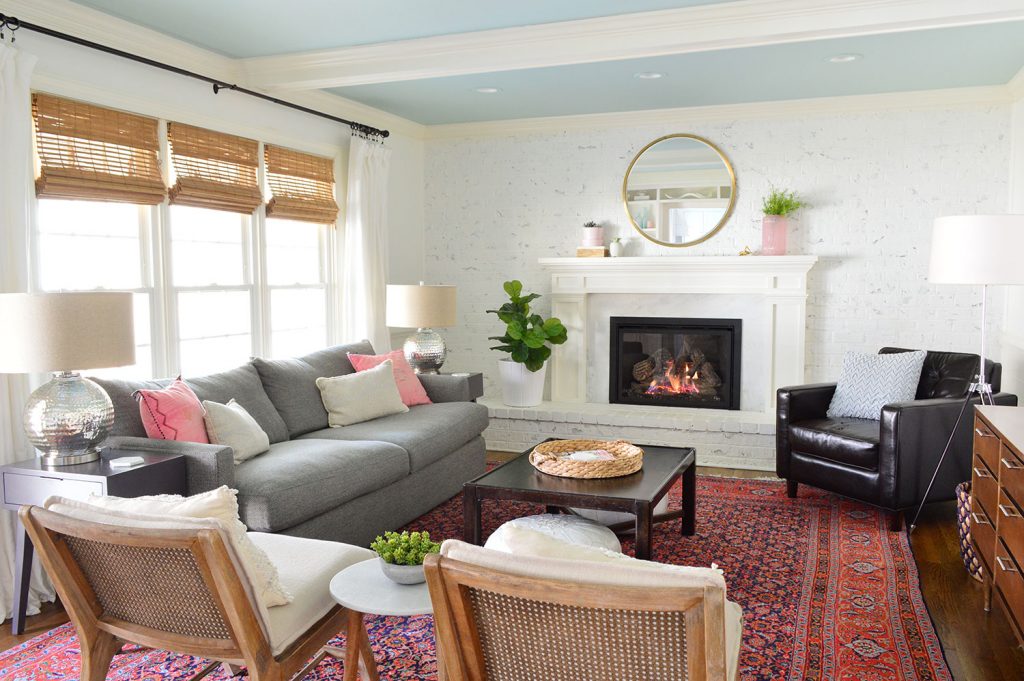 … like our home office, which also has both.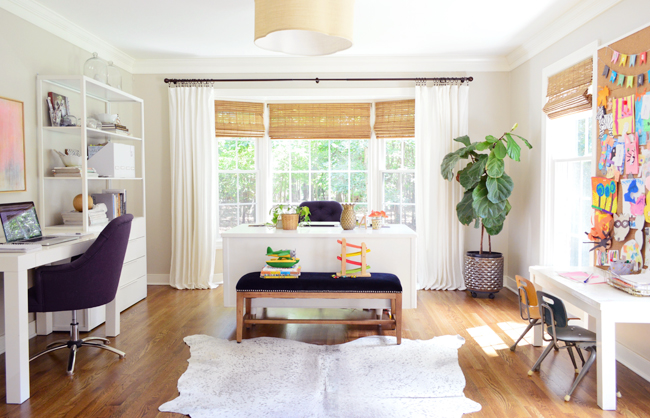 Our home office is actually a nice room to use as an example that you don't have to treat all windows in the same room the exact same way. See how the windows along that right wall wouldn't have room for curtain panels and the cork board (they'd basically cover the area where the cork board is, if we hung them wide so they didn't entirely block the window?). So we just skipped them on that wall. Still looks fine having them around the bay window and not around those front windows, which also have heat registers that the curtains would have blocked on both sides. So it worked out just fine. It's kinda like the bay window is the star, and the front windows are just supporting actors.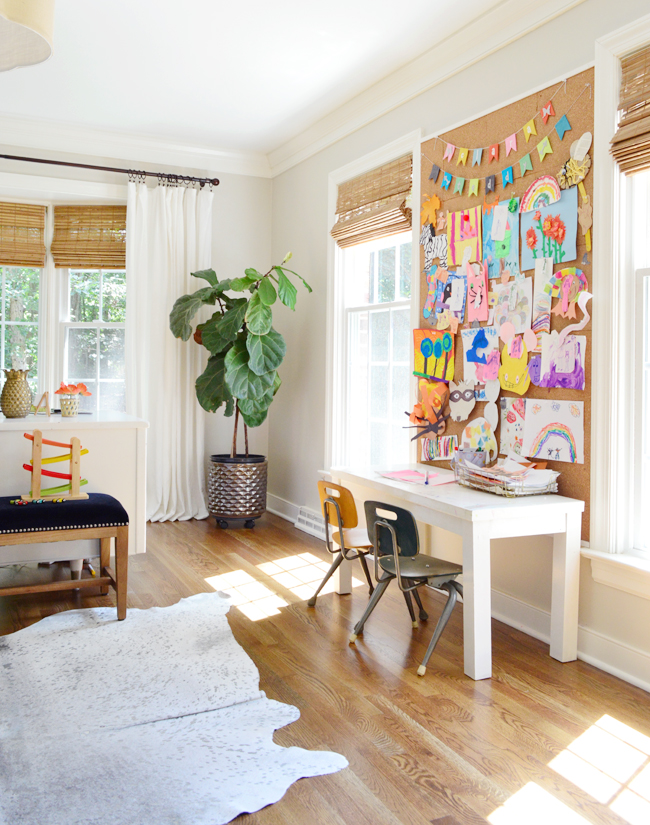 The woven blinds are not for privacy or light blocking (our house is pretty far from other houses so we only wanted light blocking and privacy in the upstairs rooms (bathrooms & bedrooms) but you can get lined woven blinds or roman shades to provide privacy and block light. Or you can do what we do upstairs, which is to layer in some white faux wood blinds that we hang inside mounted (within the frame of the window). We did that all over the beach house & the duplex too – they're great for privacy and look very clean and nice when they're layered with curtains…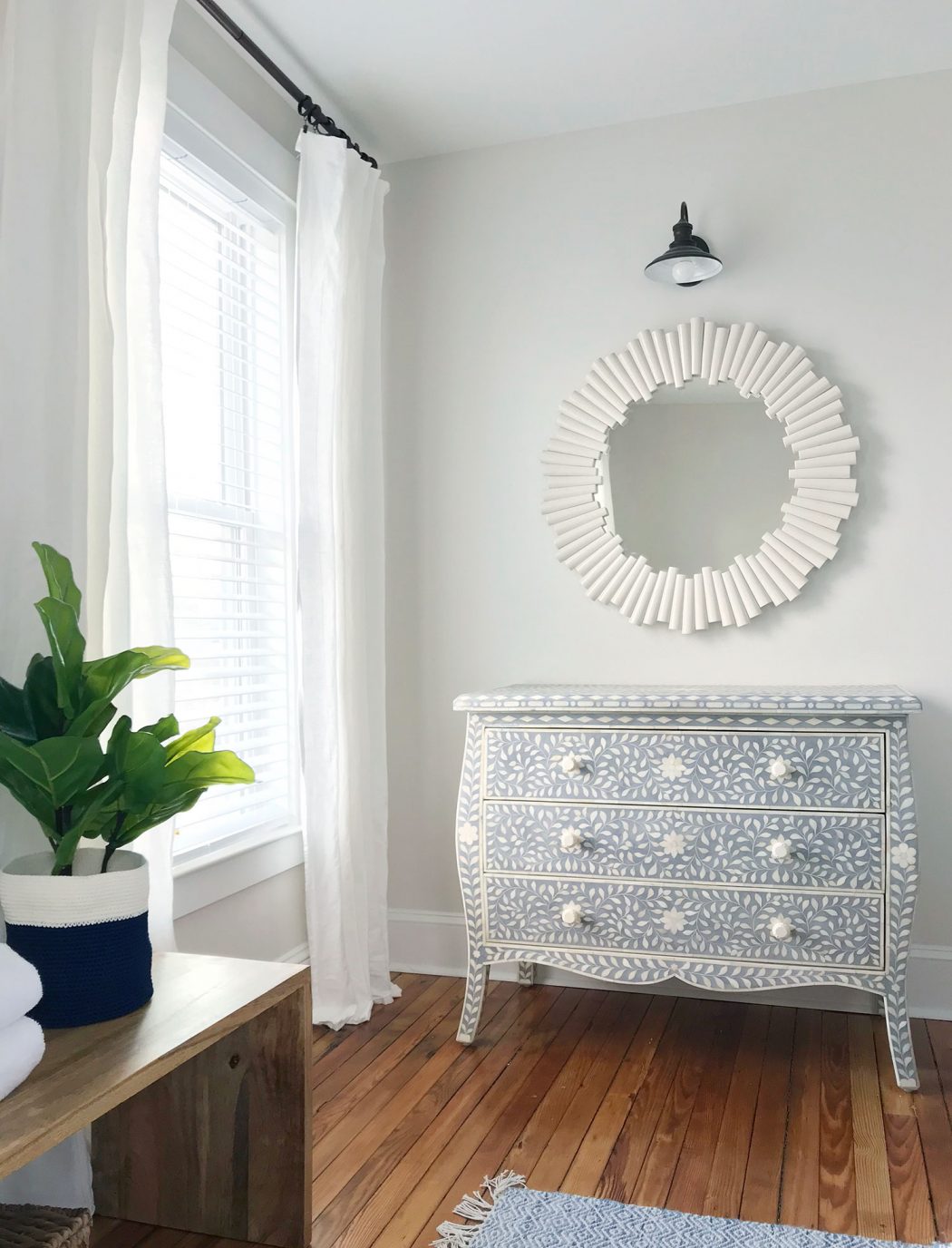 … or when they're just hung alone in a bathroom or something.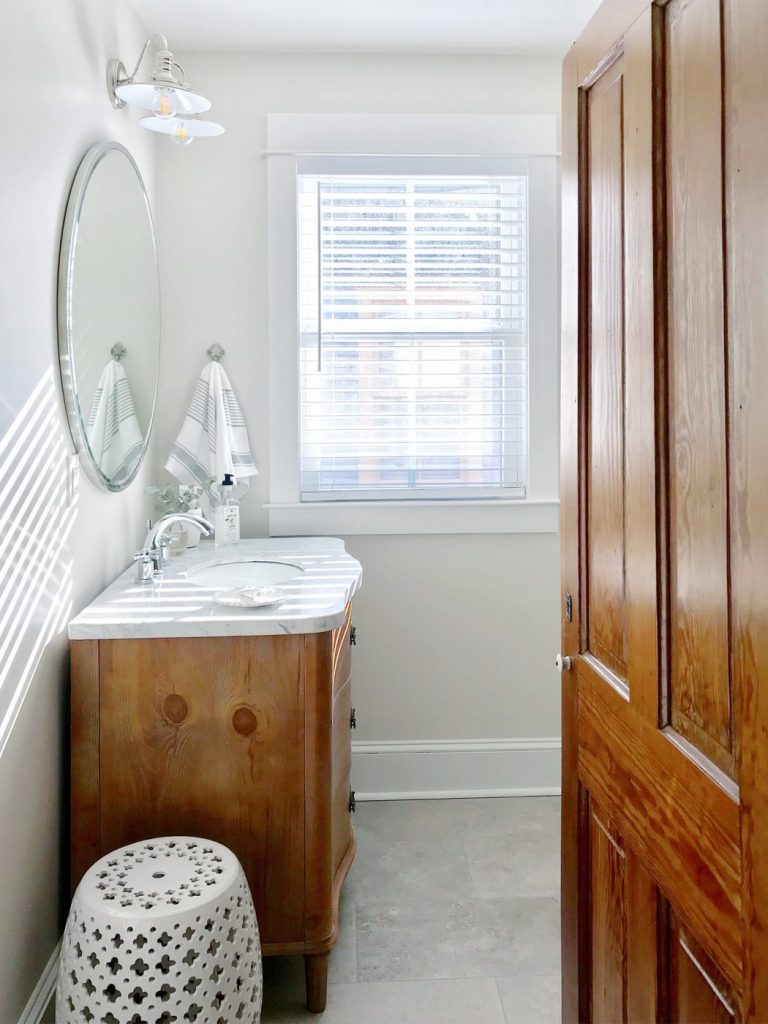 My closing lesson would be: general curtain guidelines and a trick to hang them more easily & quickly can be handy, but when it comes to the whole "what would look good in here" question, every single person might have a different challenge, layout, etc – so it's really smart to have someone hold things up and step back and trust your eye. Try different heights. Stare at a picture of a certain window shade on your phone while standing in that room and looking at the window. Really try to picture things before you commit. Heck, you can even try photoshopping different solutions or printing out a photo of your room and drawing right over it (sketch blinds or curtains right onto the pic with a marker- this is the original photoshop – ha!).
And don't forget to consider woven blinds or even a pretty patterned roman shade (like this) for certain spots where curtains wouldn't quite work – and remind yourself that it's ok to just take your time and figure things out as you go. So many of our rooms have had curtain/blind changes while we figure it out – so don't beat yourself up about it if it takes a second try.
*This post contains affiliate links*