When our good friend Noah Scalin (who happens to be a published author slash skull enthusiast) recommended that we check out his mom and dad's amazing house in Richmond's hip downtown district called The Fan, we were intrigued. And when we got there we couldn't snap pictures fast enough. Chuck and Mim are both well known fine artists who used to live in NYC before relocating to their charming 100 year old Richmond home. And their love of metropolitan loft-like living is obvious even in their historic casa. Let's have a virtual look around, shall we?
Here's the lovely exterior…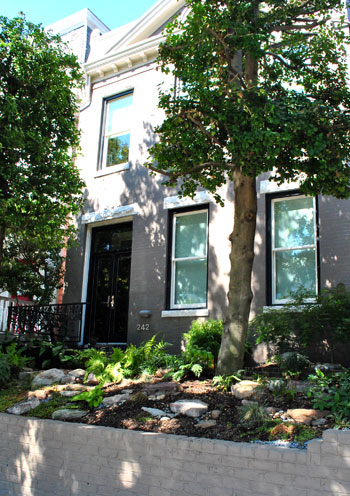 … and the entryway (complete with custom tile work commissioned by a fellow artist that Chuck & Mim adored).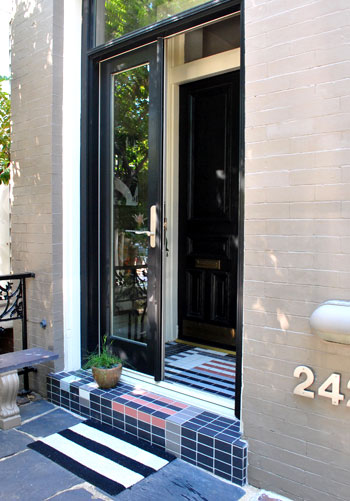 This is their light and lovely living area complete with chairs that Chuck found on the street, thrift store items, a ton of DIY art, bartered accessories (trading is free, why not, right?) and even an item or two from Target. They also worked in art from various student exhibitions at VCU, which is a great way to collect amazing one of a kind pieces without draining the ol' savings account. We love that even though their house looks like it's full of bank-breaking antiques and reproduction pieces, it was all affordably acquired over time on the cheap. Chuck even hired one of his handy art school students to patch missing boards in the home's original flooring to save money (and support the arts, haha).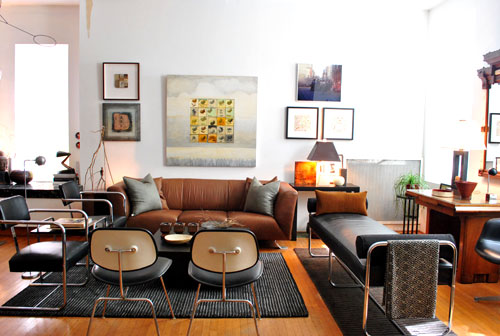 Here's their modest yet totally charming and functional kitchen complete with open shelving and a nice little peninsula with plenty of space to serve up a home cooked meal (or eat that entire mouthwatering pie like I wanted to do the whole time we were there).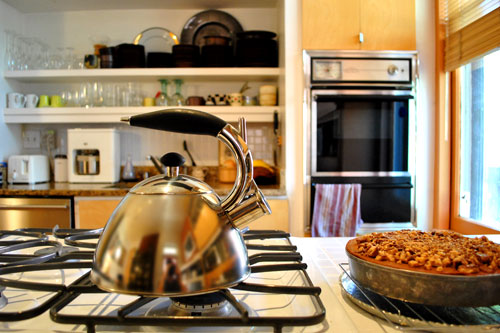 We love that the house itself is full of historic and stately details (like the gorgeous high ceilings and this amazing staircase) while more modern furnishings and art still feel right at home. Gotta love the whole mixed & matched thing when it's done right.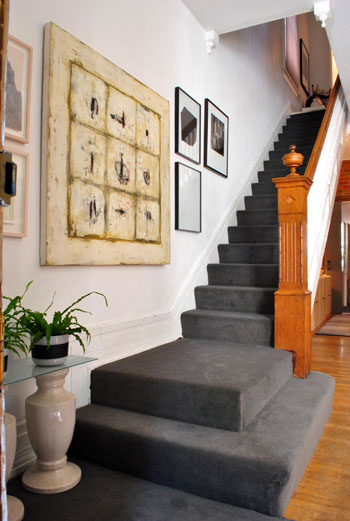 Chuck and Mim's home really is a testament that the style of your house (like their historic 1900's home) doesn't have to dictate every item that you bring into it (since they have many modern, industrial, and clean-lined pieces it all feels cohesive and just seems to "fit"). So just because your house may be 100 years old doesn't mean every piece in it has to be an antique. We love that Chuck and Mim can appreciate and seamlessly introduce a nice mix of objects both old and new.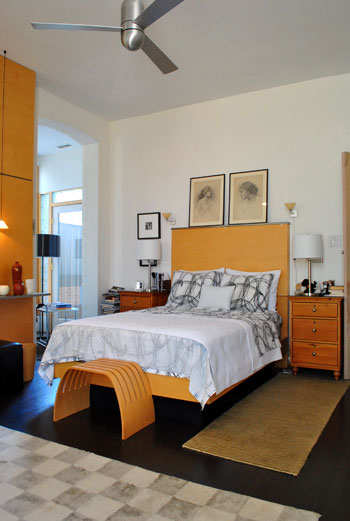 And their artistic eye for special "moments" that they can create in a room is super inspiring. Check out that glowing recessed rectangle in the wall below: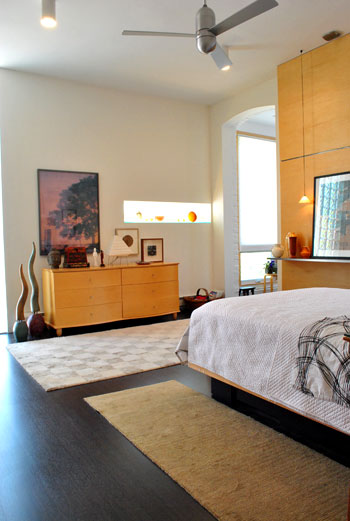 That's actually a cool little niche they added that's backlit thanks to light streaming in from outside (it also has a light source below that illuminates the sleek rectangular pane of glass, even at night). It's such a great place to display their pretty collection of glass bowls, plates, and vases. We just love that they took a detail-less solid wall and created a one of a kind feature.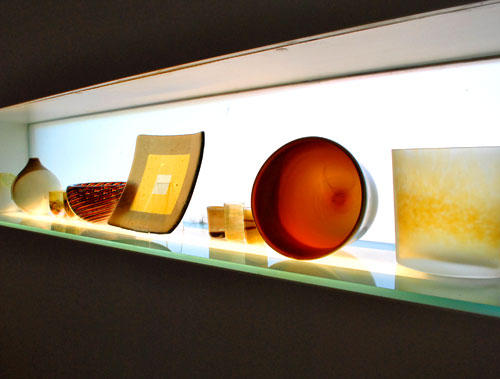 We also love the hallway that leads to their bedroom. See, the bedroom floor is dark while the area on the other side of the hallway has lighter bleached floors. So to keep things feeling cohesive instead of mismatched, Chuck and Mim opted to redo the hall flooring with both colors – so they flow right into each other. All while creating an eye catching transition. Genius.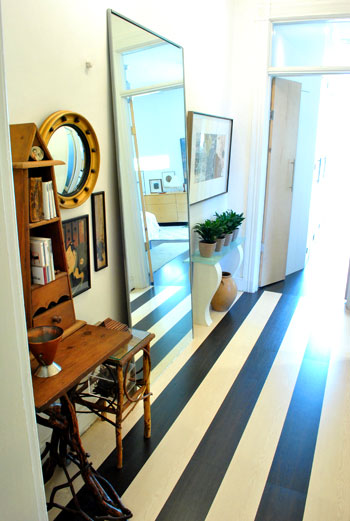 They also recently tackled a big bathroom reno, where they not only designed a cool linear sink vanity (see those horizontal strips of wood on the front that create such a great modern texture?) but also designed a totally gorgeous radiator cover with the same horizontally spaced strips to mimic the vanity. And they reused the original bathroom door. The doorknob was re-chromed and the interior panel of the door was removed, then recycled glass from a window originally above the radiator was inserted. Seriously, it was just a gorgeous room (and of course we love the work-with-watcha-got spirit). The thought they put into every little choice that they made was so inspiring.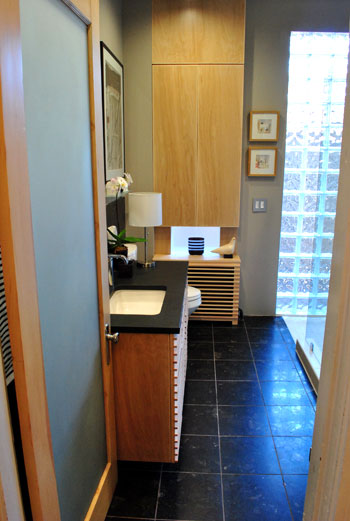 It also felt really open thanks to the large glass block panel that they added to let in loads of light (there used to be a door there, which led to an unused upstairs porch). And the addition of the nearly invisible floating glass shower enclosure and the rainhead fixture definitely made it an envy inducing space.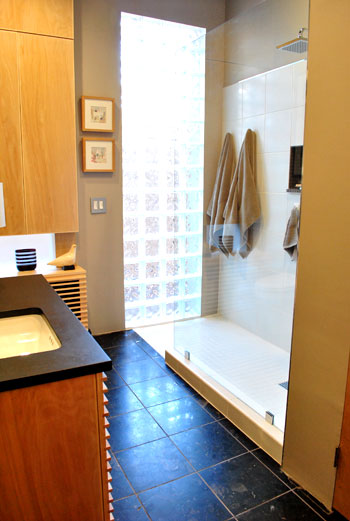 But just in case you still doubt this duo's DIY creativity, check out these amazing metal doors that were inspired by this favorite designer of theirs. Chuck saw them in a design book and decided to recreate the cool checkerboard effect himself.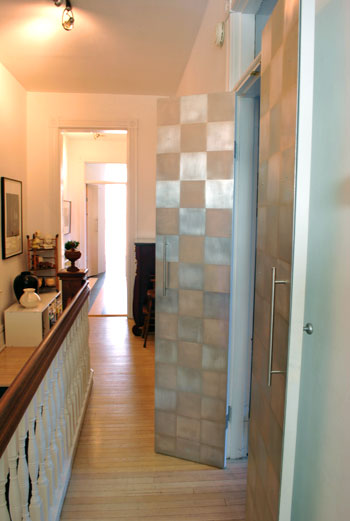 He just taped off a bunch of squares (so that part of the door would stay smooth) and sanded the other exposed squares that weren't taped off (to create that brushed look). Long modern Ikea handles polished things off nicely- without costing an arm and a leg.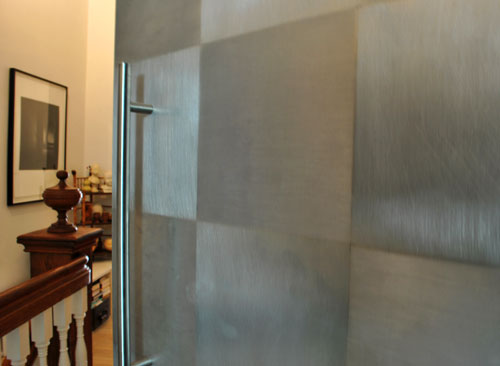 And since these two are real-deal artists (they both have pieces in galleries and art shows in their honor) they actually need and frequently use their studio space. Here's a peek into Chuck's studio which bowled us over in the "collectable" category. Those gorgeous metal letters all come from store signage that used to hang right here in Richmond (he's not afraid to drive over to shops that are undergoing a renovation and ask for their old letters). And his bevy of fun gadgets like flashlights and old school pencil sharpeners had us feeling all nostalgic. No wonder the man has no shortage of creativity when he's surrounded by such fun things.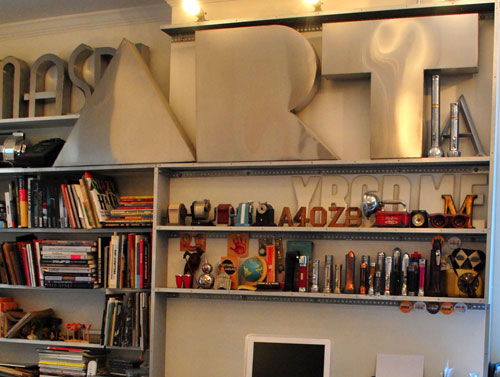 And we'll leave you with one more DIY project that Chuck took on since it's too good not to share. After spotting an interesting (but über expensive) light in an upscale Paris design store, he decided to try to replicate something similar at a fraction of the cost. He saved up a ton of clear film canisters (which you can hunt down online, find at a local photography shop, or collect if you still use a camera that takes film) and poked small holes in the tops of each of them so he could thread a string of white holiday lights into them. This homemade mass o' lights has moved around quite a bit (it's definitely a flexible "fixture") and it now it sits in the corner of his big open living area, adding tons of glowing ambiance to the room (and making us feel even more drunk with DIY desire).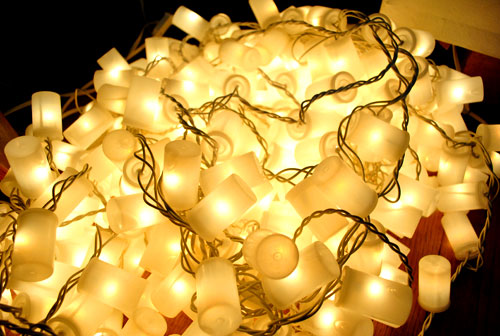 So there you have Chuck and Mim's amazing house right here in Richmond. They really are two of the sweetest people around, so a huge thank you goes out to them for opening their doors and letting us share their stunning home with all of you. We hope you've seen something that has you inspired. Wanna play the what's-your-favorite-part game? We're torn between those cool stainless doors, the one-of-a-kind radiator cover in the bathroom, the striped hallway, and that surprise cut out in the bedroom.
Psst- Why stop virtually barging into people's homes now? Check out a slew of other inspiring spaces in our House Crashing gallery.