To everyone who has asked where our House Crashing posts have been lately, we're sorry for the hold up and we're excited to share this one! It's a well overdue tour full of inspiration, affordable finds, and a really unique style perspective. Plus it's full of transformation photos because Lindsay and her husband started with such a rough "before" of a house (they totally saw a diamond in the rough). So let's poke around and see what they've done, shall we? Here's Lindsay now. She lives in Greenville, South Carolina with her husband and her Great Dane, Gracie – and was so gracious to virtually invite us all over.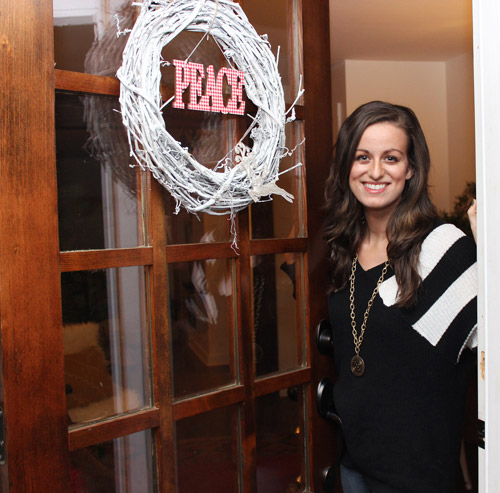 This is what the living room looked like before Lindsay and her husband got their mitts on it…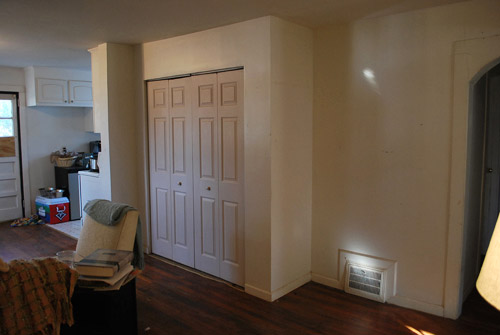 … and here's that same wall after they worked their magic. They removed the old laundry closet from the living room (you can see that above in the before picture) and built bookshelves in its place.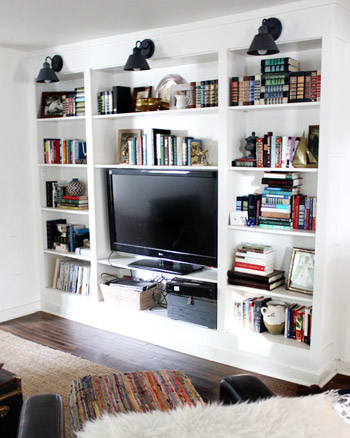 The lights over the bookshelves are outdoor lights from The Home Depot that sell for $20, and the colorful patterned rug was a $19 thrift store find that was all pastel (Lindsay painted it with fabric paint to brighten up the colors). The mid-century coffee table was a $10 thrift find and the tufted leather couch came from Craigslist. Lindsay also covered a leather ottoman with $2 rag rugs to bring in some color and texture.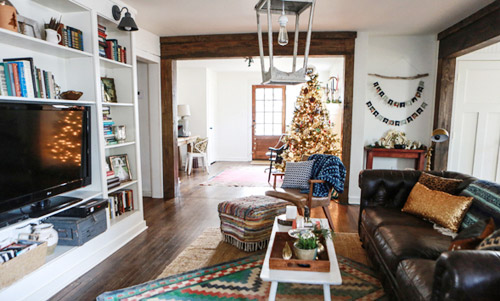 Here's the old kitchen, which was in a really small and awkward corner of the house… so they MOVED IT (into an old garage!) and turned the old kitchen into…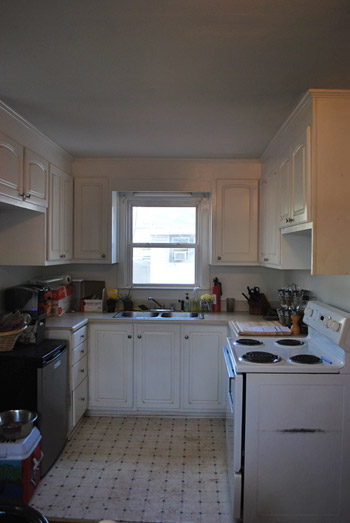 … an awesome dining area.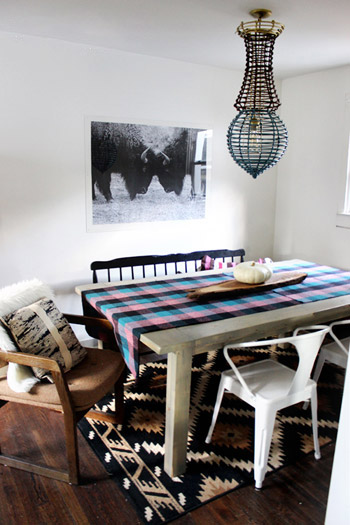 Are you as in love with the buffalo art and that awesome dark woven chandelier as I am? Speaking of that chandelier, it was actually a Home Goods lamp that Lindsay found on clearance. So she flipped it upside down and paint dipped it. The entire mix of this house gets me like you wouldn't believe. It looks so casual, layered, and charming. Check out all the different chairs at the table, and yet they all seem to work together seamlessly. And that rug was a clearance find at Garden Ridge for $25.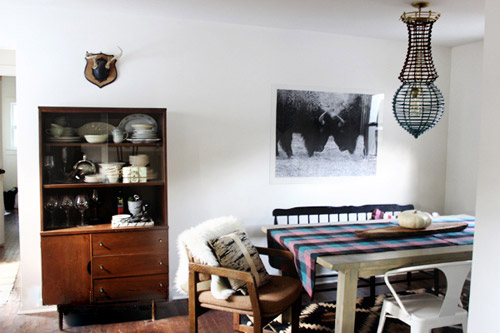 That picture above also shows off their amazing secondhand find of a hutch (it was just $60 at a thrift store!), and the dining table was made by Lindsay's husband for their very first Christmas using plans from Ana White. Lindsay also had an image of buffaloes that she wanted blown up, so she took it into Staples on a flash drive and left with this 3 x 5′ black and white beauty for $6.99. She wanted it back-mounted onto lucite, so she bought a 3 x 5′ sheet of plexi-glass from Home Depot for $50 and used double-sided tape to attach the art to the wall. Then she screwed the plexi-glass into the wall on all four corners to finish things off.
Here's a before shot of the room that became the kitchen (it was an old garage back in the day, and had been poorly converted into a bedroom – carpet straight over the cement floors and all).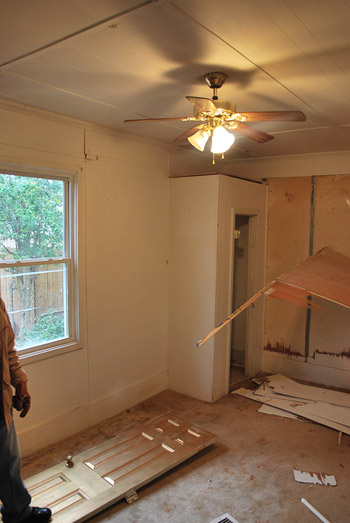 Now it looks like this, complete with casual (and budget-friendly) open shelving and a fun colorful island. I love that Lindsay uses white liberally, but also adds color, texture, and pattern to liven things up (in things like rugs, collected accents around the room, and that bold island color). The open shelving and hood are from Ikea and nearly all the dishes and accessories are thrift store or yard sale finds (for example, the set of vintage brass and copper canisters came from a yard sale for $20) and the kilim rug is a 100 year old Turkish rug from eBay.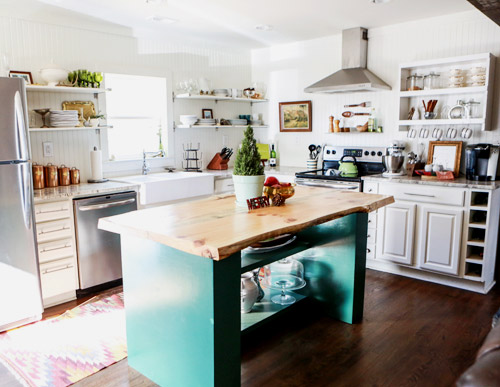 Detail shot. Eating it up. All of it. I love the subtle texture of the beadboard walls paired with the farmhouse sink and the warm touches of copper and wood throughout the room.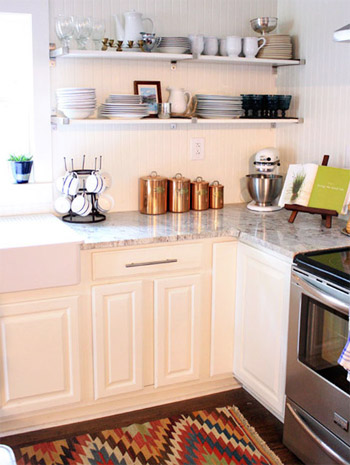 This is a before shot of the casual sitting room that they call the lounge.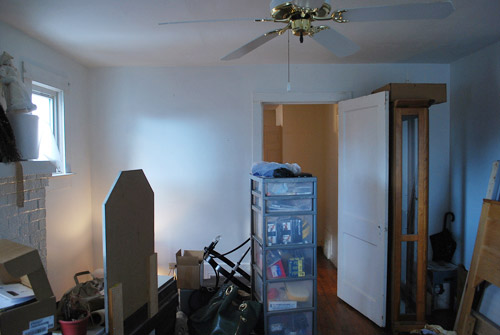 And here's that same room, with a charming mix of textures and homey touches. I love that sweet disco-ball-topped tree – and the mantel is still so great even without an actual firebox.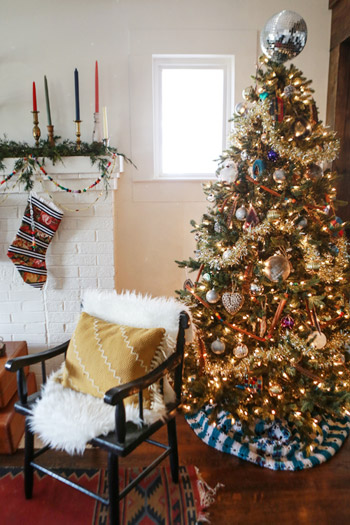 Aren't those colorful candles and garlands along with the stacked suitcases in front of the mantel so charming? But the rug is Lindsay's favorite score of all. She and her husband were exploring The Longest Yard Sale and she spotted it in the bottom of someone's trailer. It was 6 x 8′ and she loved the navajo print, so she asked if it was for sale and they said they weren't sure. They talked about it for a minute and then asked if she would pay $5 because it was dirty. She paid them and ran away with it as quick as she could with a big old smile on her face.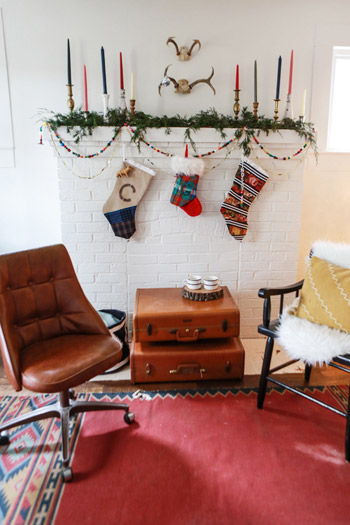 I also was so smitten with this little mudroom area full of rustic old wood, a shiny silver clock, and a pretty mix of textiles for that layered and lived in feeling. So cozy.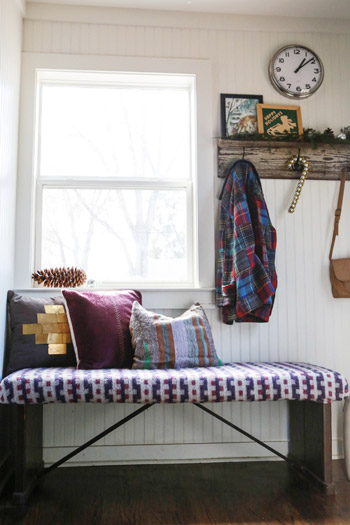 Lindsay and her husband didn't just confine their makeover to the inside of their house, they also created a really sweet patio area in the backyard. When they moved in, the whole backyard was just basically dirt, so they added a crushed granite patio (because it was one of the most budget friendly solutions) – and they ended up loving the casual feel of it.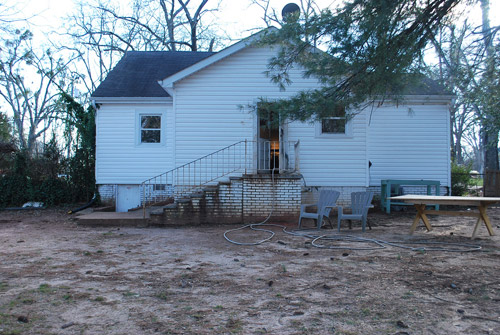 There's a gathering area with a free secondhand wicker sofa, a chiminea, and and low pallet-esque coffee table on over-sized casters (it's actually any old factory cart coffee table they found at an Antique Yard).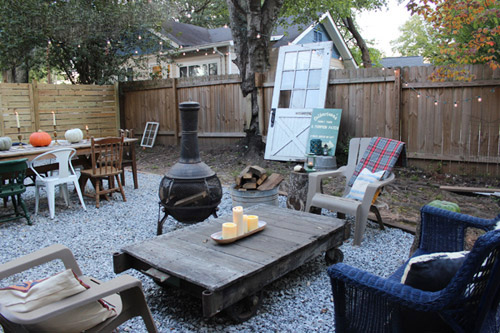 But my favorite part is the eclectic outdoor dining area, complete with a ton of different chairs that all charm me to no end. Lindsay's husband made the picnic table and each chair was a thrift store find for $5 (except for the modern white ones). Once again, she really is a mix-master. Lindsay is like that girl who layers ten items of clothing and it all looks amazing and effortless, as if she didn't even try. And I'm the creepy girl next to her wearing a red bodysuit and high-waisted jeans (true story, that was my favorite sixth grade combination) who's taking notes.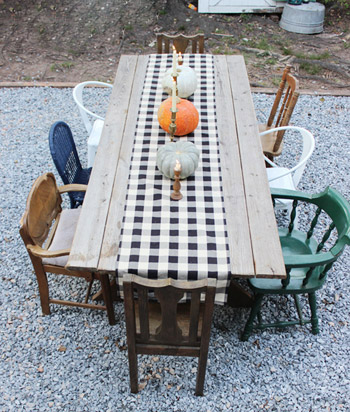 So a big thanks goes out to Lindsay and her sweet husband (and Gracie the dog, holla!) for so thoughtfully allowing us to peek in on their lovely little world. You can also see more and follow Lindsay over on her blog. But first let's play the favorite part game. I'm going to call that lamp-turned-chandelier in the dining room and those boss built-ins in the living room. And John's calling dibs on the chunky and colorful kitchen island along with the dining room hutch. Your turn.
************************************