When Kara from Made 2 Create invited us to crash her Tulsa, Oklahoma house we decided that even though we couldn't make the trek over there in person we needed to virtually cover her casa. Because it's just that good. And to preface this amazing house tour we should mention that almost everything you'll see in Kara's gorgeous home came from a garage sale, Craigslist or she and her hubby Tim made it with their own four hands. Now let's meet Kara the handy homeowner herself: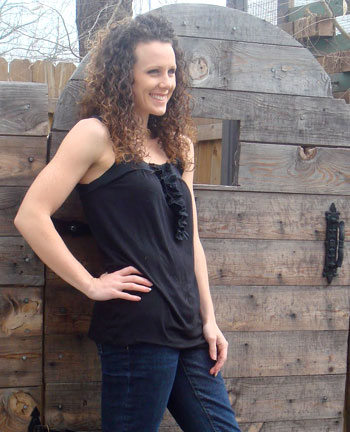 And now that we have the formalities out of the way, let's poke around inside. Kara built a faux fireplace to create a focal point and put her favorite saying on the mantle (do what you love) along with bringing in a lot of spendy looking pieces that she hunted down on the cheap. She even made those billowy and dramatic curtains from affordable Lowe's drop cloths.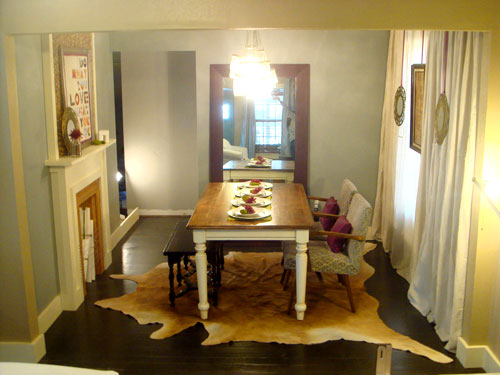 But our hands down favorite part of the dining room is Kara's homemade mason jar chandelier. Stunning, no?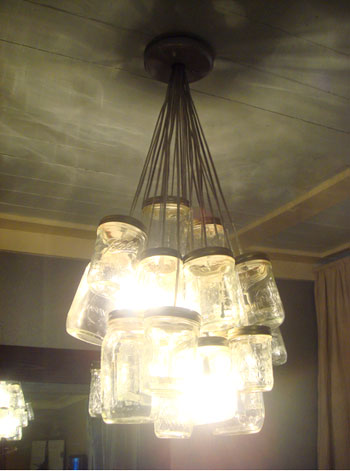 There used to be two walls cutting the kitchen and the dining room off from the living room so Kara decided to get rid of both of them to open up the space and make for easy entertaining. She even built the media console from the old kitchen cabinets that were torn out during the big expansion. Gotta love that use-whatcha-got spirit.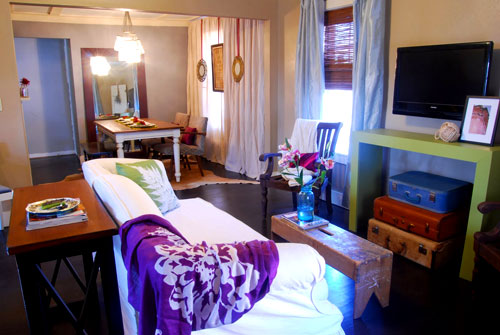 Sadly Kara's kitchen cabinets weren't salvageable (although we love that some of them got a second life as the green media console), so she opted for assemble-it-yourself cabinetry to save money. You'd never guess that it's not custom though, right? We love everything from the glass fronted cabinets that flank the window above the sink to the concrete countertops that she and Tim poured themselves. Kara even made the pot rack from her home's own reclaimed copper plumbing. And she turned a garage sale table into an island.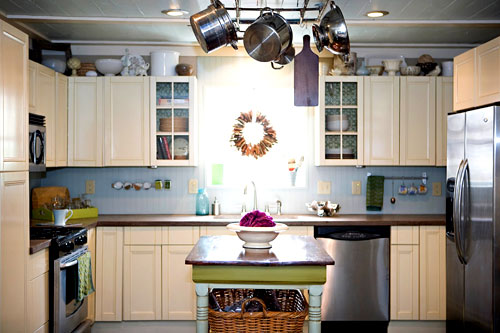 Bear in mind when you look at this stunning guest bathroom that this space actually had wallpaper in the shower! Insane. But it was nothing that Kara couldn't handle. She brought in beautiful hardwood floors (and put marine grade poly on them, so water won't be a problem), added custom built-ins, and even turned an old desk into a vanity (again topping it with a chic DIY concrete counter). And of course we love that she and her hubby did all the work themselves to keep down the cost.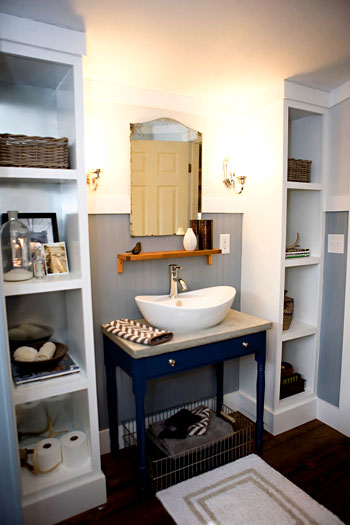 Again, in the interest of saving money (we love this girl), Kara repainted her original bedroom dresser with a flower motif that mimics the flower pattern in her curtains. She also gussied up her old headboard by tufting and upholstering it.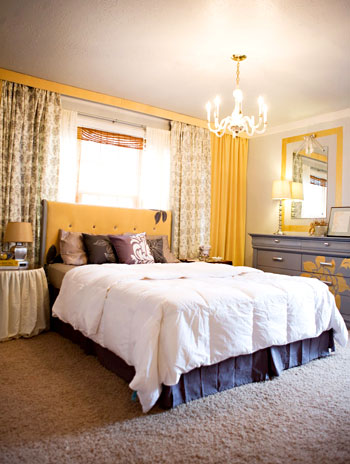 And one of the most major changes in the space was adding this gorgeous glass door in the place of an old window, which now leads to a lovely private outdoor area. Life is good when you're Kara.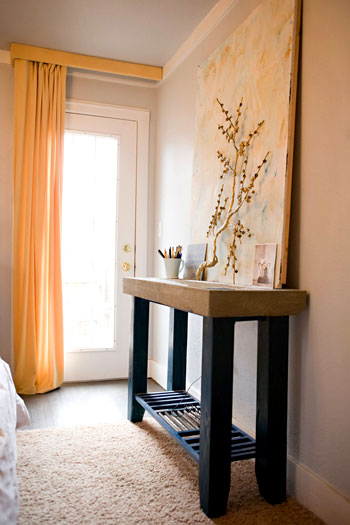 We also love that she was able to increase the square footage of her bathroom by about 25 feet, but she visually expanded it by a lot more when she got rid of an old bulky vanity, brought in reflective white tile and added a glass shower screen for that open and airy feeling.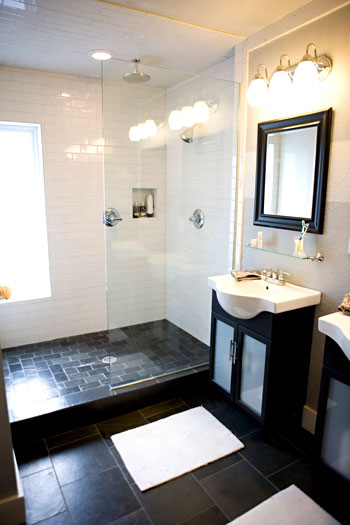 Here's Kara's "reading room" where she went for an exotic and worldly feeling with a bed nook for enjoying a book (or a nap) and a formerly black dresser that she amped up with colorful paint (love that Moroccan feel).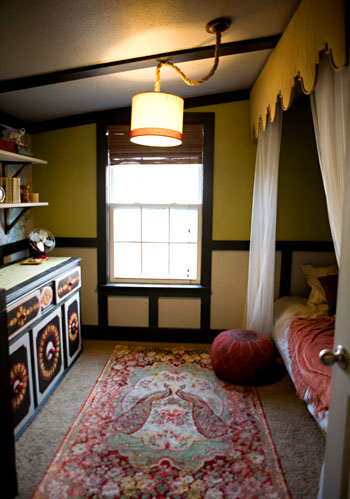 Everything from the padded pouf to the map on the wall of the reading nook adds to the worldly and well traveled feel. Which is perfectly appropriate for Kara since she actually lived in Lithuania for a while. Yes, yet another reason to be green with envy.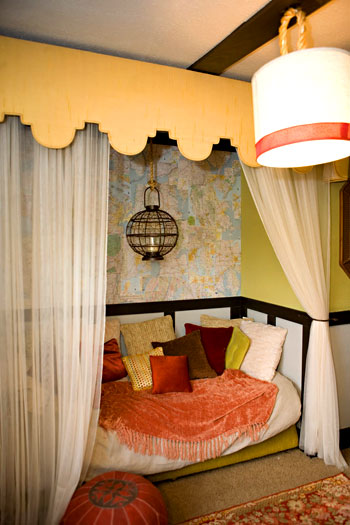 Kara wanted the guest room to have a rustic-yet-glamorous effect. And the corrugated tin headboard is the perfect combo of those two elements (she was inspired to whip it up herself after a trip to Lowe's!). Touches of metallics, pops of yellow, and tons of texture really add to the space. And Kara figured why stop at making that amazing headboard when you can make the overhead light as well? So she did. We love the giant glowing orb, especially when it's paired with those warm pops of yellow and the rustic wood wall.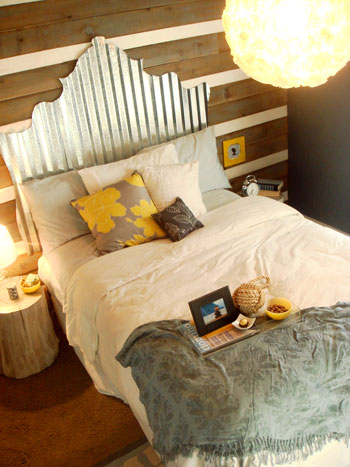 And because we know you guys love a source list, here you go:
Dining Room- paint: Earl Gray (Lowe's), chandelier: DIYed, table & bench & reupholstered chairs: garage sale, cowhide rug: side of the road stand, curtains: Lowe's drop cloths, faux fireplace: built by Tim, mirror: DIYed frame + old bathroom mirror, purple pillows: Target, artwork: DIYed (she sells the Eye Charts). Living Room- paint: custom mix from leftover paint, roman shades: Home Depot, curtains: Target, armchairs: Target, media console: DIYed from old kitchen cabinets, sofa table: suitcases, coffee table/bench & sofa with slipcover: garage sale. Kitchen- cabinets: Home Depot's self-assembled, beadboard color: Contemplation (Behr), kitchen island: garage sale, pot rack: made from copper plumbing (she also sells these), desk by the fridge: estate sale. Guest Bathroom- sconces: Habitat for Humanity ReStore, rug: Target, vanity: Craigslist desk, vessel sink: Craigslist, chevron towels: Ross, vanity shelf & bathtub caddy: IKEA. Reading Room- repainted dresser: Craigslist, rug & valance: garage sale, round pendant: Sam's Club, red pouf: Pier 1. Main Bedroom- paint: Moonlite "something" (Glidden), flowery curtains: Target, yellow fabric: Walmart, chandelier: Habitat for Humanity Restore, nightstands: garage sales, concrete table: built by Tim. En-suite Bathroom- paint: "custom mix", vanities: Lowe's (painted & added glass inserts), glass shelves: Walmart, mirrors: Ross, vanity lights: Lowe's. Guest Bedroom- paint: Prusian Cadet (Valspar), headboard: DIYed, bedding: Target, blanket: Walmart, stumps/side tables: mother nature.
So there you have Kara's DIY palace. Doesn't it look posh and expensive, even though it was anything but? We love that it's full of doable DIY ideas that never look the least bit tacky or crafty. Thanks so much for inviting us into your lovely home Kara! And don't forget to drop in on her blog for a lot more delectable DIY ideas. Now let's play a little game we like to call what's-your-favorite-thing? We're totally torn between that amazing mason jar chandelier, the poured concrete counters or that brilliant tin headboard.
Psst- We're always on the hunt for a mouthwatering house (or ten) to crash, so if you or anyone you know has a casa that's feature-ready just shoot us an email along with some photos of the space and if we're ever in the neighborhood we'll be sure to drop in.