This house crashing adventure in Northern Virginia had us drooling over materials and finishes, especially in the kitchen and the bathrooms. Talk about a gorgeous place to come home to. And here's Melissa The Homeowner now, so let's go in.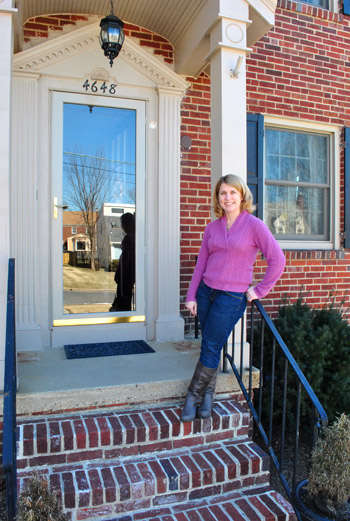 Her house was actually built in 1940, but she and her husband Jim added an awesome addition to the back of the house in 2009 which included a new kitchen. And it just happened to be one of the most amazing ones we've ever been in. So we'll cut right to the chase. You can see it down the hallway near the front door…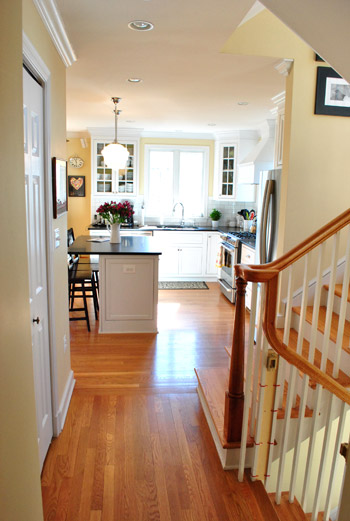 … and it's glorious. Is it not? Everything from the thick crown molding and the vintage-esque lights over the island (from Amazon) to the crisp subway tile and gorgeous glass fronted cabinets had us at hello.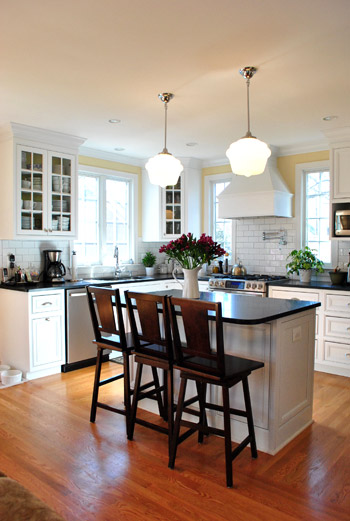 We also really loved the black honed granite counters paired with the white cabinets and the stainless steel appliances. And that hood was amazing. Jim actually made it. Yes, it was fantastic. And the pot filler was snagged for around $75 on clearance when Home Depot Expo closed. I think hoods and pot fillers like this are what dreams are made of.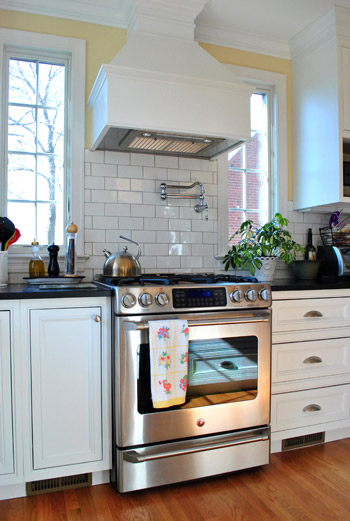 The kitchen opens up to a family room on the other side of the large multifunctional space. And yes, you can watch TV on this flatscreen while cooking. Life is good for Melissa. We especially loved the striped tone-on-tone drapes (from JC Penney) and the cozy gas fireplace. This is one of those awesome family homes where people really live (see the toys tucked into that corner on the right and all the books on those built-ins on the left?).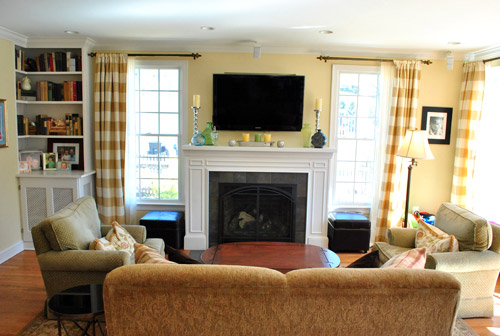 The back of the house shows the 2009 addition that we mentioned (the kitchen and that family room were added along with a main bedroom and bath upstairs). Which means Melissa and her husband got to create this gorgeous back patio with nice wide steps leading out to a grassy play area for their son and daughter.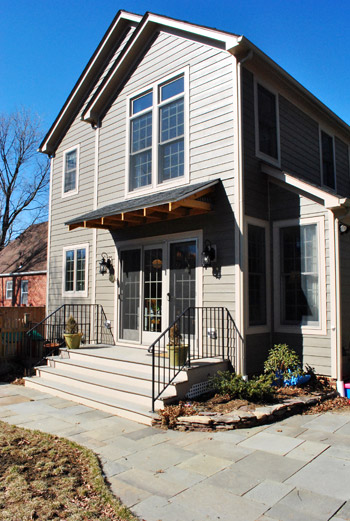 There's also a more formal living room in the front of the house, and the fireplace was especially lovely thanks to the crisp lines of the mantel.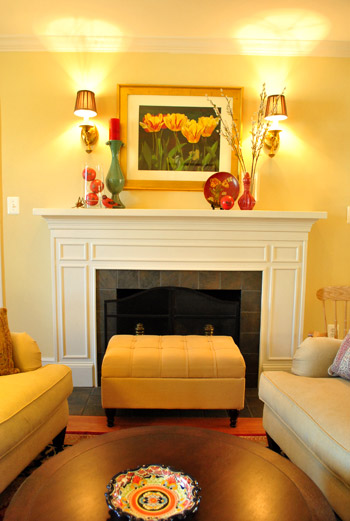 Here's another little stolen detail, just a quick shot of a frame arrangement on the stairs leading up to the second level (she got the M at Ross for $6). So personal and sweet.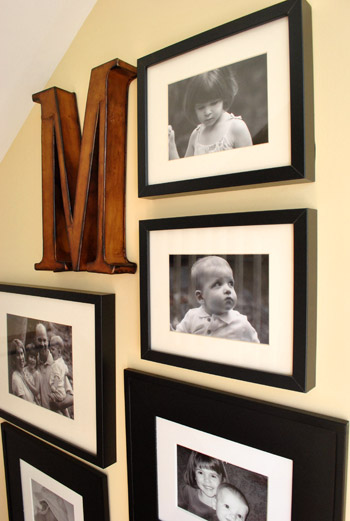 Here's their son's room which had custom floor to ceiling built-ins that Jim actually made himself. Talk about getting tons of function out of one wall. And the rocking horse was DIYed by Jim's father (handiness runs in the family).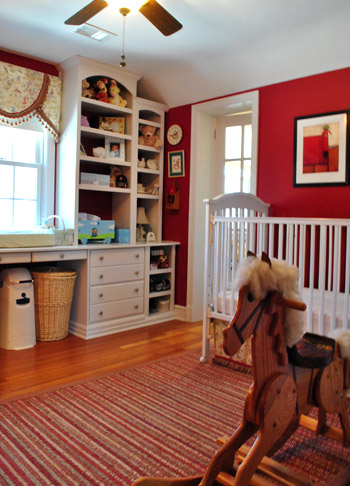 And here's their daughter's room with a charming cherry branch mural on the wall (from ebay) and a DIYed nightstand by Melissa (don't you love the large white stripe down the center?).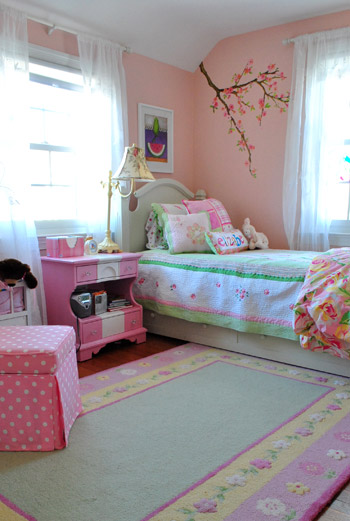 Their main bedroom is airy and welcoming with a nice peaked ceiling and lots of windows.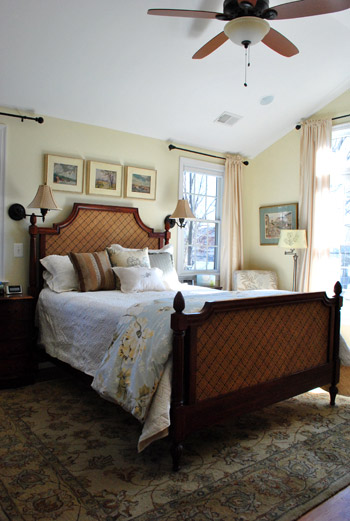 The bed even had sort of an exotic vacation vibe going on. Ooh la la.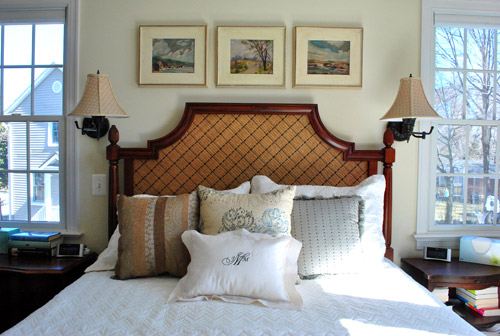 But that bathroom is really what brought me to my knees. Look at that gorgeous giant sink vanity topped with more black honed granite (just like the kitchen countertops). And the floors. They killed me.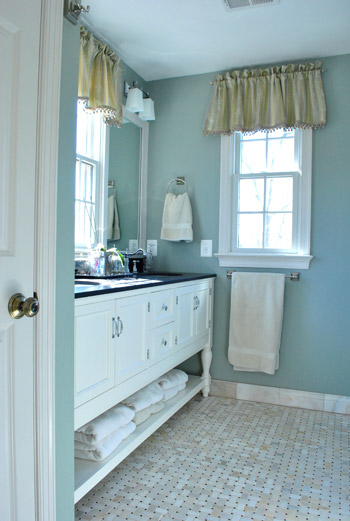 Here's a closer look. Marble basketweave (from The Tile Shop). I was in heaven.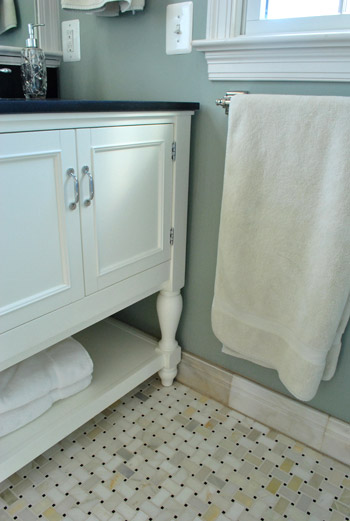 There's also a basement with a giant playroom that was in progress when we crashed. But it has since been officially finished and it. is. awesome. Check it out here. And here's the sweet little basement guest room (complete with a headboard that Melissa DIYed and bedding from JC Penney)…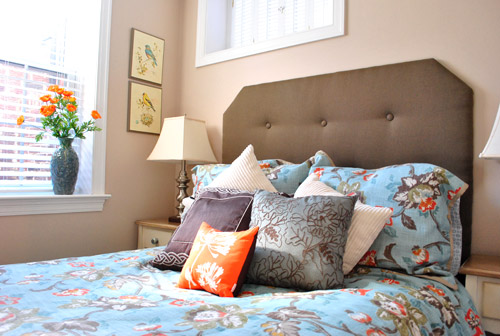 … and an equally charming and cheerful guest bathroom (with towels from Bed Bath & Beyond and art from Target).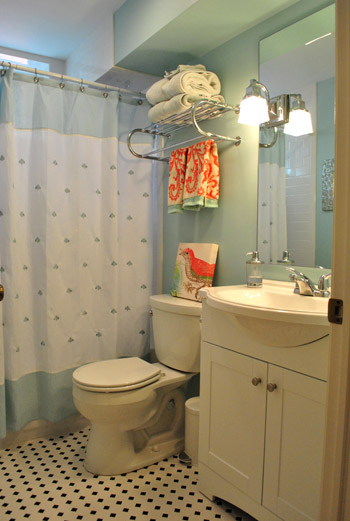 So thanks a million to Melissa and Jim for inviting us in and letting us snap away! There's not much that we love more than snooping around a lovely house like hers! And since we definitely didn't capture every detail (or even every room) be sure to head over to Melissa's blog for more photos and details. Hooray for hump day house crashings!
Psst- Wanna virtually poke around a ton of other awesome casas? Click here for eye candy galore.