Allow me to share a few hints: y-e-l-l-o-w-d-o-o-r
Yup, I'm painting our front door the happiest of shades: rain boot yellow! That's not the real name of the paint swatch that we settled on, I just think it's the perfect way to describe the glossy sunny yellow that we chose.
I was hoping to share some after pics, but alas, this is real life and all the prep work took longer than I thought. Boo.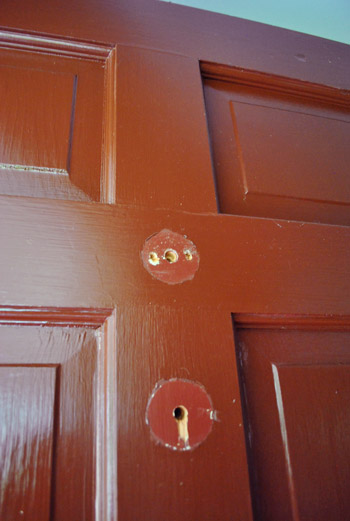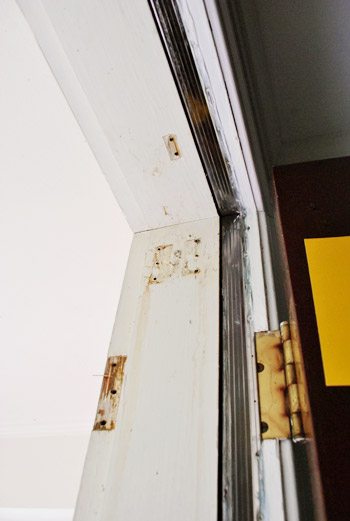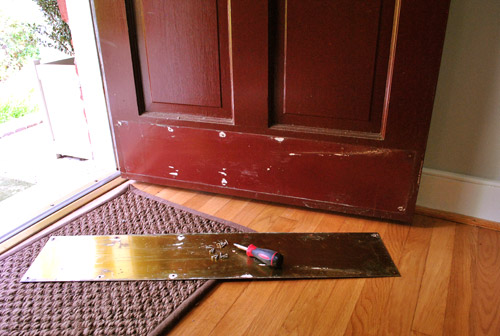 The good news is that I'm done with the drilling, the spackling, the sanding, and the deglossing. So all that general readying stuff is out of the way. And if all goes well I'll be back with a ton of deets and photos of the entire took-longer-than-I-thought process as soon as the paint's dry enough to photograph (the goal is sometime this afternoon).
Oh and in random yellow door news, guess what color we painted our first house's front door in May of 2006?
Wait… why are you scrolling? You have to guess first…
… I wonder what color you're going to guess…
… I'm just putting words here so you don't see the answer before you can guess…
… words…
… words…
… words…
… words…
… words…
… more words …
… even more words…
… word…
…ok, now you can scroll…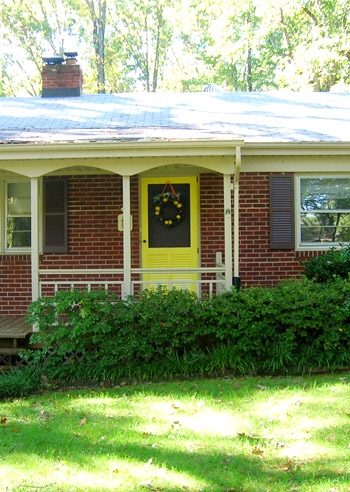 Yup, it was a very similar happy yellow color. And we loved it gobs more than the glossy black look that we later went with…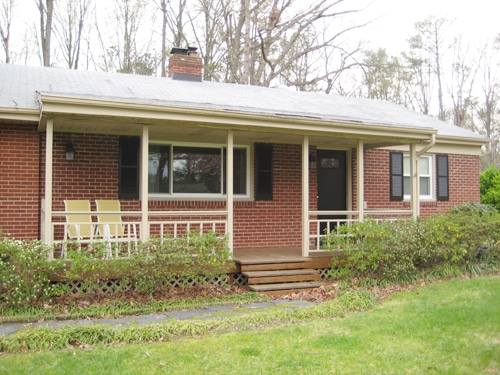 … and it was probably tied with the bold fire engine red door that we ended up with after a paint/hardware makeover here and a big porch makeover here.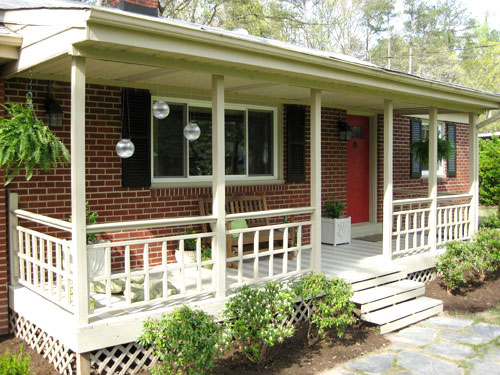 For some strange reason we just couldn't see the front door of our new house being any other color than bright sunny yellow, especially when we held up a ton of other swatches and felt nothing but blah. So yellow it is. Here's hoping my little door makeover will help us build curb appeal momentum since there are about 500 other things we'd love to tackle outside. Especially since you can hardly see our door from the street these days thanks to the jungle that is our front yard. Le sigh.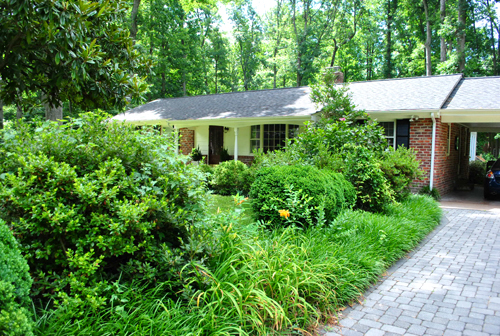 Have you painted a front door four times in five years like me? Have you gone back to the first color you chose as if it were "the one"? Are you wondering why we only buy brick ranches with monkey grass and walls of shrubbery? I'm beginning to sense a pattern…