Clara really seems to be into the concept of money lately. Not so much for using it to pay bills, but using it to count, stack, and stash in her pockets/purse. I've been digging up quarters and handing them over left and right (she's thankfully well past the putting-things-in-her-mouth stage) but they always get lost. So I have one question: is there a vortex in our house that eats socks and loose change? Is Burger secretly saving up to buy a jar of peanut butter? Seriously, it's a mystery.
So instead of being fifteen bucks down after a few weeks of play, I figured I might as well attempt a little DIY alternative. Ok, and I really just wanted to play with metallic markers.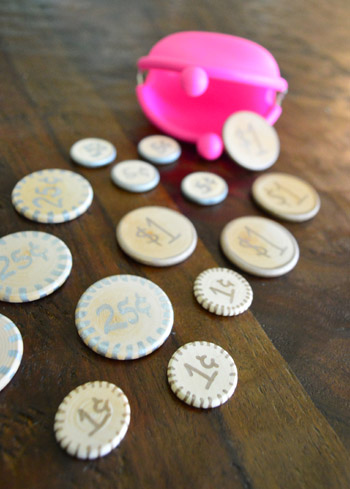 I figured something that wasn't as heavy as actual change probably wouldn't roll under the sofa or sink into the cracks of the couch cushions as easily (which are two random guesses about where all the real change is now living). Plus the girl loves her play kitchen and her dollhouse, so I thought pretend money might also be a hit. So I decided to hit up the craft store for some small wooden pog-shaped rounds (remember Pogs? anyone?).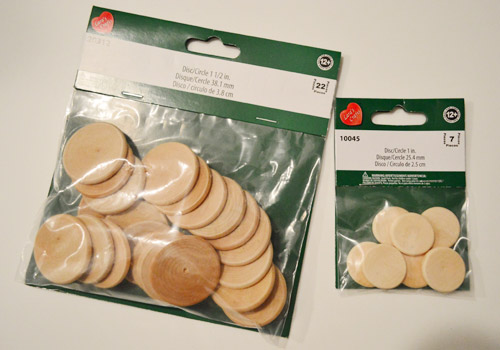 I thought they'd make for a sweet birthday gift for Will Bower too, so I grabbed two of the smaller nickel/dime sized sets (each bag was $1) and one of the large ones with 22 quarter sized discs. I already had two metallic permanent markers (one in a bronze penny color and one in a silvery tone) but if you don't have them you can grab those at the craft store too. Total spent after using my 40% off coupon = $4.50, which breaks down to about $2.25 per set (there are 18 in each set).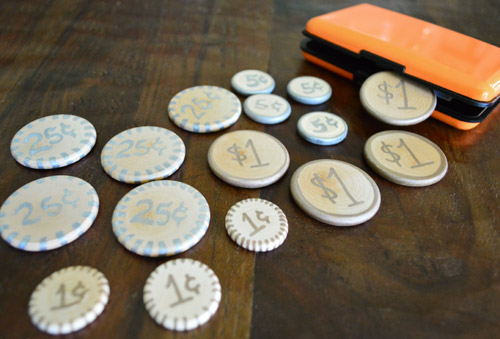 Then I just sketched on each of the wooden disks to create pennies (with 1¢ written in the middle and a bunch of coin-like lines around the edge), nickels (with 5¢ written in the middle with a solid silver band around the outside), quarters (with 25¢ written in the middle and more coin-like lines around the edge), and silver dollars (with $1 written in the middle and a thick solid edge around the outside). Boom, done.
The best part is that we got to send Will a fun little homemade birthday present (along with a few other store bought goodies). We even got him a cool orange case for loot-stashing. And we've already heard from Katie that he likes it. Wahoo!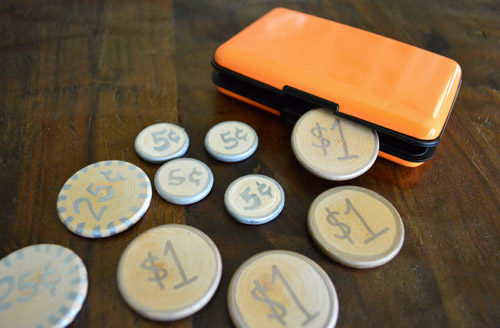 This whole project probably took me an hour, and I gotta say, it was more fun than I should be having with a magic marker. Thankfully I'm not the only one having fun with 'em. Clara's been playing with them a lot – and miraculously we only lost one nickel, which we later found (so it's official: real change gets stolen by fairies when we sleep and nobody cares enough to snatch up the fake loot).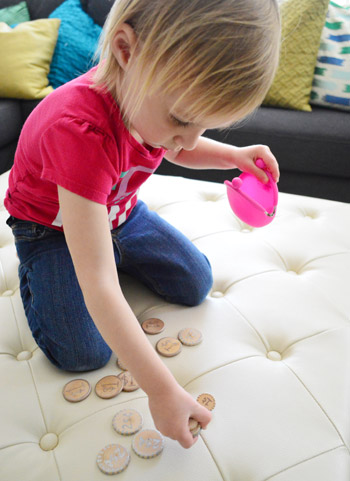 Have you guys been feeling crafty? Is there a vortex in your house that eats loose change and socks? Or do you have change-hungry fairies that have no interest in a wooden nickel or four? We totally do.