***This giveaway is no longer accepting entries***
Here's our announcement: people are awesome! We're still amazed by all of the congrats, love, and generosity that have been flung our way since Clara's birth. Seriously, we just can't say "thank you" enough. But perhaps this week's giveaway counts as one way that we're showing our gratitude… by paying it forward a bit for you guys at home.
See, we hadn't really ever planned to do formal birth announcements for Clara. But then our email buddy Mollie from The Paper Cafe (who we befriended way-back-when during this address stamper giveaway) insisted that we accept her baby gift to us: complimentary announcements from her vendor Take Note! Designs. We happily accepted on the condition that she (and Sarah from Take Note!) do another giveaway with us so our readers could share in the freebie fun… and thus today's freebie was born. Which is awesome because, well, the designs are awesome.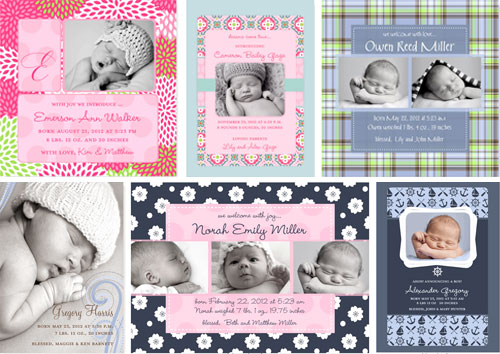 So one of you is gonna win $100 towards any order from Take Note! Designs (plus everyone else will be scoring a discount on Thursday!). Even if you don't have a baby to announce, you could grab a Benjamin's worth of invitations, thank you notes, holiday cards, or other greetings. And if you're anything like us, you'll have a rough time picking out just one design.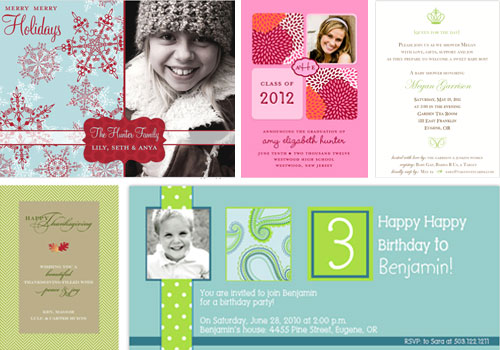 We finally did manage to agree on a design for our big Clara announcement, and here's how it all turned out (thanks again to our friend Dana Duncan for taking such a sweet picture of our then one-week-old little girl).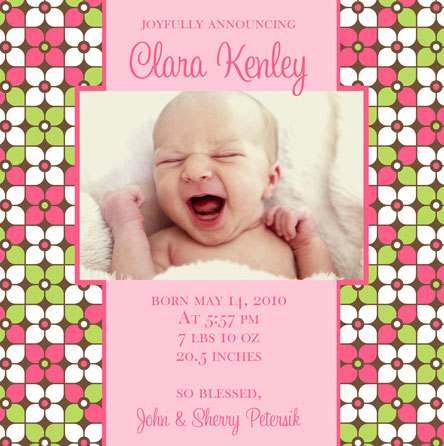 Now for this week's full entry details:
PRIZE: $100 towards anything from Take Note! Designs courtesy of Sarah at Take Note! and Mollie at The Paper Cafe.
TO ENTER: Comment on this post with the words "I'VE GOT AN ANNOUNCEMENT!" and…
BONUS QUESTION: … complete that phrase with any statement you'd like to make. Do you want to proclaim your love for someone to the world? Do you have a secret that's just burning to be blurted out? Or maybe a baby, graduation, promotion, move, or engagement to announce?
GIVEAWAY CLOSES: Wednesday, July 28th at 8pm EST
NUMBER OF WINNERS: One
PRIZE SHIPS: The 50 United States and Canada
USUAL STUFF: One entry per e-mail address is permitted. The winner will be selected using random.org and announced on Thursday. Good luck!
See our Giveaway FAQs page for more info. Pics from The Paper Cafe and Take Note! Designs.