*** This giveaway is closed – see who won below! ***
This week's lucky random winner is.. Keelan (who's favorite picture of herself from her Costa Rican honeymoon, saying "my husband took it of me at the end of the trip while I was lying in a chaise lounge and I just look the epitome of happy – relaxed, tan and soaking in every minute of our adventure.") Congrats!
We're spending today with our family for the Memorial Day holiday, but we wanted to drop in with a giveaway for you guys. Are you a fan of Instagram? A lover of gallery walls? A sucker for things that are fast and easy? Well, read on, because this freebie not only includes a way to print your favorite Instagram pics, but also an easy and pretty way to display them. Let's start first with Snapstagram who, in addition to printing 4 x 4″ prints of your IG pictures right here in the USA, also offers handmade photobooks and even a chunky framed gallery canvas called "The Printbox." So you'll have lots to spend your $150 prize on…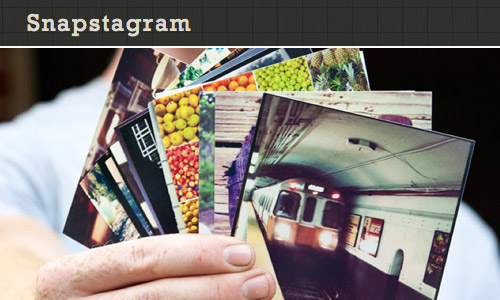 This week's winner will also score a whole set of gallery mats from Indie Mats, which are a nail-free, frame-free, and hassle-free way to create a gallery wall. You'll get one of their Accent Wall bundled sets (an $110 value) that includes 14 mats of varying sizes and coordinating patterns. They come in cheery colors like orange and blue, or a more subtle slate gray palette.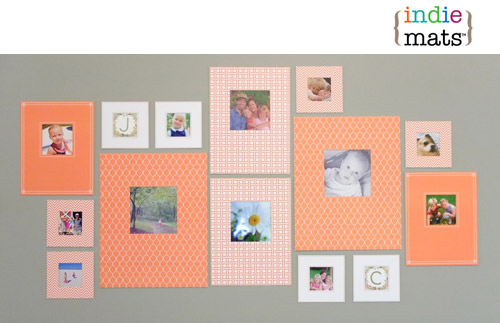 PRIZE: $150 towards Snapstagram and an Accent Wall bundled set from Indie Mats (valued at $110)
TO ENTER: Comment on this post with the words "PICTURE ME" and tell us…
BONUS QUESTION: … your current favorite photo of yourself. Is it a professional portrait taken by a photographer? Something you casually snapped with your smartphone? A shot of your toes in the sand at the beach? What does it capture about you that you love so much?
NUMBER OF WINNERS: One
PRIZE SHIPS: We always beg every vendor to ship internationally but some companies are not legally able to vend things beyond specific areas (more on that here). This giveaway is open to the United States.
GIVEAWAY CLOSES: Wednesday, May 29th or at 10,000 entries (whichever comes first)
DISCOUNT: 20% off Indie Mats orders through June 3rd using code INDIELOVE
USUAL STUFF: One entry per e-mail address is permitted. The winners will be selected using random.org and announced on Thursday as an update to this post. That's right, come right back here on Thursday for the announcement of our winners. Good luck…
***COMMENT ISSUES? If you're trying to enter but keep getting a "duplicate comment" warning, click here to see how to solve it!
Note: We aren't paid or perked for hosting these giveaways, we just do 'em to thank you awesome folks for stopping in. See our Giveaway FAQ page for more info. Pics courtesy of Snapstagram and Indie Mats.